Fire Chief Ale Chili Cookoff | The Scene
The competition between firefighters heats up at Rock Bottom Brewery.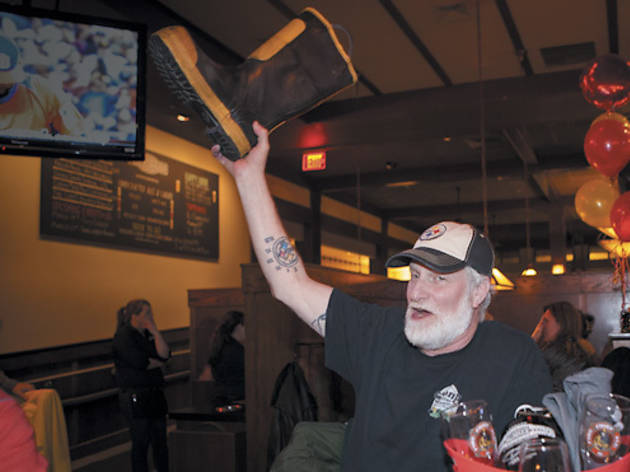 Thursday, March 14, 7:45pm Along with red trucks and dalmatians, chili has become a traditional part of fire station culture. On those long waits between jobs, firefighters pridefully hone recipes for their houses. So it was no surprise to feel the five-alarm intensity of competition among the amateur chefs at the annual Fire Chief Ale Chili Cook-off at the Rock Bottom Brewery outpost in Lombard. "When we're on duty, we work 24-hour shifts, so we can't go out for lunch like a normal worker," said Bob Hopper, a Lombard firefighter. "We have to be at the fire station, where you have between six and 12 people—and chili feeds a lot of people." Of the 11 entrants—four from his station alone—Hopper clinched crowd favorite for the fourth consecutive year. "Ground beef, bacon, beer—I got a little bit of everything in there," the 39-year-old said of his stew. But it was Jim Hall (pictured), a retired chef and close friend of many in the room, who won over the judging panel with his earthy Texas-style chili. "No, I'm not a firefighter," the tipsy, triumphant 60-year-old said, sipping a beer and hoisting a misplaced rubber fire boot over his head. "I'm a pyromaniac!" Sample chili made by Chicago firefighters at Rock Bottom Brewery (1 W Grand Ave, 312-755-9339) on April 2, 5–8pm. $5 for an all-you-can-eat bowl.