Janet Padilla, 24
Girly girl meets punk rocker.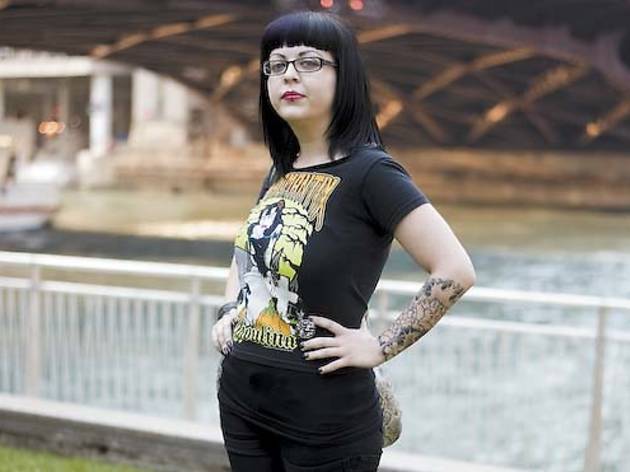 Chicago Riverwalk
Where do you live? Southwest Side, ten minutes from Midway Airport. That's pretty much where I grew up all my life. When I was seven, my mom and my siblings came here from Mexico to join with my dad, who works in the restaurant business. My family is all, like, waiters and waitresses and all that.
Is that what you do? No. Two weeks ago, I graduated from Paul Mitchell beauty school. I think I'm gonna be moving to Hollywood to do hair for pinup girls and rockabilly girls. It's weird: I love the traditional '50s housewife, but I want it done sexier. It's just who I am—a girlie girl but also a punk.
How do you walk that line? I'll wear a cute pencil skirt—and some brass knuckles. [Laughs] I can wear a dress, but I can also go into the mosh pit with the guys, too. I can hold a guy's hand…or punch him in the face. I can go into an upscale restaurant and I know which fork to use, but I can also go into a dive bar and drink a dude under the table.
How do the fellas respond to that? They get weirded out. They're intimidated that I can kick their ass or drink more than them. I've pretty much given up on the whole dating thing. I tried OkCupid for three days and I was done.
Did you have a nightmare date? No. I didn't go on a single date. There was some guy whose user name was "Tits McGee." He was trying to chat with me online and he was like, "Don't let the name throw you off." I was like, "Um, I pretty much get what you're about. Tits McGee—I think you're after one thing, dude."