Mike Tyson on Undisputed Truth | Interview
The retired boxer turns monologuist in Undisputed Truth.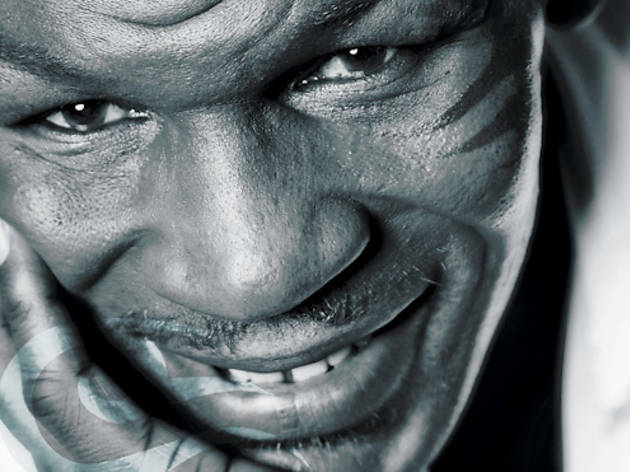 I had heard there were only three words I needed to know about St. Louis: gooey butter cake. A delicacy of Missouri, I was told. A cake I'd instantly feel guilty about eating. Nobody mentioned the Chicago-style pizza.
But just after my boyfriend and I arrived at the Moonrise Hotel (6177 Delmar Blvd, 314-721-1111; from $169/night), we found ourselves at Pi (6144 Delmar Blvd, 314-727-6633), and it was there I learned that St. Louis does Chicago pizza better than Chicago. It's not as thick, not as cheesy; the toppings are more inspired.
"As good as home?" my server asked.
"Better," I confessed.
"Hear it all the time," she said.
From that moment on, St. Louis and I had a thing. It was hot and sweaty outside, but I didn't care. From Pi we trekked to the city's Central West End, the neighborhood the Pi server said would do us right, and walked under that gorgeous 'hood's trees and dropped into its stores. We spent too much time and not enough money at design store Circa (4733 McPherson Ave, 314-616-7720) and too much money and not enough time at Left Bank Books (399 N Euclid Ave, 314-367-6731). When one of the shopboys told me I should drink at Monarch (7401 Manchester Rd, 314-644-3995) and eat at Niche (1831 Sidney St, 314-773-7755), I listened.
Monarch wasn't the speakeasy I'd expected, though. In one corner, an 80-year-old couple were celebrating their anniversary. In another, a woman was wearing multiple shades of leopard print. I began to feel as though a trick had been played on me.
But no. Bartender Ted Kilgore was soon shaking drinks made with his housemade Earl Grey pisco and telling us about the St. Louis cocktail scene. It's small, he said. It's basically just him. But he may be enough. As he spoke, he shook whiskey-heavy cocktails for us to try, and they were so delicious that by the time we arrived at Niche, and the hostess was exclaiming how happy she was that we were there, I was tipsy enough to bellow exuberantly back, "I'm happy, too!" And I was happy, because I was eating faggotini stuffed with every edible part of a pig's head, and pork loin with scrapple. (There was also a fairly horrid rhubarb brown Betty in there, but it didn't matter—the meal was bliss.)
Another cocktail was the last thing I needed when I got back to the Moonrise. But the slick hotel—just weeks old—had locals piling into the elevators to drink on the rooftop patio, so we hopped on with them. When we got there, we were greeted by a bouncer and lots of men in blue button-downs and white baseball caps. We turned around and went to bed.
The next morning, we faced St. Louis's gastronomical downfall—a lack of excellent Sunday brunch. The night before, I had asked Kilgore as well as Travis, my server at Niche, where to go, and both had pulled apologetic expressions and stammered about most St. Louis brunches being inconsistent. But Travis asked Niche's chef, Gerard Craft, for a recommendation, and that's how we ended up at Café Osage (4605 Olive St, 314-454-6868). Atmospherically, the place couldn't be more charming—it's a café set inside a sunny nursery. But though our meal was extremely pleasant—nutty granola with orange-kissed yogurt; eggs set over arugula-topped crostini—it was not the gluttonous, we-cut-this-bacon-from-the-pig-in-back-named-Louie affair I had hoped for.
This may have been a blessing. Our next stop was the highly recommended Forest Park, a green space in the middle of St. Louis that's 500 acres larger than Central Park. I had been told to paddleboat there. But it turns out that when you put two grown men with a combined weight of 380 pounds in a paddleboat, said boat can be exhausting to actually paddle. So we let the boat float. We watched ducklings and swans swim within eerily close proximity. And then we quickly returned the thing and set off for the City Museum (701 N 15th St, 314-231-2489).
Everybody will tell you to visit the City Museum. They'll tell you how fascinating a museum made out of found objects is, and how unusual it is to visit a place where every surface is meant to be climbed on. What few people will add is that it's best to go on Friday or Saturday night, when the museum is open until 1am and there are no children. Because if you don't, you'll find yourself in a place where kids very literally hang from every direction, chewing open-mouthed on Skittles and swiping at you with their swine-flu–infested paws.
Thankfully, the London Tea Room (1520 Washington Ave, 314-241-6556) is right around the corner, where the dignity of a cranberry scone and a cup of tea eases you out of the City Museum mania. (Hand sanitizer helps as well.) Leaving the shop for a Mexican restaurant one of the tea slingers recommended, we drove by the Contemporary Art Museum St. Louis (3750 Washington Blvd, 314-535-4660), which we meant to visit for a minute or two. We stayed an hour. The museum—currently housing exhibits by Chantal Akerman and Carey Young—had elements that were just as interactive as those at the City Museum. But here, there were no children. In fact, in the time we spent here, there was, inexplicably, nobody else at all.
By this point it was 3pm, and the boyfriend was getting worried that we'd never make it to Clayton, the posh neighborhood that houses Saks and Neiman. I was dubious about going to such a place, and the woman behind the desk at the museum concurred. She plugged the Grand South Grand neighborhood instead. We went. It was mostly tattoo shops and Vietnamese restaurants, and we patronized one of the latter and none of the former. It did nothing to take Clayton off the boyfriend's mind.
So we got in the car. We circled the soulless neighborhood, finding neither a Saks nor any boutique for men under 65. And then the boyfriend screeched the car to a halt. We were in front of Kaldis (700 Demun Ave, 314-727-9955), a bastion of gooey butter cake. Within minutes we had a slice in front of us. Crusty and chewy on the perimeter, soft and sticky in the middle, it was delicious but not very gooey. And as for the guilt, I didn't sense a trace.
Gooey butter cake does have a way of shutting down the body, however, so it was back to the Moonrise, where we napped and didn't get hungry again until almost 9pm. Herbie's Vintage 72 (405 N Euclid Ave, 314-769-9595), a bistro in the Central West End, had been recommended by the furniture-store guy, but we weren't expecting much—a salad and a glass of wine, really. What we found was a three-person soul band stationed in one corner of the bar and a thick circle of cocktail-clenching dancers surrounding them. We watched, and listened, and ate satisfying bistro burgers. About an hour in, the band started singing "Last Dance."
"This must be the final number," I said through a mouthful of frites.
"Gotta be," the boyfriend concurred.
But the band kept playing. It was 11pm on a Sunday, but St. Louis was just getting started.
GETTING THERE 5 hours (297 miles) / $70 of gas round trip. Plane 70 minutes / from $178 round trip. Megabus 6 hours / from $40 round trip.