Heads up! We're working hard to be accurate – but these are unusual times, so please always check before heading out.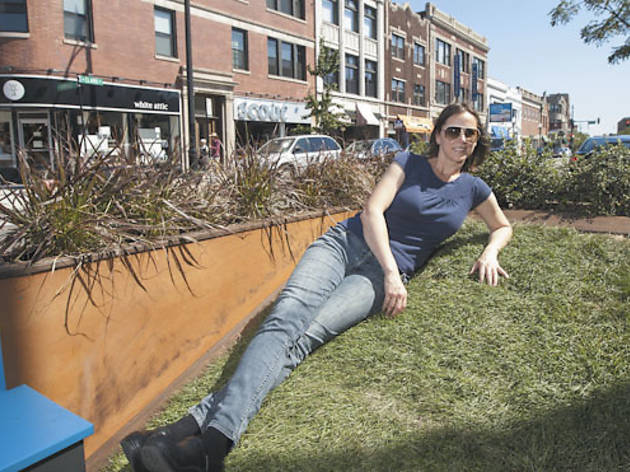 People Spots | The Scene
Chicago's new urban patios replace parking spaces with public seating.
Monday, August 6, 3:17pm To her right, vehicles zoom down Clark Street just south of Farragut Avenue. To her left, shoppers and late lunchers bustle along the sidewalk. But vacationing Kari Huinker kicks back, sunning herself on a slanted patch of grass no larger than a twin bed. In town from Los Angeles, she stumbled on the city's first "People Spot," an urban patio that replaces parking spaces with public seating and greenery. The former Chicagoan, a landscape-architecture student at UCLA, was impressed with the $19,900 project funded by a Kickstarter campaign, the Andersonville Chamber of Commerce and the 'hood's Special Service Area (a district that funnels an extra tax toward expanded programming and improvements). The urban oases are known as "parklets" in San Francisco, where the trendsetting Pavement to Parks program has installed 30. In addition to the finished People Spots in Andersonville and Lincoln Park, a pair are slated to open in Bronzeville. "I wonder if any dogs have tried to pee on the grass," Huinker says, laughing. "When I lived here, I had a dog who would only go to the bathroom on concrete. Good city dog." A few yards away, Earl James is reclining on one of the Swedish-blue seats. "Benches are disappearing from this city," the 57-year-old says. "So this is nice." To fulfill terms of the parking-meter lease, the Department of Transportation replaced any metered spots taken by the parklets. "We found spots to meter around the corner or there was a valet spot that was unused," says CDOT spokesman Peter Scales. It's all in service of the department's "Make Way for People" campaign, a paradigm shift from the car-centric days of Daley.