Q&A: Wye Oak
Guitarist and singer Jenn Wasner speaks about overcoming writer's block and taking control of her music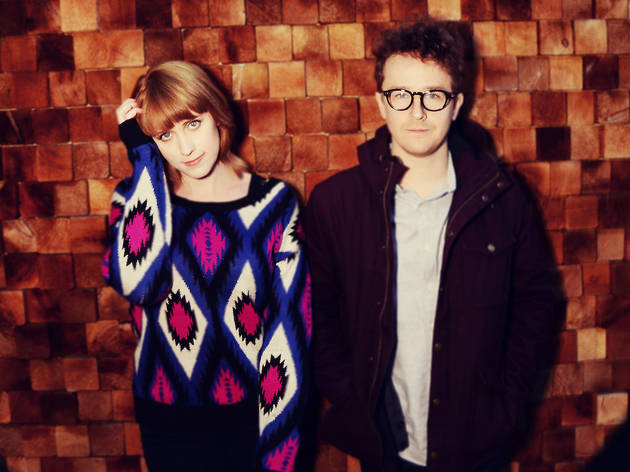 When Wye Oak finished an expansive tour behind its 2011 release Civilian, the duo was tired. After months on the road, guitarist and singer Jenn Wasner couldn't fathom sitting down to write new music. It was only when Wasner began to rethink her role in the band that the wheels began to turn and Shriek, the band's latest record, was born. Gone are the guitar-driven anthems of old, replaced by synthy pop tunes undercut by slinking bass grooves. We spoke with Wasner about finding inspiration for Wye Oak's new LP.
The new Wye Oak record marks a striking departure for the group. Were you apprehensive about taking the band in a new direction?
To be honest with you, there wasn't any apprehension because previous to making these songs, I went through a period of thinking that the band was over and that there would be no more songs. I was overjoyed that I found a way to want to do it again. I wondered how other people would react to [the new sound] but at the same time I was grateful that I figured out a way to feel like I wanted to write music again. It wasn't a choice between making the kind of music that we used to make and making the kind of music that we do. It was more like, I'll either write the songs that I'm excited about and most connected to or I won't write at all.
How did you get to the point where you wanted to write music again?
Well, much has been made about me writing this record on bass, which is not entirely accurate. I do play bass for the majority of the live show and that was the initial concept that got me writing again, but in reality I was building these tracks from the ground up. A lot of them originated with a drum beat or a keyboard loop and some of them I wrote on piano. The biggest difference was that the production and recording was integrated with the writing process from the onset. The initial concept of playing bass onstage as opposed to playing guitar onstage was what got the ball rolling—we thought about ways that we could feel like the same band but have an entirely different process and do new things at the same time.
You exchanged tracks with Jon Ehrens while working on the Dungeonesse LP. How did that process inform the way that you worked on Shriek?
The Dungeonesse record was different because all of those tracks were fully formed when I received them. Jon would give the tracks to me with no melodies and no lyrics and I would write to what was already there. It was something I'd never done before and I discovered that I really enjoyed it and I was pretty good at it. With Shriek I was writing in that same way, but Andy and I were building the tracks that I as writing to. I don't think my solo project (Flock of Dimes) or Dungeonesse have necessarily shaped the way that I think about writing a Wye Oak songs; they've just opened doors for me in terms of what I'm capable of doing.
You seem to be interested in producing and recording your own music.
At this point that's what I'm most interested in. I'm beginning to think of that as my instrument. The thing that's so exciting about it is that everything that you learn is immediately applicable to your own creative process. It's like expanding the vocabulary of what you're capable of realizing, which is what is constantly pushing me forward.
There's a greater sense of control, too.
Yeah, definitely. All of the projects that I've worked on outside of this band have been really integral to learning how to take ownership of as much of the creative process as possible. I'm not saying that I don't want to collaborate with people—that's something that I'll always consider to be a big part of my creative experience. That being said, not having to rely on another person has been a powerful thing for me. Being able to incorporate new ideas from the ground up is the reason why some of the songs on Shriek are the best I've ever written.
Wye Oak plays Metro May 13.