Summer's Last Festivals | Chicago events
By Christopher James Palafox Tue Sep 4 2012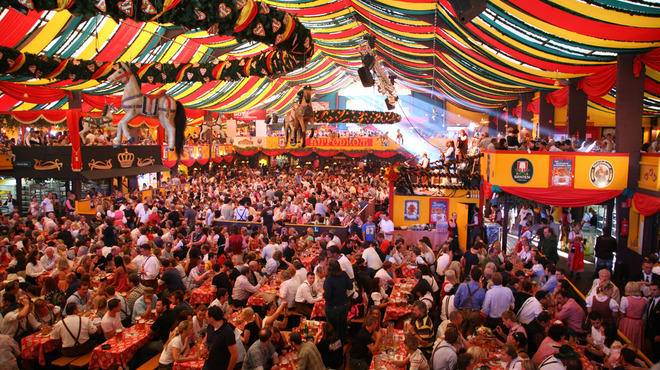 Oktoberfest photo courtesy Shutterstock Photograph: Shutterstock
As summer gasps its last humid breath and as kids slowly crawl back into their learning holes, the festival season is drawing to a close. The fried foods, the cultural dances and the cover bands are having one last hurrah before the season officially ends and we might have to travel indoors for our cheap thrills and entertainment (miraculously, traffic will not improve). So pick a fest, say goodbye to the heat and get ready for the falling leaves and temperatures.
Festival de La Villita
This fest celebrates Mexico's Independence from Spain with the usual ethnic food, music and games. But on Sunday, the Little Village hosts a huge Mexican Independence Day parade with more than 500,000 spectators expected. The parade (3100 W 26th St) starts at noon and ends at the fest site. Little Village, 2600 S Kostner Ave (773-868-3010, chicagoevents.com). Sept 8 –9, noon–11pm; free.
Chicago Turkish Festival
Rose and frosting aren't the only edible kinds of flowers. Lap up fragrant orchid ice cream as you experience Turkish and Turkish-American culture through its food and music. Learn how to drink Turkish coffee, where the sludgy bottom is not consumed—and is sometimes used for fortune telling. Daley Plaza, Washington St between Clark and Dearborn Sts (chicagoturkishfestival.org). Sept 9 –12, 10am–6pm; free.
Berghoff's Oktoberfest
The 16-day fest held in Munich Germany is downsized for the Berghoff's three-day take on the Bavarian fair. Besides featuring traditional German music performances, brats and brews, the 27th annual fest will also crown a Prince and Princess of Oktoberfest in honor of the original Oktoberfest's origin as a celebration for Prince Ludwig's marriage to Princess Therese of Bavaria in 1810. John C. Kluczynski Federal Plaza, corner of Adams and Dearborn Sts (312-427-3170, theberghoff.com). Sept 12 –14, 11am–9pm; free.
You might also like
---
Send tips to:
Laura Baginski, Editor (@TimeOutChicago)