The best places to watch the Chicago River dyeing
Find some of the best spots to get a view of the river dyeing, ahead of Chicago's St. Patrick's Day parade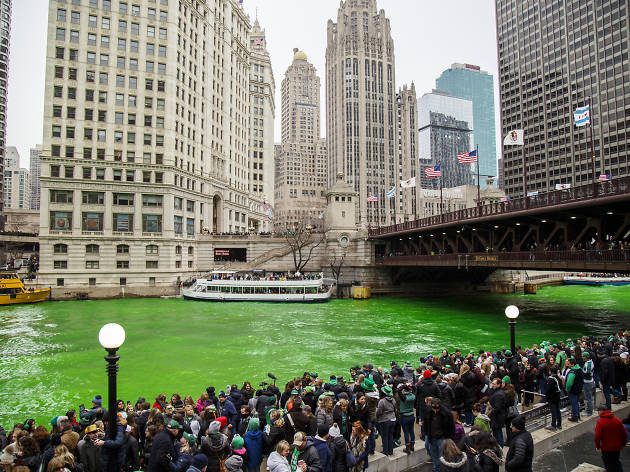 Plenty of cities host a St. Patrick's Day parade, but Chicago is one of the few places that celebrates the holiday by dyeing a major body of water green. The Chicago River dyeing takes place on the morning of the city's St. Patrick's Day Parade (March 16, 2019), beginning at 9am. The Chicago Journeymen Plumbers Local Union 130 is responsible for dumping nearly 50 pounds of powdered dye into the waterway—a process which typically take about 45 minutes. Whether you want to join the huge crowds lining river or view the festivities from a nearby rooftop, we've tracked down some of the best places to watch the Chicago River turn green.
RECOMMENDED: Our complete guide to St. Patrick's Day in Chicago
Where to watch the Chicago River dyeing
You'll have to arrive early to get a great spot, but you won't have to shell out any cash for a spectacular view of the river dyeing on the Chicago Riverwalk. For the best views of the festivities, head for the portion of the walkway between Columbus Drive and State Street.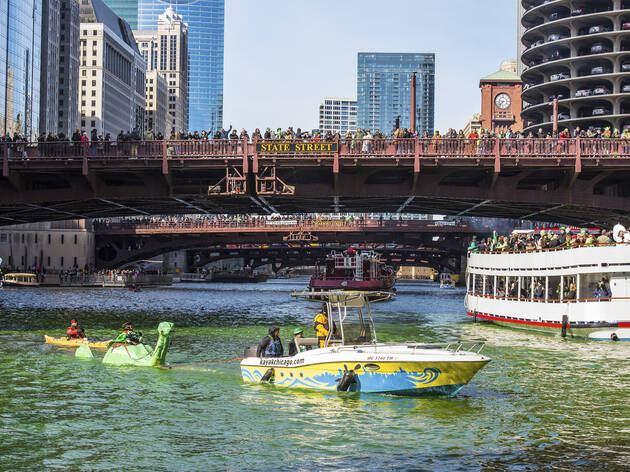 Photograph: Neal O'Bryan
Gaze down on the western end of the Chicago River dyeing from atop the State Street bridge, which is typically lined with folks snapping pictures of the boats pouring out dye below. The views are free, but as with any other public, river-adjacent space, you'll have to claim your spot early if you want an unobstructed view.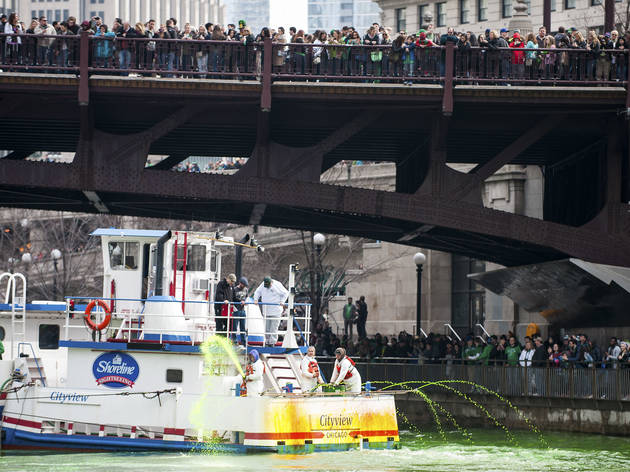 Photograph: Max Herman
Situated in the middle of Columbus Drive and State Street where the river dyeing action takes place, the Michigan Avenue Bridge is one of the most popular spots to get a view of the festivities. People show up to claim a spot on the bridge extra-early on the morning of the parade, so be prepared to stand on your tiptoes if you roll out of bed late and show up at 9am.
A four-hour open bar with bottomless green beer and a specatular overhead view of the Chicago River dyeing? That's what the LondonHouse is offering attendees during its early-morning event, which includes two viewing options: the hotel's indoor lounge or its multi-tiered rooftop. A ticket to either event will run you $100, but if you want to lock down a table for you and your friends, be prepared to spend almost $1000.
You'll find green beer at just about every bar on St. Patrick's Day, but the Renaissance Chicago's rooftopwill let you sip green mimosas while the river is dyed a similar shade of emerald. For $75, Raised is offering two hours of unlimited drinks, a great view of the river and menu of Irish breakfast dishes, including corned beefor sausage and rye.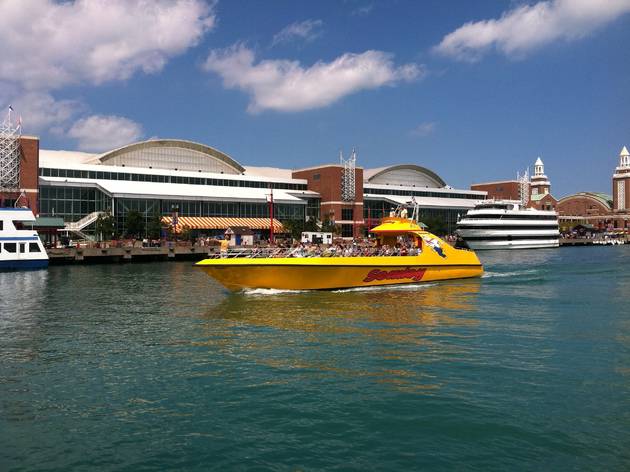 Things to do, Walks and tours
Watching the river dyeing from land is fun, but seeing it happen on the water is an even more immersive way to experience the St. Patrick's Day tradition. Seadog's cruise begins 15 minutes before the dye hits the water, giving passengers plenty of time to watch the transformation. Tickets are $66 and come with two green beers.
Located inside of Merchandise Mart, Marshall's Landing is hosting a river dyeing celebration that offers the most bang for your buck. A $40 ticket gets you access to an impressive brunch spread, bottomless mimosas and a view of the river. If you can't stand orange juice, you can enjoy $3 Jameson shots and $5 Guinness cans.
The hotel's Grand Ballroom hosts a pricey ($125 for adults, $60 for kids) event complete with a breakfast buffet offering Irish-themed offerings and an open bar. In addition to sweeping view of the Chicago River, guest will also be treated to performances from the Shannon Rovers Irish Pipe Band and the Sheila Tully Academy of Irish Dance Group. The events starts bright and early at 8am, but the Irish coffee bar should help you stay awake.
Odyssey's St. Patrick's Day outting take off well after the river dyeing, but you'll still be able to enjoy the emerald water on this afternoon cocktail cruise. For $75, you can take a jaunt down the river in a glass-enclosed boat while enjoying hors d'oeuvres, a buffet and a cash bar.