todd-palmer's-c-i-t-y-p-o-e-m-what's-up-with-that
Decoding the twisted steel sculpture on the 23rd District police station's parking garage.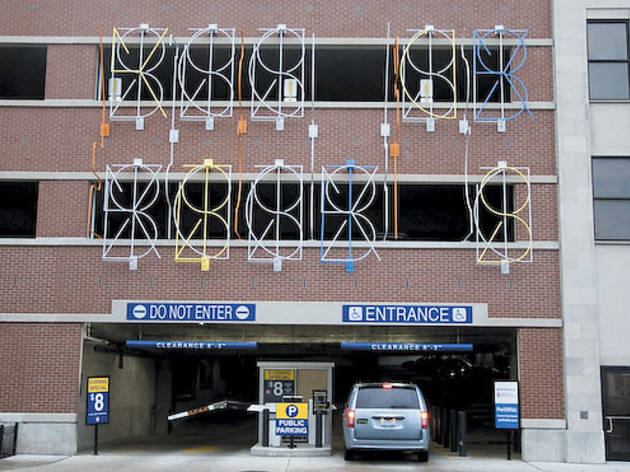 I know that the public-art piece on the facade of the parking facility for the new 23rd District police station at Addison and Halsted is Todd Palmer's c_i_t_y_p_o_e_m. I read somewhere that it's supposed to be a poem, but for the life of me I can't read it.—Paul G.
We, too, had a tough time deciphering the spaghetti of multicolored steel tubing—just as Chicago-based artist Palmer intended. "The letter forms are meant to be cryptic, but they're based on actual quotes," explains Nathan Mason, a curator with the city's public-art program, which coordinated installation last year. The $65,000 sculpture, along with Palmer's $25,000 sign language–themed mural codeswitch in the station's lobby, was included in the construction budget in compliance with Chicago's "Percent-for-Art Ordinance," which mandates that 1.33 percent of the cost for new city buildings be earmarked for public art. c_i_t_y_p_o_e_m splices together phrases from gay poet and choreographer Mark Turbyfill (1896–1991), who attended nearby Lakeview High, and his protégé: dancer, choreographer and anthropologist Katherine Dunham (1909–2006), a native South Sider. The quotes are "Yes, yes, City, soul—(moving, striving)" from Turbyfill's poem "A Marriage with Space," and "to describe is often to limit" from Dunham's 1963 dance-technique prospectus. Mason promises the city will install an interpretive plaque soon to clear things up.