The highlight: Aruba
There are worse ways to find your bliss than atop a paddleboard on the Caribbean.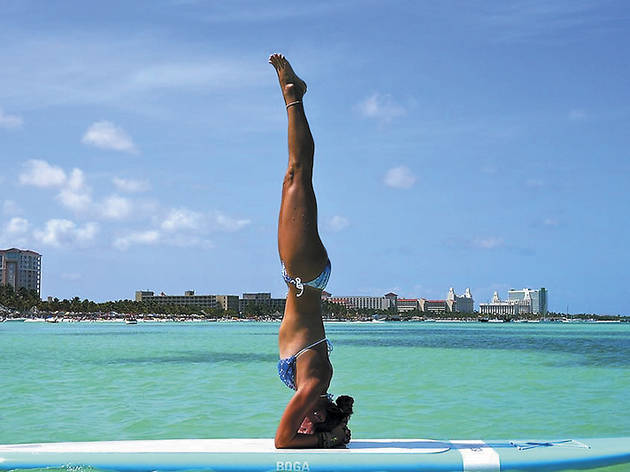 1/5
Photograph: Courtesy of Aruba Marriott Resort & Stellaris Casino
Rachel Brathen can teach paddleboard yoga standing on her head.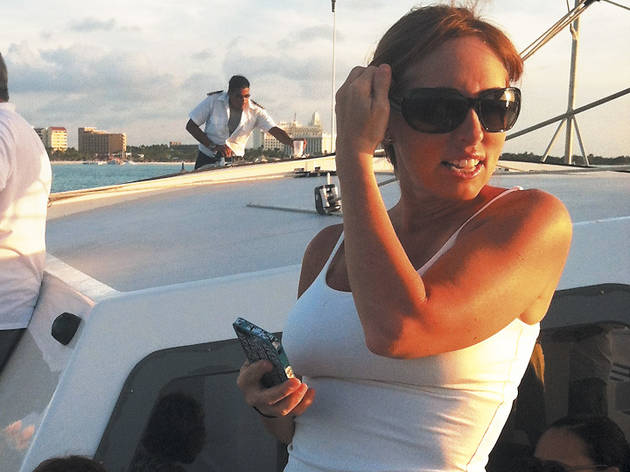 2/5
Sunset catamaran cruise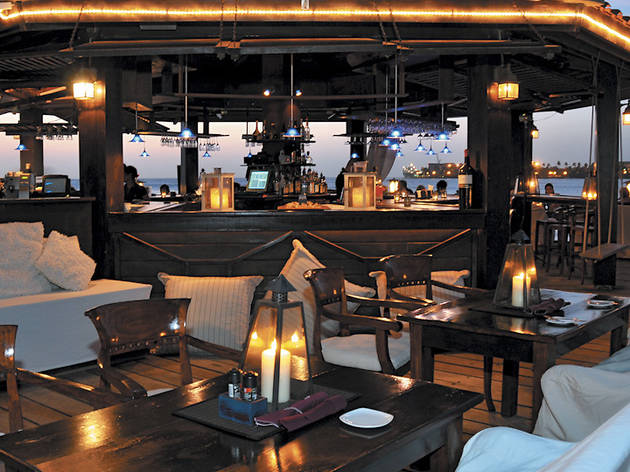 3/5
Pinchos Bar & Grill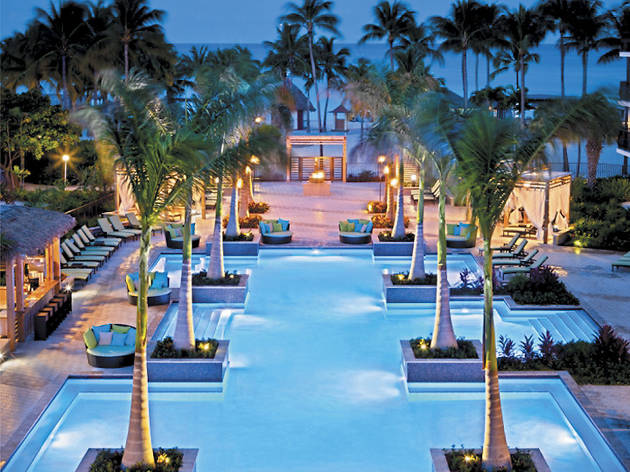 4/5
Photograph: Corey Weiner
H20asis pool at theArubaMarriott Resort & Stellaris Casino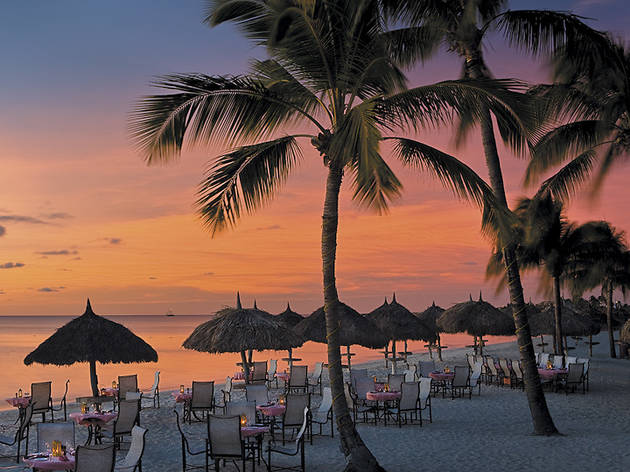 5/5
Photograph: Corey Weiner
Simply Fish restaurant attheArubaMarriott Resort & Stellaris Casino
How bad am I at yoga on a paddleboard? Bad enough, apparently, that two Aruba policemen drive their SUV onto the island's Palm Beach one recent winter morning to stop the class I'm attending about 30 yards offshore.
Okay, so it turns out someone from a rival paddleboard operation has called the cops to complain that our instructor lacks a business license—a false accusation (as well as a conflict straight out of a Scott Baio sex comedy)—and the Aruba Five-O soon departs. Which is lucky, because my performance on the board is criminal.
I love paddleboard yoga anyway. Here's why:
The morning is insanely gorgeous, as is the norm on Aruba. Situated just above Venezuela and outside the hurricane belt, the island sees less than 20 inches of rain each year and bakes tourists evenly at temperatures in the mid-80s. It's the San Diego of the Caribbean, save for the trade winds that make it a windsurfing destination.
Vela Windsurf Center lies just steps up the beach from the tranquil Aruba Marriott Resort where I'm staying, and it's a short paddle farther along the shore to our anchoring spot. I lag behind the group (I'm the only man in a class that's typically women-only) as I struggle to maintain my balance even on my stomach. Given that it's my first time on a paddleboard, I'm proud of myself for not drowning­—or drifting off toward Bonaire and Curaçao, which, with Aruba, comprise the Leeward Antilles islands of the Netherlands.
The class ($45 for 90 minutes) is led by Aruba's only paddleboard yoga teacher, Rachel Brathen, an impossibly athletic Swede in her mid-twenties who turns the sun salutation and headstand into waterborne works of art.
As she gets set, I anchor my board to the far end of the rope line. I push up onto my hands and knees, but Brathen starts us in a seated position. I attempt a wobbly transition…and it's man overboard.
The student next to me gamely helps me back onto my board, and I assume a seated pose as Brathen leads us through gentle arm stretches and torso bends. So far, so good. Until she directs us to get back on all fours.
It's decision time. I'm not steady enough to complete this transition without hitting the drink. Do I make the class all about me scrambling back onto my board, or do I practice what I can from the seated position?
Opting to remain cross-legged, I feel a deepening calm. Brathen's lilting instructions mingle with the lapping of water against my board. A man just up the beach hoists his windsurfing rig and glides out over the deep. My board shifts gently to the left, revealing an unobstructed vista of pale blue sky dotted with cotton-ball clouds lazing high over a limitless expanse of sussurating cyan waves.
I close my eyes and find myself transformed into a bobbing speck, connected fully with the world. As Brathen gives thanks for the day, I realize that what started as low comedy has ended with serenity.
My laugh, when it comes, is not one of practiced self-deprecation. It's an expression of childlike joy.
See videos of the instructor and view her schedule at rachelbrathen.com, or e-mail yoga@machebo.com.
---
PLAN IT
More to do
Where to stay
Beyond luxe oceanview rooms, Aruba Marriott Resort & Stellaris Casino offers an adults-only H20asis pool for serious relaxing (come early to stake out a spot) and a seafood restaurant, Simply Fish, where you can dig your toes into the sand while you dine. (Spring rates from $179; marriott.com).
Where to relax
Forty-nine dollars a head for a two-hour sunset catamaran cruise that includes snacks and a rum-soaked open bar? Book it at aruba-redsail.com, and set sail Thu–Mon at 5:30pm from the Hyatt pier on Palm Beach between the Hyatt and Occidental Resorts.
Where to eat
Family-owned steak and seafood house Pinchos Grill & Bar serves up romantic dinners on Surfside Marina Pier. Try the tenderloin skewer with dark rum–infused blue-cheese sauce.
GET THERE There are no nonstop flights between Chicago and Aruba, but one- and two-stop flights are available on airlines including AirTran, American, Delta, JetBlue and United starting at around $450 round-trip. Aruba Marriott Resort & Stellaris Casino offers 20 percent off room rates and $200 in bonus bucks for stays booked by February 28 via marriott.com or 800-228-9290. Use promo code 1CL.
Writer's trip courtesy of Aruba Marriott Resort & Stellaris Casino.