Dublin
Arguably the most-happening city in Ireland, Dublin has lively arts and music scenes, world-class restaurants and cherished historic sights. Take it all in—along with the best pint of Guinness you're likely to sample.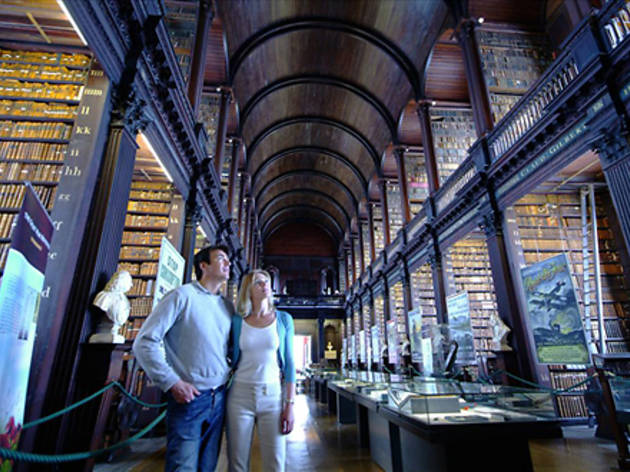 1/8
Trinity College Library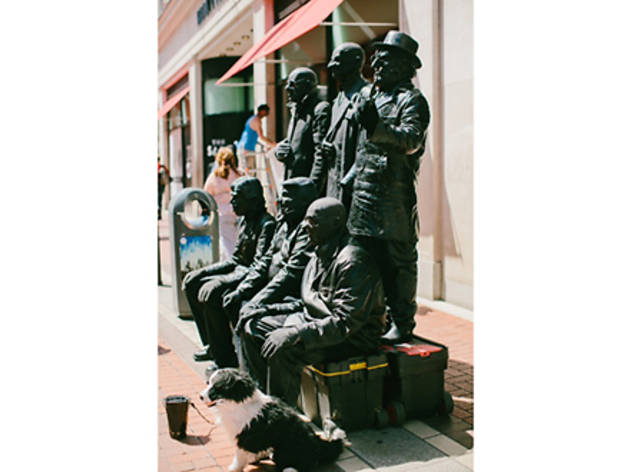 2/8
Dublin statues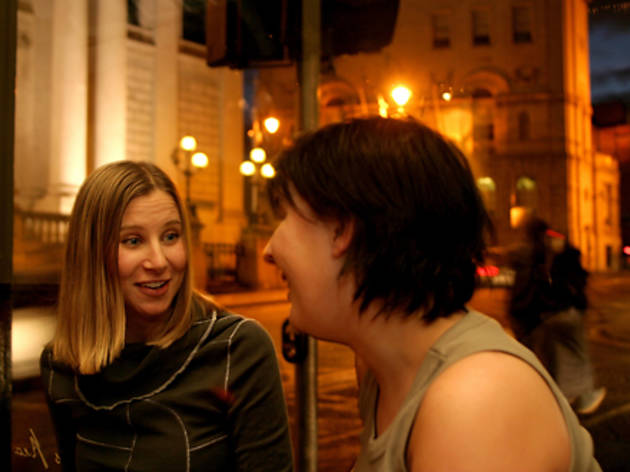 3/8
Dublin at night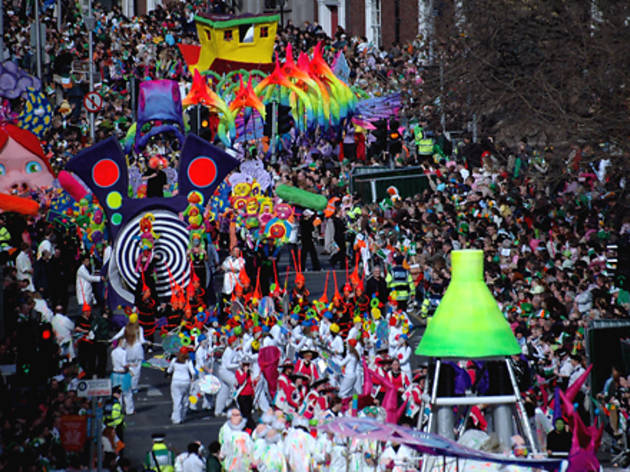 4/8
St. Patrick's Day Parade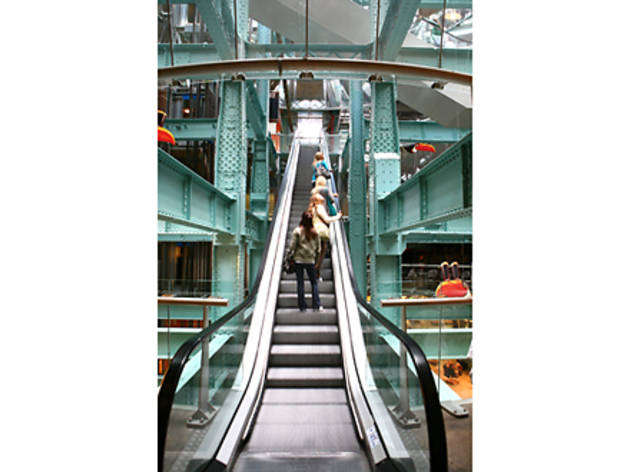 5/8
Guinness Storehouse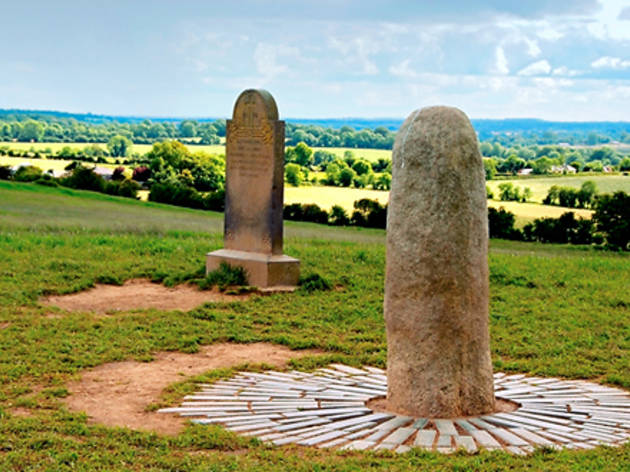 6/8
Photograph: Pyma
Hill of Tara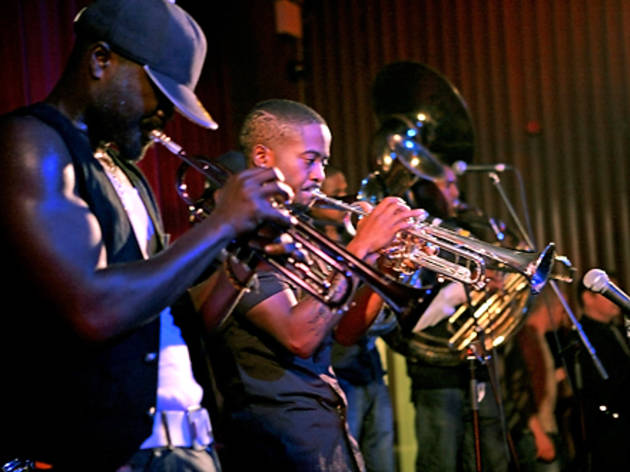 7/8
Sugar Club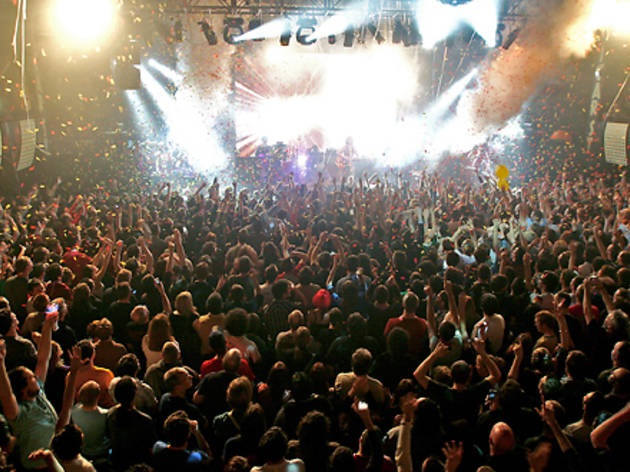 8/8
Vicar Street
The Republic's main gateway, Dublin is a complex capital that manages to be both a modern cosmopolitan city and home to some of Ireland's most famous sites, including Trinity College—where you can marvel at the beautiful Book of Kells—and St. Patrick's Cathedral. The Guinness Storehouse is equally revered by fans of the celebrated stout. Wander the cobbled streets of the Temple Bar quarter to find intriguing shops, congenial pubs and buzzing arts and music venues that have nurtured some of Ireland's biggest acts. The Dublin Festival Season, in September and October, includes the Fringe Festival and Bram Stoker Festival among other vibrant events, while New Year's Eve in the city is a party to remember. And of course, Dublin is the place to be for St. Patrick's Day, when a massive parade, street performers and pyrotechnics are among the festivities and the pubs and bars are packed to the rafters.
RECOMMENDED: More Ireland tours
For culture lovers
Any Dubliner worth his or her salt will proudly tell you that O'Connell Street is a very wide street
 (150 feet) and its buildings are tall (for Dublin). Bookended by sculptures of Ireland's two great constitutional nationalists—Daniel O'Connell and Charles Stewart Parnell—it is, without question, the most imposing thoroughfare in the city, and although it doesn't hold the Parliament, it seems to be a focal point for every political rally. Off the bottom end of O'Connell Street, on Lower Abbey Street, stands the Abbey Theatre(Abbey Street, 878-7222, abbeytheatre.ie, closed Sun), a cultural hub since it opened its doors in 1906 under the directorship of W.B. Yeats, J.M. Synge and Lady Gregory; it continues to play a pivotal role in Irish theater. At the other end of O'Connell Street, on Parnell Square, is the prestigious Gate Theatre(874-4045, gate-theatre.ie), in business since 1928. Around the corner is the James Joyce Centre(35 North Great George's Street; 878-8547, jamesjoyce.ie). Open Apr–Sept 10am–5pm Mon–Sat; noon–5pm Sun. Oct–Mar 10am–5pm Tue–Sat; noon–5pm Sun. Admission €5; €4 reductions; free under-14s). Joyce never lived here, nor did Leopold Bloom, though a minor character in Ulysses—Denis Maginni—held dance classes on the premises (but then in what building in central Dublin did a minor character in Ulysses not do something?). The top floor has a re-creation of Joyce's room in Zurich and a touch-screen history of the publication of Ulysses, while the terrace holds the door of 7 Eccles Street (Bloom's house).
South of the Liffey, the maze of cobbled streets that forms the Temple Bar quarter is the dynamo 
at the heart of Dublin; it's always at the front line 
of new developments, be they architectural, cultural, touristic or simply part of the tireless evolution of new music venues, hotels, drinking dens and clubs. In January, it is the site of Temple Bar TradFest (templebartrad.com), when churches, pubs, hotels and other venues in the area come alive with traditional Irish music. Meeting House Square is the heart of the area's cultural entertainment. Open-air film screenings—mainly of old classics—alternate with concerts, puppet shows, circus performers and dance events during the summer. Throughout the year, the Square is also home to a hugely popular Saturday food market and a Sunday craft and furniture market. Also here is the Gallery of Photography(671-4654, galleryofphotography.ie, closed Mon), which has a permanent collection of modern Irish photography, regular exhibitions of contemporary local work and touring shows, and the red-brick, zinc-punctuated National Photographic Archive(603-0200, nli.ie/en/national-photographic-archive), full of excellent, often poignant photographic records of Irish life. Around the corner, on Temple Bar itself, the Original Print Gallery(No. 4, 677-3657, originalprint.ie) and Temple Bar Gallery & Studios(Nos. 5–9, 671-0073, templebargallery.com, closed Mon, Sun) stand side by side. The Original Print Gallery specializes in limited-edition works; increasingly, these come from the Black Church Print Studios upstairs, making this something of a success story for an area that has a designated role in the promotion of culture. The Temple Bar Gallery showcases innovative, and usually local, art. Head west along East Essex Street to discover the Project Arts Centre(881-9613, projectartscentre.ie, closed Sun), a venue for all manner of events, from art exhibitions to dance, theater and music—U2 cut their teeth there in the 1970s.
There's a great atmosphere surrounding the sprawling, leafy campus of Trinity College—a blend of lofty academia and the vibrant traffic of students who walk around in noisy gaggles or occupy the tree-shaded perimeters of the green.
 As you enter Front Square, you'll see Sir William Chambers' neoclassical Chapel and Examination Hall. The Chapel interior—elegant, with a stuccoed ceiling—looks like a mini Houses of Parliament, with two rows of pews facing each other rather than the altar. Designed by Charles Lanyon, the extremely pretty campanile rises directly opposite the main portico, framing beautiful, mature maple trees.
The Museum Building, close by the Old Library(896-1000, tcd.ie/library. Open May-Sept 9:30am–5pm Mon–Sat; 9:30am–4:30pm Sun. Oct–Apr 9:30am–5pm Mon–Sat; noon-4:30pm Sun. Admission €9; €8 reductions; free under-12s), where the famous Book of Kells is housed, was inspired by John Ruskin's celebration of Venetian Gothic and designed by Benjamin Woodward and Thomas Deane in 1852. Although the elevation from Nassau Street doesn't look like much, it is worth making a detour to check out the exterior and atrium of the new Ussher Library, adjacent to the Arts Block, and the adjoining Berkeley Library. Outside the Berkeley is Arnaldo Pomodoro's golden sculpture "Sphere within a Sphere." The Pavilion comes into its own every summer because it gets the sun longer than almost anywhere else in the city. Also in the neighborhood is the National Gallery of Ireland(Merrion Square West; 661-5133, nationalgallery.ie. Open 9:30am–5:30pm Mon–Wed, Fri, Sat; 9:30am–8:30pm Thur; noon–5:30pm Sun. Admission free). The gallery houses a small but fine collection of European works from the 14th to the 20th centuries, including paintings by Caravaggio, Tintoretto, Titian, Monet, Degas, Goya, Vermeer and Picasso. A room is also devoted to painter Jack B. Yeats, who developed an impressionistic style particularly suited to the Irish landscape. The smaller British collection is also impressive, with works by Hogarth, Landseer and Gainsborough; every January an exhibition of Turner's watercolors draws art lovers from all over the world. Giovanni Lanfranco's magnificent Last Supper is a sight worth oggling at, as many do on a daily basis.
For food and drink enthusiasts
One of the most talked-about fine-dining restaurants in Dublin, Thornton's Restaurant(Fitzwilliam Hotel, St. Stephen's Green West; 478-7008, thorntonsrestaurant.com; closed Sun, Mon) is the culinary seat of celebrity chef Kevin Thornton, whose fiery appearances on RTÉ1's cook-off show Heat have put him firmly in the spotlight. The restaurant (which is affiliated to, but has a separate entrance from, the Fitzwilliam Hotel) is a stylishly somber medley of upholstered burgundy chairs, dark chocolate-colored carpets and thick white tablecloths, with striking modern photography brightening the walls. But the real reason to reserve a table is to experience Thornton's exquisitely refined seasonal cooking: fillet of black sole with parmesan crust, shellfish tortellini, lemon confit and parsley purée, for example. Or you could splurge for the "surprise menu," a spread of eight unannounced courses served at the dramatic chef's table. Wines are, of course, sublime—but, like the food, they ain't cheap. South Great George's Street is lined with bars and restaurants, including celebrity chef Dylan McGrath's Rustic Stone(No. 17; 707-9596, rusticstone.ie), where the fish, steaks and other meats are presented at the table on hot volcanic stones so diners can cook them to their own preference. Just off the main drag, on Exchequer Street, is one of Dublin's best-loved gastropubs, the Exchequer(Nos. 3–5, 670-6787, theexchequer.ie). If you crave more humble local fare such as coddle (sausage, bacon and potato stew) in lively surroundings, stop by the convivial Auld Dubliner in Temple bar (24 Anglesea Street, 677-0527, thesmithgroup.ie/aulddubliner), where bands play traditional music every day of the week. Near Trinity College, legendary pub Mulligan's(8 Poolbeg Street, 677-5582, mulligans.ie) opened in 1782 and retains its authentic vibe. It may no longer be part of the active brewery, but the Guinness Storehouse(St. James's Gate; 408-4800, guinness-storehouse.com; open July, Aug 9:30am–7pm daily. Sept–June 9:30am–5pm daily. Admission
 €16.50; €6.50–€13 reductions), a six-story listed building dating from 1904, has become the popular public face of what is undoubtedly Ireland's most recognizable brand. The building is designed around a pint-glass-shaped atrium and incorporates an exhibition space, function rooms, a restaurant and two bars. Much of the vast floor space is taken up with presentations on the history and making of the humble pint, and are magnificently realized. Most entertaining, perhaps, is the advertising section—a testament
 to the company's famously imaginative marketing. The Storehouse tour includes a complimentary pint of the best Guinness you are likely to taste, and there's nowhere better to drink it than in the Gravity Bar, located at the very top of the building with a 360° view over Dublin.
For music and nightlife fans
The roll-call of big-name Irish musicians is extensive and Dublin is full of young musos eager to make their big break. Near St. Stephen's Green on Wexford Street, Whelan's (No. 25; 478-0766, whelanslive.com) is the stomping ground for most of the city's up-and-coming bands; Damien Rice, David Kitt, the Frames, Paddy Casey and Gemma Hayes all made their first appearances there. Next door, shiny bar/restaurant/club the Village(No. 26; 475-8555, thevillagevenue.com) has become central to Dublin nightlife. Everyone from Scissor Sisters to Pere Ubu has played there. The Sugar Club(8 Leeson Street Lower; 678-7188, thesugarclub.com) is a stylish venue for jazz, cabaret and other genres. The expanded Vicar Street(99 Vicar Street, off Thomas Street West; 775-5800, vicarstreet.com), with a capacity of 1,000, has hosted the likes of Rufus Wainwright and Calexico in addition to top local musicians. In Temple Bar, the Button Factory on Curved Street (buttonfactory.ie) is also one of city's hottest music venues.
Further afield
With its hilly pastures dotted with fluffy white sheep, the area just north of Dublin may look like your typical Irish countryside, but it is much more than that. This is where Ireland began. County Meath is the home of the Hill of Tara(Navan (046-902-5903, heritageireland.ie; visitor center open late May–mid Sept 10am–6pm daily; admission €3; €1–€2 reductions)—Ireland's Olympus, where kings ruled the country 1,000 years ago aided, it was said by fairies. By then, though, the land was already very old. County Meath's rich soil has attracted settlers for more than 8,000 years, and archaeologists have uncovered burial grounds and ruined settlements that indicate this was a thriving region millennia ago. Brú na Bóinne(Donore, 041-988-0300, heritageireland.ie; visitor center open June–Sept 9am–7pm daily. May 9am–6:30pm daily. Feb–Apr, Oct 9:30am–5:30pm daily. Nov–Jan 9am–5pm daily. Admission €3; €2 reductions) is one of Ireland's most popular sites. The area has three superb examples of New Stone Age passage tombs, built some 5,000 years ago. These tombs are on the tops of hills a short distance from one another. Knowth(open Easter–late Apr, Oct 9:30am–5:30pm daily. May 9am–6:30pm daily. June–Sept 9am–7pm daily. Admission €5; €2–€3 reductions) is the largest and Newgrange(open Feb–Apr, Oct 9:30am–5:30pm daily. May 9am–6:30pm daily. Nov–Jan 9am–5pm daily. June–Sept 9am–7pm daily. Admission €6; €3–€5 reductions) is the best preserved (albeit enhanced with a little modern restoration). It is thought the tombs were built around 3200 BC, making them 500 years older than the Egyptian pyramids and 1,000 years older than Stonehenge. Public access to Knowth and Newgrange is only possible by guided tour arranged through the Brú na Bóinne visitor center, which also has a very thorough exhibition detailing what is known about the sites. There's a canteen-style café for refreshments before you take the shuttle bus to these rather claustrophobic and immensely fascinating stone chambers.
When you arrive at Newgrange, the pristine exterior is rather unexpected. Indeed, the earth mound is decorated with stones of white quartz, the placement of which has caused some dispute—even though the stones themselves are original and from this site. The 97 kerbstones at the base of the structure are also authentic, and some—notably those guarding the entrance to the tomb—have impressive ancient engravings. The interior is narrow and the roof is packed with strategically stacked stones that have kept the small chamber dry for millennia. The precision of the tomb's designers is demonstrated by the small opening (called a roof-box) at the entrance of the tomb, which is carefully aligned to allow the first rays of sunlight on the winter solstice (December 21) to stream along the stone passageway and illuminate the chamber. An annual ballot is organized to determine the few lucky people who will be taken into the chamber on that day to experience the solstice.
For more Dublin travel ideas visit ireland.com/goodtimes