15 historic homes near Chicago that you can rent on Airbnb
Marvel at the architecture, old-school details and quirky charm of these historic homes for rent on Airbnb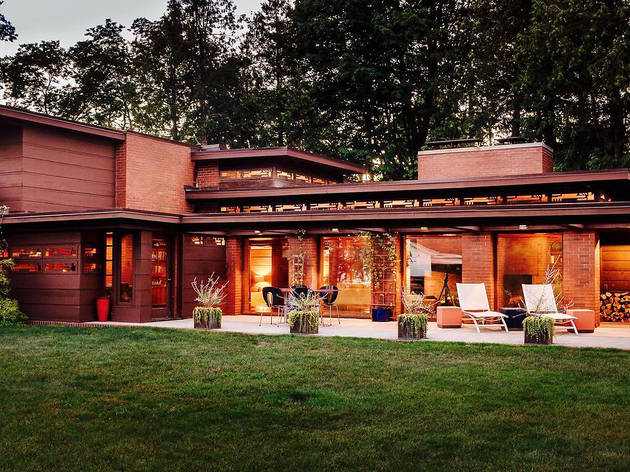 Some people look for giant king beds and room service in a place to stay; others get their kicks from original light fixtures and turn-of-the-century crown molding. If you fall into the latter category, consider one of these historic homes near Chicago for your next weekend getaway. You'll find mid-century modern marvels, renovated mansions, 19th-century Victorians and converted Amish barns all within a few hours' drive of the city. Whether you're looking for hiking near Chicago or Airbnb cabin rentals, this list of historic homes for rent has something for every sensibility and budget. While we could never tire of the most beautiful buildings in Chicago, a change of scenery every now and then never hurt.
Historic homes near Chicago on Airbnb
Photograph: Courtesy Airbnb
Nelson Salisbury House in Whitewater, WI
This 1873 home is an excellent example of American Italianate architecture, landing it a spot on the national register of historic landmarks. It was abandoned for years before the host's family saved it from demotion and still features the original hardwood floors, high parlor ceilings, decorative glass windows and plenty of antique art. Proof that budget Airbnb's are anything but boring. From $40 per night
Photograph: Courtesy Airbnb
Historic 1864 Victorian in West Chicago
This Victorian home built in 1864 isn't only historic because of its age: It also once served as stop along the Underground Railroad. Vibrant wallpaper, elegant chandeliers and a screened-in porch add to its charm. From $55 per night
Photograph: Courtesy Airbnb
1800s Home on Indiana's Historic National Road in Greenfield, IN
This white-paneled house has a long history of hosting travelers: It once operated as a stagecoach inn in the 1800s. The renovated interior features a few unique architectural elements, including a sliding barn door and intricate built-ins. Visitors won't want to miss the back building featuring an outdoor bar. From $60 per night
Photograph: Courtesy Airbnb
Victorian Charm in Watertown, WI
Built in the late 1800s, this quaint Victorian home has all the hallmarks of historic charm: lovely stained glass, elegant wood panelling and well-tended gardens. There's enough space for four guests and if you're hungry for more history, downtown Watertown is just a five-minute walk away. From $98 per night
Photograph: Courtesy Airbnb
Historic Family Farm in Sturgeon Bay, WI
This historic farm on 100 acres of farmland has been in the same family for generations—115 years, to be exact. Though it has been updated with central air conditioning and other modern conveniences, the home features the original hardwood floors and decades of family art. The spacious property offers plenty of opportunities for outdoor fun, too. Visitors might enjoy hiking, birdwatching, biking, snowmobiling or roasting marshmallows by the fire pit. From $160 per night
Looking for more getaway ideas?
Located just three hours north of Chicago by car, Madison, Wisconsin, offers football, food tours and music festivals year-round