Road Trips | Lake Erie's Pelee Island
Bring a passport to soak up this quirky Canadian respite.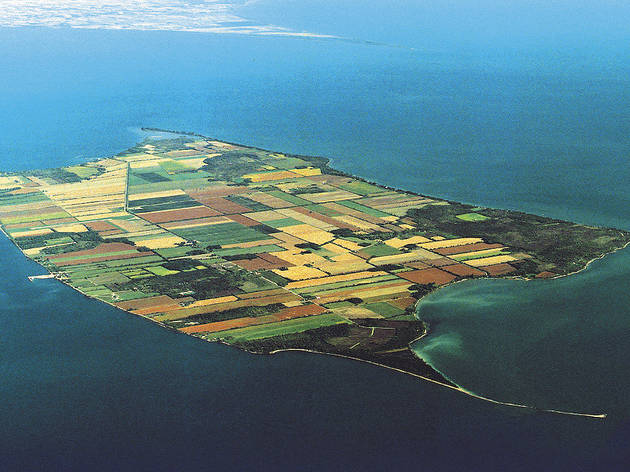 1/6
Photograph: Courtesy Tourism Windsor Essex Pelee Island
Aerial view of Pelee Island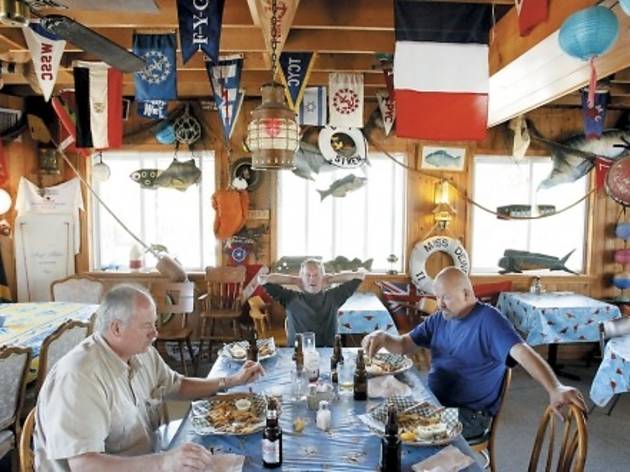 2/6
Photograph: The Toledo Blade/Amy E.Voigt
Anchor & Wheel Inn on Peelee Island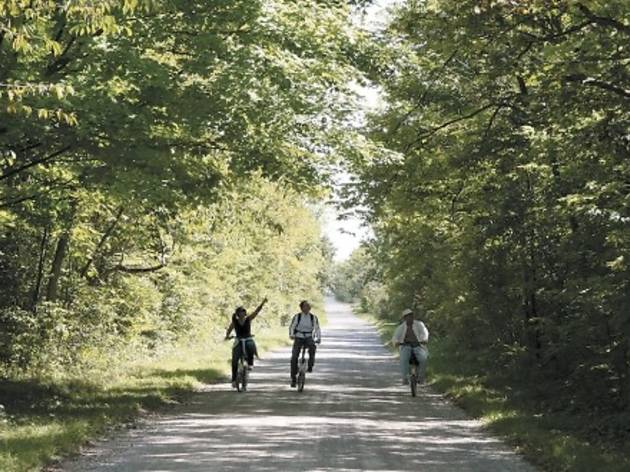 3/6
Photograph: Courtesy Tourism Windsor Essex Pelee Island
Cyclists on Pelee Island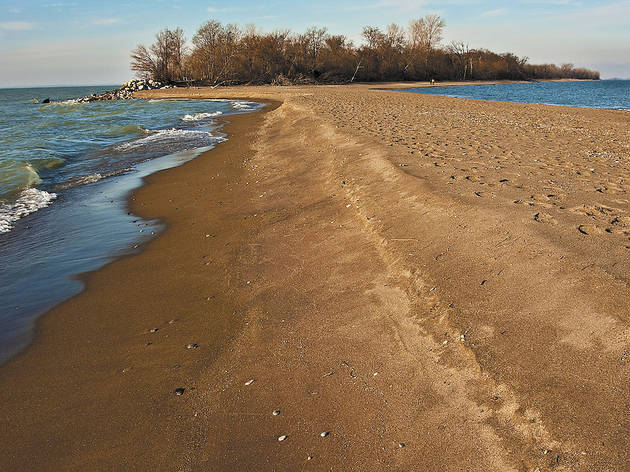 4/6
Fish Point Nature Reserve's sandspit on Pelee Island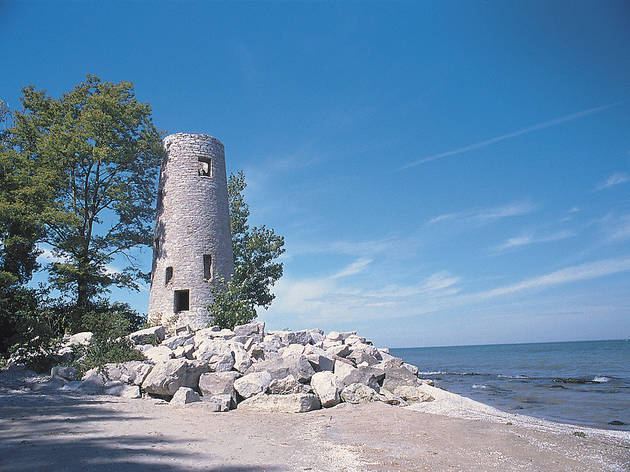 5/6
Photograph: Courtesy Tourism Windsor Essex Pelee Island
Pelee Island lighthouse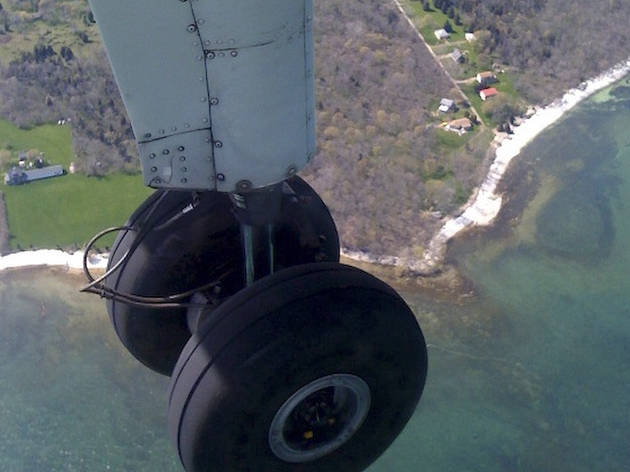 6/6
Photograph: Martina Sheehan
Puddle jumper view of Pelee Island
Lake Erie's Pelee Island lies just 22 miles off Ohio's coast, but there's never any doubt we're in Canada. The first signs might've been the speed limits posted in kilometers and having to show Border Patrol our passports, but our geographic whereabouts are inarguably exacted at the island's foremost social hub, the Anchor & Wheel Inn's Island Restaurant(11 West Shore Rd, 519-724-2195; double $95–$125/night). Over fresh-caught lake perch and the sounds of Bob Marley, the beer-fueled banter of some local twentysomethings quickly hits the one-two punch of Canadianisms.
It starts with an impressive display of survival skills: A woman who was one of 250 residents to winter on the island explains how she got by. "I ate canned food and bow stuff, hunted mostly," she says. Next up is some good old-fashioned American razzing: The group is talking about permits to work in Ohio when one woman, with a mix of surprise and disdain, exclaims, "Your mom's American? I wouldn't tell anyone that."
It's early in the season and the Anchor & Wheel is one of the few spots open. As proprietor Mark Emrich bounces from table to table—he doubles as the inn's waiter, concierge, contractor and more—his laughter rings out, occasionally punctuated by a hysterical snort. Everyone seems to know one another, from the young fishermen docking just for dinner to the families who return annually to the island's dozens of cottages.
The 16.2-square-mile island is far from reaching its peak summer population of about 1,500 when we visit. And despite the nice weather, the weekend has brought even fewer visitors than expected, thanks to the two broken ferries (departs 103 W Shoreline Dr, Sandusky, OH; 800-661-2220, ontarioferries.com; $13.75, car $30). Both lines—one operating out of Sandusky and one from Leamington, Ontario—have been out of service since mid-April (at press time, Ontario Ferries planned to restore service June 8). For Pelee Islanders, venting about sketchy ferry service is a pastime as popular as bad-mouthing the CTA in Chicago—except that islanders' very survival depends on the boats: It's peak planting season for soybeans, the island's largest crop, but the seeds are stranded on the mainland.
Fortunately, my friend and I already have tickets for Griffing Flying Service(3115 Cleveland Rd, Sandusky, 419-626-5161; $105 round trip). The eight-seat puddle jumper cruises over the roller coasters of Cedar Point Amusement Park, over beach-trimmed Kelleys Island and the Bass Islands, and within 15 minutes safely delivers six humans and two Labrador retrievers to Pelee. The ferry would have taken almost two hours.
While the vacationing Clevelanders on our flight say most people come to Pelee to do nothing ("People either love that or hate it," one says), we have a busy agenda. Back at the Anchor & Wheel, Emrich makes a few calls about rental bikes. "The guy across the street, Rick Masse, runs the rental," Emrich says, referring to Comfortech(1065 Shore Rd W RR 1, 519-724-2828). "But he's also an accountant, so this is his busy season. He's the island's mayor, too."
Bikeless, we set out on foot for the Fish Point Provincial Nature Reserve(519-724-2931). On the way, we walk the pretty grounds of the Pelee Island Winery(20 E West Rd, 519-724-2469; tours $5), the island's main attraction. Things are quiet now, but come summer, the whole vineyard will be alive with tours, tastings and live bands.
We've been walking awhile along the gravel road, marsh on one side, Lake Erie's wide expanse on the other. The park's dunes and sandspit are ahead, but the sun is sinking. We head back, feet aching, when a white sedan rumbles over the hill. The door is half open and a head of dark curls leans out. "You're up at the Anchor & Wheel?" the kid shouts. The car barely slows. Young Dave, it turns out, is Emrich's right-hand man. The car finally stops and Dave's cheery enthusiasm obliterates our city skepticism; we get in the car. "It's like the '60s around here," he says as he pushes hard on the gas. "Just stick out your thumb and hitch a ride."
Back at the inn, the dining room is bustling. Several bikes—left unlocked—lean against the deck. This time, we top off our lake perch with glasses of vidal and pinot grigio from Pelee Island Winery, and for dessert, a Nanaimo bar, a Canadian specialty of layered crumb crust, fudgey chocolate and cream. After dinner we head to the fourth floor of the Anchor & Wheel's annex. Blond wood encases the ceiling, giving our room a Scandinavian feel, while brightly colored bedspreads nod to Emrich's love of the tropics. The space is comfortable and less formal than the original Victorian-style rooms in the main house. We sleep well.
In the morning, Emrich drives us out to the trailhead for our final exploration: the Pelee Island Lighthouse. A one-mile trek through forest along a creek reveals a towering piece of Lake Erie history dating back to 1833. We take it all in before suddenly realizing we're about three miles from the inn with no cell-phone reception. Our flight back to Sandusky leaves in less than an hour, so we pick up the pace but it's hopeless. Then we hear a humming engine, and I remember Dave's words: "Stick out your thumb." I do and the pickup stops, another islander ready to take on dual roles: friendly local No. 23 and lifesaver No. 2.
Writers' accommodations hosted by the hotels and inns mentioned in these stories. Two ferry trips (Miller ferry service, Beaver Island Boat Company), one plane ride (Fresh Air Aviation) and one meal (Beaver Island Lodge) were also paid for by the respective businesses.