The highlight: South Africa
An unguided safari in Kruger National Park.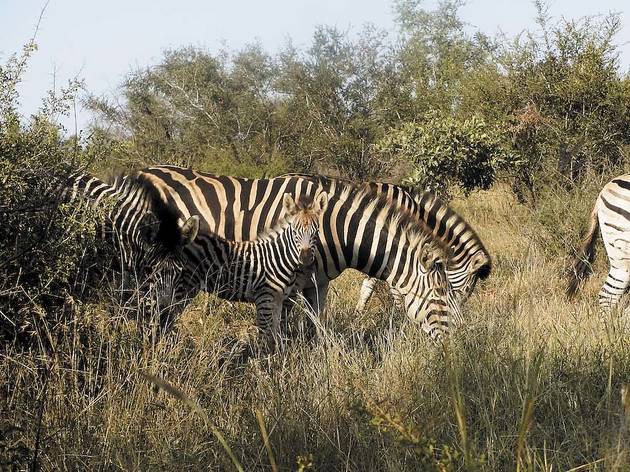 1/5
Photograph: Amber Gibson
Kruger National Park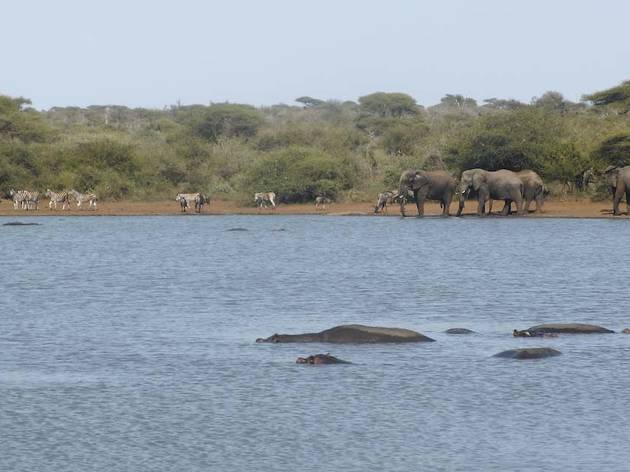 2/5
Photograph: Amber Gibson
Kruger National Park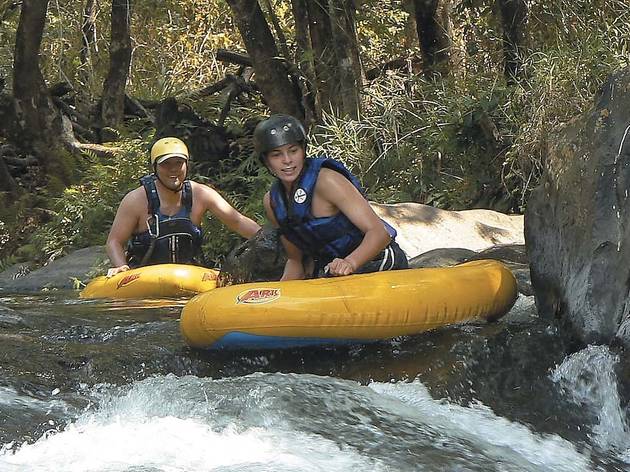 3/5
Sabie River Adventures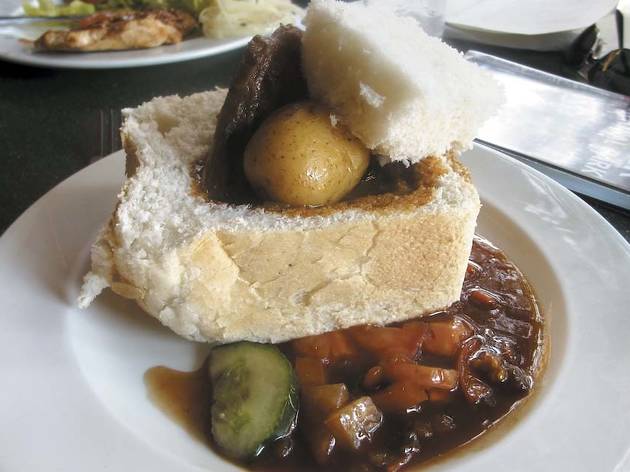 4/5
Photograph: Amber Gibson
Bunny Chow at Woodsman Pub and Restaurant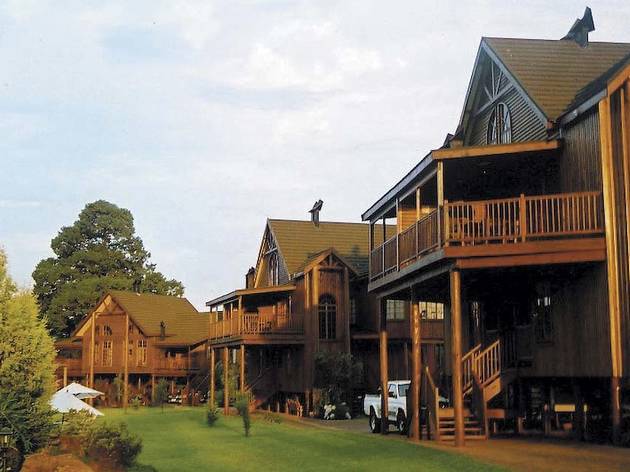 5/5
Lone Creek River Lodge
Elephants are causing another traffic jam in South Africa's Kruger National Park. We stop the car and turn off the engine. Rolling down my window, I catch a strong whiff of the meandering herd's musky-dung scent as it crosses the dirt road, trunk to tail. Babies stick close to their mothers and none of them seem perturbed by the growing procession of cars filled with gawking humans. We're supposed to keep our windows up, but that's one rule nobody follows.
Instead of a guided safari, my friend and I have devised our own trip through Kruger, which, at 7,500 square miles, is one of Africa's largest game reserves. Our mission: spot the Big Five—lions, leopards, rhino, buffalo and elephants. One down, four to go.
We enter that morning when the park opens at 6 and leave only when we're kicked out at 6pm. Entry for one car is just $50, as opposed to the hundreds you would spend on a guided tour. It may sound nuts to Americans, but at Kruger, it's common to zip around the park unaccompanied, and the dusty red trails are simple enough for newbies to navigate. But rockier, secluded side roads are worth exploring to shake off the bulk of visitors—and for rare leopard sightings.
As we drive slowly on the main trails, impalas, resembling little Bambis with striped butts, prance through every grassy clearing. We catch a pair of grown males locking antlers over a lady, I presume.
At one watering hole, I feel as if I'm in the middle of The Lion King. About 50 yards from our car, zebras, elephants, hippos, water buffalo and impalas frolic in the water. A bleating giraffe interrupts the tranquil scene, as it lifts its neck from drinking and retreats, splayed limbs scrambling backward. Squinting, I spot the source of its fear: a pair of sly crocodile, snapping at the giraffe's hooves. Luckily, the giraffe escapes. I'm not sure how I would handle seeing a kill close up.
Because we have no guide, I'm tempted to jump out of the car and play with baby zebras, or touch an elephant. I manage to follow the rules and restrain myself, but when we see a group of baboons sitting in the bush, I can't help but throw a couple of cherry tomatoes out the window to coax them over (feeding animals also is a park cardinal sin). The baboons bound over and snatch up the tomatoes as I frantically roll up my window.
At midday most of the animals disappear for a siesta in the shade. I opt to write postcards under a marula tree on the banks of the Sabie River at one of the park's base camps, where you're allowed to get out of your car. A pint-size vervet monkey perches beside me, scrounging in an overflowing trash can for a tasty treat. He tosses a half-eaten box of KFC nonchalantly over his shoulder in favor of brown sugar. Deft fingers rip into the package and his head tips back to catch every last granule.
Ultimately, we don't see any leopards or lions, but going to Kruger for one day is like trying to see the Louvre in an afternoon. Next time, I'd love to do a night hike. Those require a guide, though, to reduce the chances of becoming lion amuse-bouche.
GET THERE There are no direct flights from Chicago to Johannesburg, but Delta offers round-trip flights with a stop in Atlanta on Expedia.com for about $2,000. From Joburg, you can fly to Kruger Mpumalanga International Airport with SA Express in less than an hour ($112) or rent a car from Avis ($45/day) for the five-hour drive.
---
PLAN IT
More to do
Where to play
After a day stuffed in the car on safari, get moving with Sabie River Adventures, where you can zip-line through the forest ($20), white-water raft ($45) or go geckoing—cruising the rapids in a one-person raft ($46).
Where to eat
Try bunny chow (curry in a bread bowl) and a boozy version of malva pudding (made with apricot jam) at Greek-Cypriot spot the Woodsman Pub and Restaurant.
Where to stay
Just a 50-minute drive from Kruger, Lone Creek River Lodge offers spacious, quiet rooms in timber cabins (doubles start at $94).