The highlight: Turks and Caicos
On the Caribbean islands of Turks and Caicos, there's little to do but relax on the beach.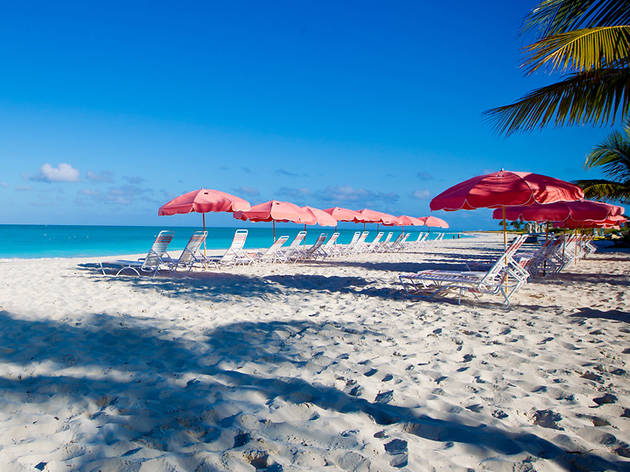 1/7
Beach at Ocean Club West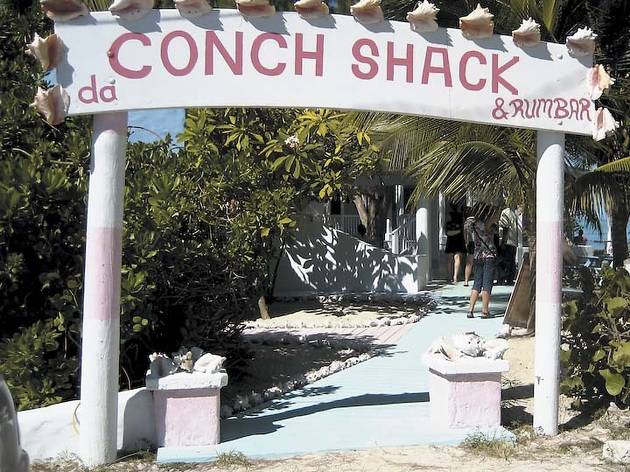 2/7
Photograph: Madeline Nusser
Da Conch Shack, Turks and Caicos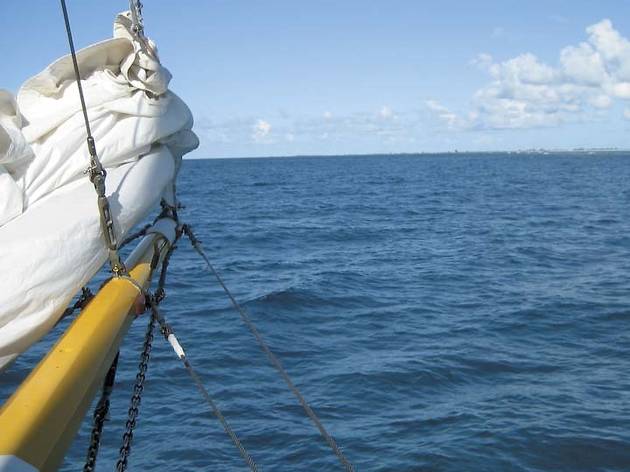 3/7
Photograph: Madeline Nusser
Boat ride to Calcos Cays, Turks and Caicos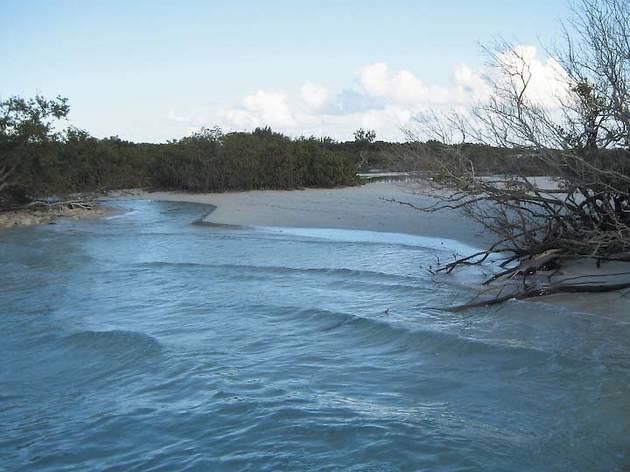 4/7
Photograph: Madeline Nusser
Caicos Cays, Turks and Caicos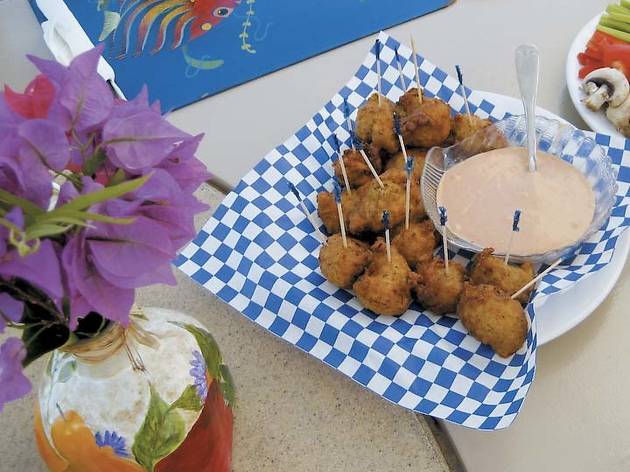 5/7
Photograph: Madeline Nusser
Conch fritters at Cabana Bar & Grill, Turks and Caicos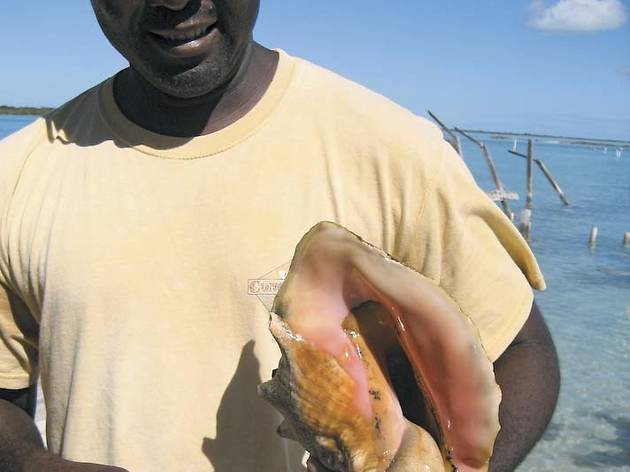 6/7
Photograph: Madeline Nusser
Conch Farm, Turks and Caicos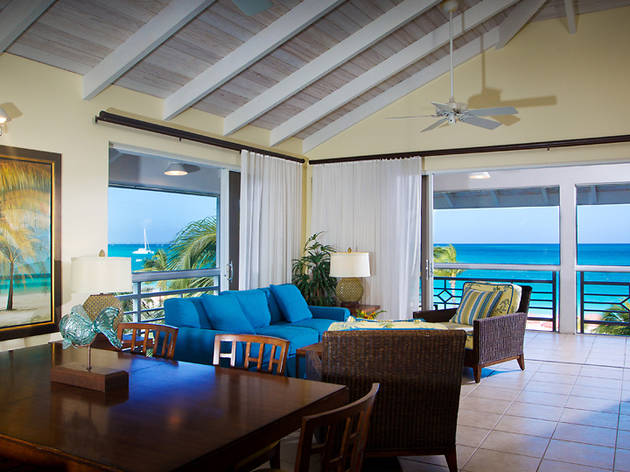 7/7
Ocean Club
I'm lounging on a teal sun-bleached chair on a patch of beach that backs up onto Da Conch Shack. The Turks and Caicos eatery, its maze of pastel boardwalks and palm trees quiet on a sunny November Thursday, encourages guests to relax over conch served ten ways and a pitcher of lethal rum punch.
Seems easy enough. On the north side of Providenciales—of eight major islands, the country's most populated—the water is the color of blueberry Jell-O. Smooth white sand, occasionally blemished by the pink flesh of a conch shell, stretches along the C-shaped bay, home to a dozen resorts that, at times, make the island feel like an adult Disney World.
To learn about the local arts, I'm lunching with David Bowen, TCI director of culture, who danced with New York City's Alvin Ailey American Dance Theater before coming back to his native country and seeing his beautiful paradise in cultural identity crisis.
Over a conch combo plate (melt-in-your-mouth fritters, cracked conch, and peas and rice), he starts with misconceptions: "Tourists think we all have dreadlocks, smoke ganja and do the limbo." This thanks to commercials for Club Med Turkoise, the country's first popular resort, which branded the islands as a crime-free, limbo-loving Jamaica.
But the simple TCI—unfettered by marketing—is even better than the fantasy. As we lunch, palm trees wave in the breeze and the sound of a wooden bruiser, which a cook is using to pound and soften conch, the country's cuisine staple, echoes in the distance.
That branding is partly true: The country does have a low crime rate, but Jamaica it is not. Bowen tells me that TCI natives—officially dubbed Belongers by British colonists—have their own history. In the late 1600s, Bermudans settled and harvested salt. Colonial powers, British loyalists and African slaves followed them into the monocropping. Despite constantly fluctuating colonial control, the country experienced slow growth and became a simple, egalitarian paradise. ("I didn't know I was a black man until I moved to New York and couldn't hail a cab," Bowen notes.) Electricity arrived in the 1970s, which Bowen identifies as the beginning of a major shift. In 1984, Club Med opened on Grace Bay. Air conditioning and reggae became de rigueur.
Bowen describes the TCI of the long-ago past: people hand-weaving watertight fenna grass baskets, playing percussive music called ripsaw. Drying the conch that litters the bay waters, then cooking it up over an outdoor fire.
I wish him luck in keeping the culture alive, and later do my part by buying a fenna basket from a Middle Caicos women's collective. For now, we enjoy the rusticity of the moment: a few sprawling picnic tables on the beach, a sizzling grill, a wooden overhang blocking the generous sun.
Writer's trip and airfare courtesy of Ocean Club Resorts.
---
PLAN IT
More to do
Where to touch a conch
While you can spot conch all over the waterfront, the only place where the little snail-like creatures are domestic enough to playfully peep out of their shells is the Conch Farm, a fishery built to promote conservation and squelch conch overharvesting.
Where to explore
Take a boat ride to Little Water Cay, one of the Caicos Cays, an uninhabited island crawling with conchs, sand crabs, iguanas and ginormous birds.
Where to eat
Cabana Bar & Grille at Ocean Club on Grace Bay cooked up my favorite batch of conch fritters made with "secret" spices. Fresh fish—like my moist, flaky grouper—are caught and served daily.
Where to stay
Ocean Club West offers big, breezy rooms. A courtyard replete with winding swimming pools and signature pink umbrellas looks like paradise. Rooms at the Ocean Club West (800-457-8787) are $215–$549/night for a standard room.
GET THERE American Airlines flies to Providenciales for around $460, with a stop in Miami International Airport.