Travel to Nashville
Nashville isn't just for country music buffs. The welcoming city also boasts great food, drinks and art.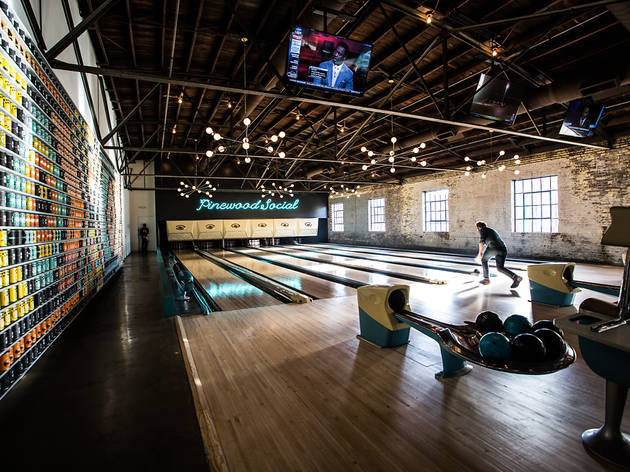 RECOMMENDED: More weekend getaways from Chicago
Nashville's nickname is "Music City," but if that's all you know about the southern metropolis, hop on a plane and start exploring. A quick hour and 15-minute flight from Chicago, Nashville is best tackled on wheels—some spots are walkable from downtown hotels, but Uber and Lyft save time and make getting around a snap.
Beeline to Hattie B's (112 19th Ave S, 615-678-4794) for Nashville's signature: hot chicken, crispy fried chicken drenched with cayenne pepper. Cool your palate with cocktails in Husk's (37 Rutledge St, 615-256-6565, husknashville.com) gorgeous fireplace-equipped bar. Arnold's Country Kitchen (605 8th Ave S, 615-256-4455, arnoldscountrykitchen.com) has served plates of "meat and three" for 30-plus years. Arrive early to beat the lunch rush and load your tray with tender roast beef, creamy mac and cheese and tangy turnip greens.
Once you're sated, head to Pinewood Social (33 Peabody St, 615-751-8111, pinewoodsocial.com), a sprawling complex with a pool, bowling alley and bocce court (plus a coffee bar, restaurant and bar). Explore "Phantom Bodies: The Human Aura in Art" at the Frist Center for the Visual Arts (919 Broadway, 615-244-3340, fristcenter.org) or check out Hatch Show Print (224 5th Ave S, 615-256-2805, hatchshowprint.com), a 135-year-old letterpress print shop, and take home a custom poster.
Don't leave Nashville without soaking up some of the local music scene, which is fun no matter how big a country music fan you are. The Country Music Hall of Fame and Museum's (222 5th Ave S, 615-416-2001, countrymusichalloffame.org) just-opened winter show is "Keith Urban So Far…" Catch a show or take a tour of the 19th-century Ryman Auditorium (116 5th Ave N, 615-889-3060, ryman.com). Third Man Records (623 7th Ave S, 615-891-4393, thirdmanrecords.com), Jack White's recording studio/record shop, offers the ultimate Nashville souvenir—a six-inch record with two minutes of your own audio.