11 best things to see at Art Basel this year
From people wiping dishes to a woman asleep in a casket, here's our pick of the top things to check out this year
Hong Kong is flush with exciting new exhibitions and art events as Hong Kong Arts Month reaches its climax. Art Central is back once again and new happenings like the Harbour Arts Sculpture Park have proved tremendously popular. Yet the headline event of the month is undoubtedly Art Basel.

This year, the event features 248 leading galleries from all around the world including 28 local galleries. Expect a dizzying range of artwork ranging from modern masterpieces to contemporary works across all mediums. It can get overwhelming in there, so here are 11 works and installations that you can't miss.

Bitten by the art bug? Here's a round-up of all the best art exhibitions in town this month.

What to see at Art Basel this year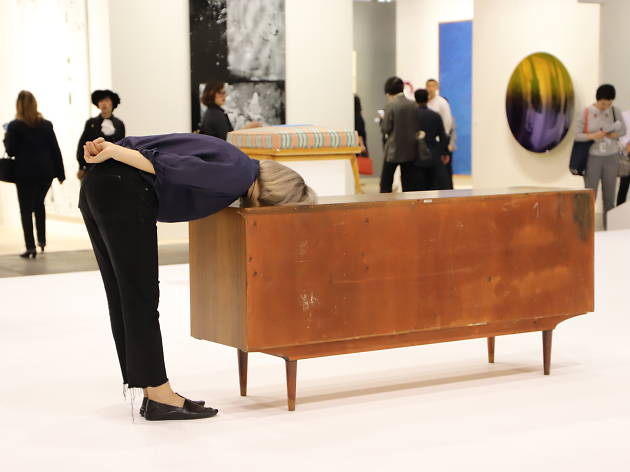 Erwin Wurm, One Minute Sculptures, 2000-2018
Relatively new to Art Basel is performance art, and this live installation is a quirky one that features 'actors' performing seemingly random acts with various everyday objects and furniture. Co-presented by three galleries – Lehmann Maupin, Thaddaeus Ropac and Konig Galerie – and created by Australian artist Erwin Wurm, each action is planned beforehand – even the part where an actor face-plants a desk. While it's funny to watch what the actors might do next, the installation is all about physical, psychological and philosophical engagement. Space E2.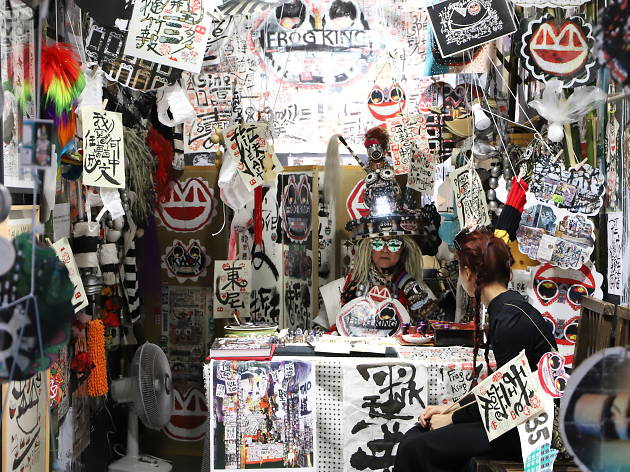 Frog King, 10 Chancery Lane
Hong Kong's very own Frog King has taken over an entire booth completely covered in his signature frog imagery and traditional Chinese calligraphy pieces. You'll find the local pioneering conceptual and performance artist, whose real name is Kwok Mang-ho, at the booth (presented by 10 Chancery Lane) decked out as his alter-ego, wearing his famous bug-eyed glasses. Have a chat with him or simply step into his unique amphibian world to admire his works up close. 10 Chancery Lane, Booth 1D35.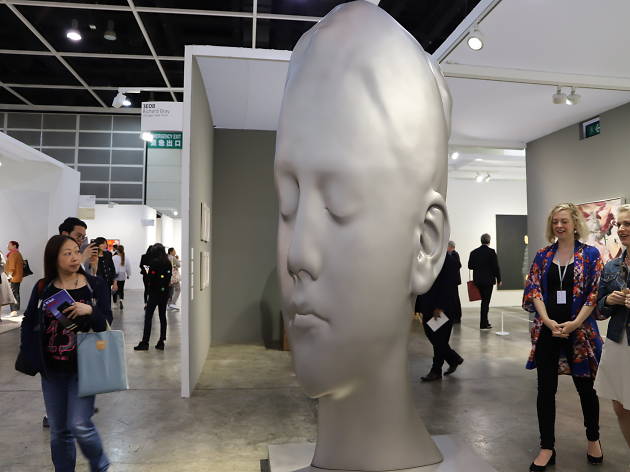 Jaume Plensa, Carlota, 2017
One of the highlights of Art Basel this year ought to be Jaume Plensas's mind-bending large-scale sculptures. Carlota is quite the optical illusion – from afar it looks three-dimensional but it's really quite the opposite. We suggest doing a 360 around the sculpture to enjoy its full effect. The renowned Spanish artist and sculptor has created more than 30 similar public sculptures around the world, so this is good chance to see one of these famous works in person. Richard Gray Gallery, Booth 3E08.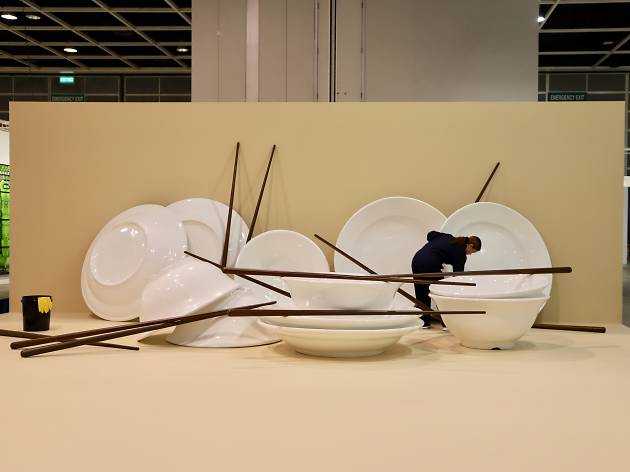 Chou Yu-cheng, Refresh, Sacrifice, New Hygiene, Infection, Clean Robot, Air, Housekeeping, www.agentbong.com, cigarette, Dyson, Modern People, 2017
Yes, that is the full title. Another performance piece, Taiwanese artist Chou Yu-cheng's giant sculpture of china dishes features an actor who continually wipes down and cleans the crockery. Presented as part of the fair's Encounters section by Edouard Malingue, you can also spot various cleaning products, including a robot vacuum cleaner, that suggest a division of labour between humans and machines. Space E5.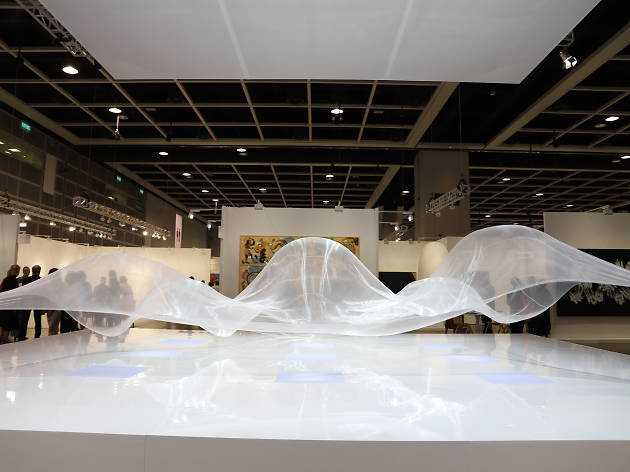 Shinji Ohmaki, Liminal Air Space-Time, 2018
There's something ethereal and bewitching about the work of Shinji Ohmaki. Here in the HKCEC, the Japanese artist has programmed silk cloth to work with the building's surrounding air, light, temperature and humidity so that the fabric moves and sways in continuous motion. Entrancing, the installation is about how one perceives sensations relating to gravity and time. And if that sounds like too much hot air, just admire and take a cool Boomerang. Space E7.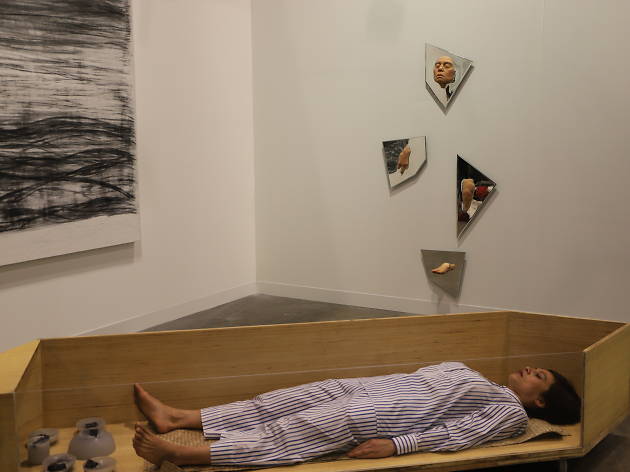 Lilibeth Cuenca Rasmussen, Re-inventing Domesticity and the Decomposing of the Self
If you enjoyed the dead dictators in glass caskets from last year's Art Basel, this equally morbid performance art piece should be just as intriguing. Head over to The Drawing Room Contemporary Art booth and you'll find a woman lying with her eyes closed in a coffin. The woman in question in Lilibeth Cuenca Rasmussen, a Danish-Filipino performance artist who primarily explores socio-cultural relationships. In this particular performance, as well as the surrounding objects and artworks, Rasmussen delves into humans' transition from life to death. The Drawing Room, Booth 1B40.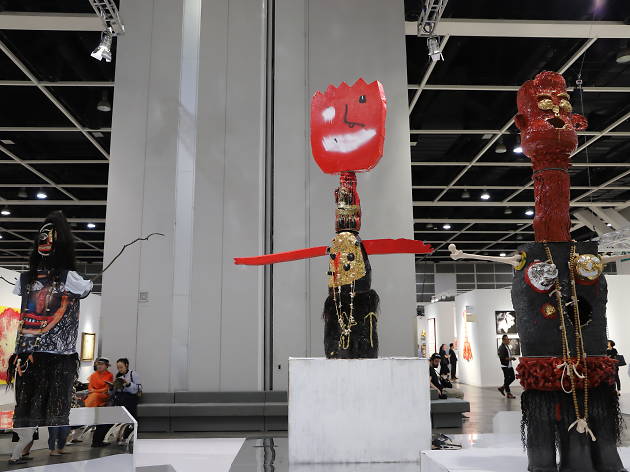 Ramesh Mario Nithiyendran, 'Mud Men' Volume II, 2017
Sydney-based Sri Lankan artist Ramesh Mario Nithiyendran ticks off all the hot-button issues with five large-scale ceramic works that feature New Age symbols that reference Hindu and Christian mythology and explore everything from the politics of sex to gender fluidity while drawing from sources like pornography, fashion and art history. Sullivan + Strumpf, Booth 3C16.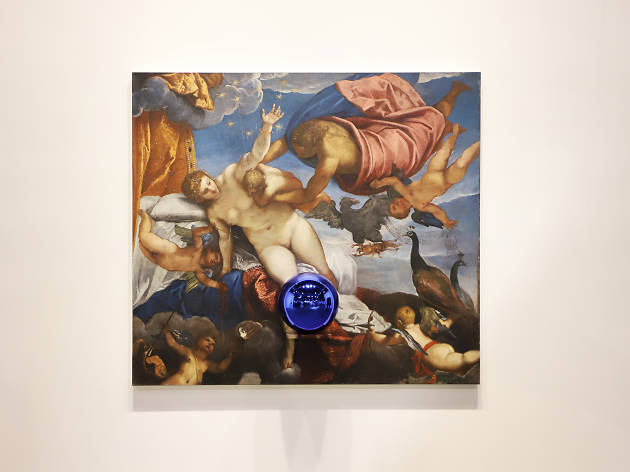 Jeff Koons, David Zwriner Gallery
Notable American artist Jeff Koons, who you probably know from his recent collaboration with Louis Vuitton, is presenting five recent works at the fair including his signature balloon animal sculptures and works from his popular Gazing Ball series – repainted version of masterpieces like the Mona Lisa with a blue spherical ball added on. Represented by Hong Kong's newest art gallery, David Zwirner, you can't miss its massive chrome bird sculpture on the first floor. David Zwirner, 1C20.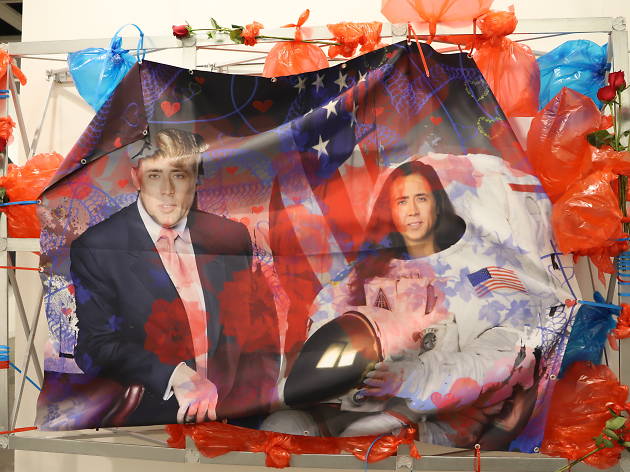 Miao Ying, Galerie nacht St. Stephan Rosemarie Schwarzwalder
Shanghainese artist Miao Ying, whose humourous work focuses on how mainstream technology and contemporary consciousness impact people's daily lives, has superimposed images of the Internet's favourite over-the-top actor, Nicholas Cage, on top of the face of Donald Trump and an astronaut. Surrounded by blue and red plastic bags, feel free to make your own interpretations whether the piece is a commentary on the state of American politics or just about the artist's love for Face/Off and Nick Cage.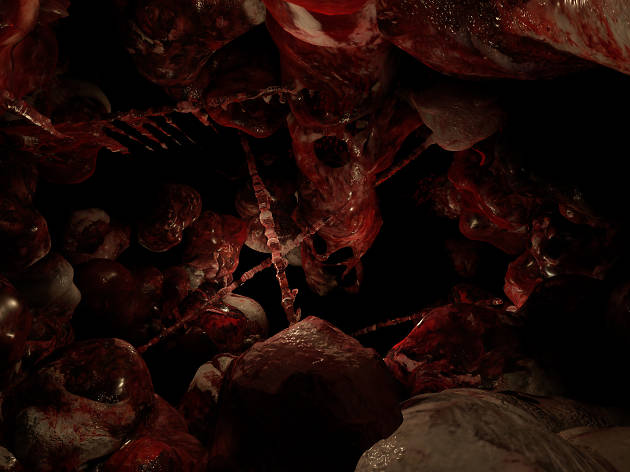 Anish Kapoor, Into Yourself, Fall
If you think you're looking at some zombie innards from a survival horror game, you're not too far off. This is Anish Kapoor's first virtual reality work, Into Yourself, Fall. Renowned for his sculptural works, Kapoor has gone in a new direction this time and takes viewers through the human body to experience the sensation of falling inside oneself and to demonstrate the 'labyrinth of the inner workings of the self'. It's a bit like going on a rollercoaster of your own colonoscopy. HTC Vive Lounge, 3/F.
Image: Anish Kapoor, stills from Into Yourself, Fall, 2018, courtesy of Anish Kapoor and Acute Art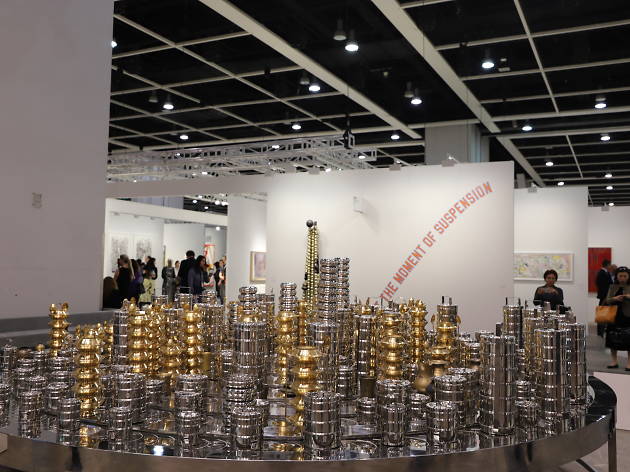 Subodh Gupta, Start. Stop., 2008
While the full effect of this installation doesn't come across in a simple photo, believe us when we say Subodh Gupta's huge display is impressive. Known for his massive monuments exploring Indian life and culture, Start. Stop. is a glaring metaphor for food consumption showing stacks of tiffin boxes on a slow-moving conveyor belt. Another great piece to Boomerang, if that's your thing. Space E4.