The best cha siu bao in Hong Kong
It's one of Hong Kong's most iconic dishes, and everyone's got their favourite. Time Out starts a bun fight to find the best cha siu bao in Hong Kong.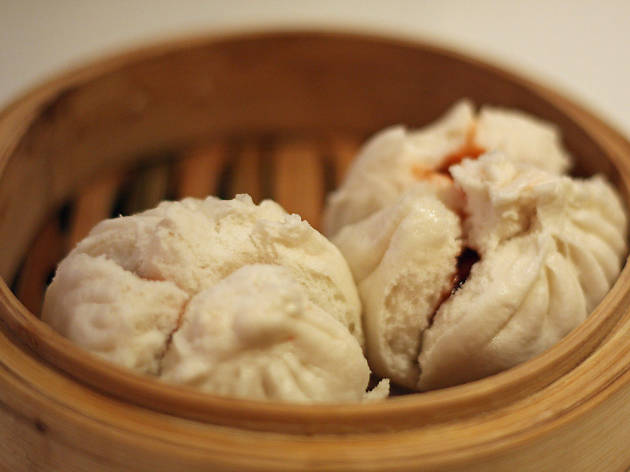 Choi Lung Teahouse
Head to the massive bamboo box, open its lid, and look among the dim sum for their cha siu bao. If you can't find them, yell (politely) for the cook to steam some right away just for you. Quick, cheap and very tasty, this place is great for takeout. 2 Chuen Lung St, Tsuen Wan, 2415 5041. $10 for two.
Dai Wing Wah
You can't help but be tempted by the deliciously yeasty steam wafting from bamboo boxes that open to reveal classic cha siu bao – white and fluffy, and plump with barbecued pork. Get cosy at yum cha as you share a table with fellow diners at this neighbourhood favourite. 2-6 On Ning Rd, Yuen Long, 2476 9888. $11 for two.
Dim Sum
The recipe for cha siu bao at this romantic dumpling haven includes crispy duck, which complements the silky honey glazed pork perfectly. And, unlike most places, they're open for dim sum at dinner time too. G/F, 63 Sing Woo Rd, Happy Valley, 2834 8893. $25 for three.
Golden Leaf
Light puffy buns filled with rich roast pork are part of the extravagant dim sum set here – the perfect alternative to bacon and pancakes for Sunday brunch. Conrad Hotel, 88 Queensway, Central, 2521 3838. $63 for three.
Honolulu Bakery
This Wan Chai bakery puts its pork into actual buns. Large, soft, pillowy rounds of white bread enclose roast pork that's less sweet than the kind that fills the steamed cha siu bao at dim sum restaurants. This and an egg tart for dessert makes for an incredibly delicious, delightfully cheap, gloriously unhealthy lunch. 176-178 Hennessy Rd, Wan Chai, 2575 1823. $6 each.
Lin Heung
Cha siu bao is served here the traditional way: alongside an array of other steaming hot dim sum on trolleys. Run to the cart as soon as it teeters out of the kitchen to ensure you get first pick. The pork is juicy, the bun, unbelievably fresh. G/F, 160-164 Wellington St, Central, 2544 4556. $40 for two.
Lung King Heen
The baked barbecued pork buns with pine nuts are as splendid as the service and the breathtaking views of the harbour. But their menus change daily – ask when cha siu bao is available and make your reservation accordingly. Four Seasons Hotel, 8 Finance St, Central, 3196 8888. $48 for three.
Saam Hui Yaat
While this place is a bit of a dive with its derelict, blackened floors and walls and its all-male clientele, its dim sum is the real deal. Their cha siu bao is no-nonsense and super tasty. 11 Pok Fu Lam Road, Sai Ying Pun, 2547 3917. $9 for two.
Tim Ho Wan
Here the "bao" that envelopes the pork resembles the most exquisite French baking. Golden, delicately sweetened and buttery, it crumbles then melts in your mouth. Expect to wait hours for your cha siu bao – they're worth every second. Shop 8, Taui Yuen Mansion Phase 2, 2–20 Kwong Wa St, Mong Kok, 2332 2896. $20 for four.
Yan Toh Heen
Eat your perfectly prepared cha siu bao on a beautiful jade plate. Your ability to multi-task will be put to the test when you can't decide whether to focus on the exquisite napkin rings or the impeccable food. InterContinental Hotel, 18 Salisbury Rd, Tsim Sha Tsui, 2313 2323. $44 for three.