The best Japanese grills in Hong Kong
Of the many things we love about Japanese food, the grilled stuff is a definite fave. Time Out sticks into the best in Hong Kong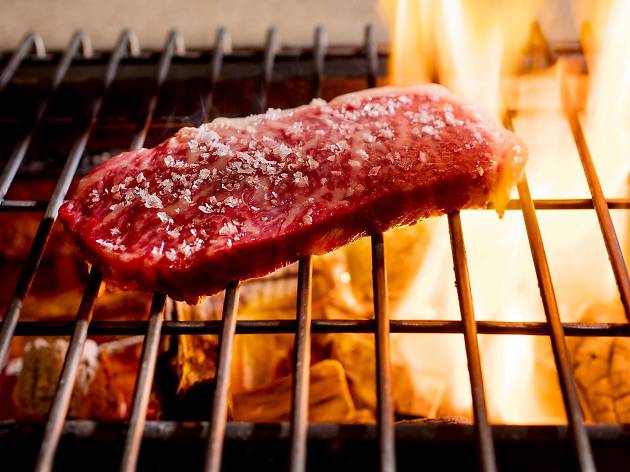 The best Japanese grills in Hong Kong
Situated away from the bustle of Causeway Bay's busy streets, Bicho has remained a firm favourite with robatayaki fans for well over a decade. They pride themselves on their yakitori chicken wings, which are cooked until the skin is crisp and yields easily to the tender meat underneath. They also do a version of the chicken wings stuffed plump with mentaiko (marinated fish roe).
Read more
Nan Tei serves killer grilled skewers done the no-frills, izakaya way. The cramped space gets pretty noisy with the clinking of beer glasses and boisterous chatter, but it's all the sound of people having a good time. Most dishes need just a simple sprinkling of salt to bring out the ingredients' natural flavours. The thick-cut ox tongue is among one of the must-orders and goes particularly well with an ice cold beer.
Read more
It might not be located in the most obvious of places but that hasn't stopped Sake and Yakitori from churning out awesome grilled goods. The handmade cuttlefish stick is a house specialty – grilled to a slight smoky crustiness on the outside but still fluffy and chewy on the inside. The menu also features tuna blood – a robustly flavoured item that is little seen in other restaurants.
Read more
Tucked away in a nondescript alleyway, Michelin recommended Takeya is easy to miss for first-time visitors. Owned and run by two Japanese brothers, Takeya specialises in authentic Japanese grilled skewers. Yakitori is particularly good, especially the satisfyingly crisp and surprisingly ungreasy grilled chicken skin.
Read more
The awesome Yardbird is known for drawing in the crowds. It has a no reservations policy, meaning queues of eager diners wating to sink their teeth into some of the best Japanese grub in town snake outside. No part of the chicken is spared here, with skewers of thigh, wing, neck, liver, tail or skin all featuring on the menu and all grilled to smoky perfection.
Read more
The decidedly modern and swanky Zuma serves up posh and polished versions of popular izakaya dishes. They use a charcoal robata grill, which gives the food a great smoky dimension. The dishes are all served with the restaurant's special sauce and condiments, so imagine plump grilled scallops with grated apple, wasabi and sweet soya sauce, and salmon brushed with teriyaki sauce, served with pickled cucumber. Zuma's free-flow brunch every Saturday and Sunday features several solid robatayaki choices.
Read more
Japanese grills not your thing? Hong Kong is home to some awesome Korean barbecues, grilling up sizzling beef and pork strips, washed down with a shot of soju or five. Check out our top pick of Korean barbecue joints in the city.
Read more