Hong kong's best buffets
You better keep space in your stomach for all this grub!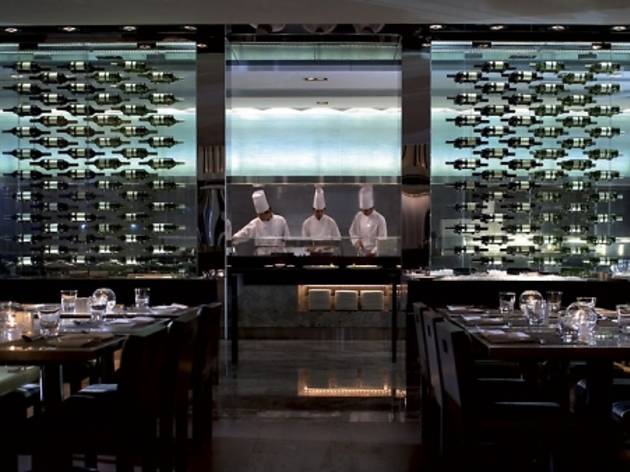 798's "Super Sunday" offers unlimited orders on more than 40 of the restaurant's most popular dishes. Breaking from traditional buffet practice, diners order off a sheet menu and have the food brought to the table. It's the laziest, most indulgent way to enjoy a buffet meal. Menu items range from Eggs Benedict, to comfort food classics like mac'n'cheese. Not to be missed are the signature sweets. Gorge on limitless banoffi pie and panna cotta as part of the deal. The buffet runs every Sunday, noon-5.30pm. 1/F, 9 Hau Fook St, Tsim Sha Tsui, 2366 0234; Shop 1203, 12/F, Food Forum, Times Square, Causeway Bay, 2506 0611. Buffet per person: $128.
This family-friendly restaurant is best known for its exceptional hotpot buffet. Seven different soup bases are available, all served in miniature, individual pots. The buffet spread offers over 40 different top-quality ingredients to dunk into the boiling broth; choose from fat-marbled Australian beef, to fresh seafood and organic greens. The buffet also includes an appetiser and dessert station for pre and post-hotpot nibbles. G/F, Harbourfront Horizon, 8 Hung Luen Rd, Hung Hom, 2269 7828. Dinner buffet per person: $201-$253.
The café channels a casual vibe, with a simple yet chic interior to go with the eclectic range of dishes. Diners can watch their food being prepared à la minute from the café's open kitchens. Stop by the popular dessert counter, which features a rotating selection of cheesecakes.
M/F, InterContinental Grand Stanford, 70 Mody Rd, Tsim Sha Tsui, 2731 2860. Dinner buffet per person: $388-$448.
Café TOO underwent a recent revamp by adding a new teppan and upgrading their kitchen theatres. The chefs have also created ten new dishes for the buffet spread to complement these hardware improvements. New items include mini teriyaki burgers and seared scallops cooked fresh off the teppan grill. Be sure to try the Chinese specialties, such as hand-crafted "dan dan" noodles and steamed xiao long bao pork dumplings. 7/F, Island Shangri-La, Supreme Court Rd, Admiralty, 2820 8571. Dinner buffet per person: $458-$498.
Come lunchtime, this alfresco gem becomes packed with nearby office workers who file in for the restaurant's famed antipasto buffet. Guests are given unlimited dibs at the selection of Italian starters. Highlights include paper thin Parma ham and fresh salads. Diners can opt to go just for the antipasti buffet, or tack on a main course at a supplementary cost. G/F, The Piazza, Grand Millennium Plaza, 181 Queen's Rd Central, Sheung Wan, 2167 8200. Lunch buffet per person: $228.
It's all a little theatrical here with the open kitchens turning out dish upon dish, made fresh to order. Expect the usual suspects – quality meats, seafood and desserts. In addition to the regular line-up of dishes. UG/F, The Langham Hotel, 8 Peking Rd, Tsim Sha Tsui, 2375 1133. Dinner buffet per person: $468-$488.
Few things are as comforting as an endless spread of hearty, Indian curries. Tandoor's weekday lunch buffet ($98) selection counts as one of the best in the city. Meat and vegetarian curries are kept warm in between helpings of delicately spiced chaats and samosas. Dinner buffet is also available Mondays through Thursdays, accompanied by live Indian musical performances. 1/F, Lyndhurst Tower, 1 Lyndhurst Terrace, Central, 2845 2262. Dinner buffet per person: $178
The Royal Garden's ever-popular buffet restaurant features a 14-metre-long central buffet counter and eight cooking stations during dinner time. The food is truly global, with Japanese delicacies sharing the spotlight with Italian pastas and Southeast Asian delights. The Greenery's Hainan chicken rice is particularly famous, as well as the 1855 premium beef from America.
3/F, The Royal Garden, 69 Mody Rd, Tsim Sha Tsui, 2733 2030. Dinner buffet per person: $443-$473.
Tiffin is perhaps most famous for its dessert buffet ($228). The spread features tiers of tarts, cakes, delicate mousses and other freshly-made sweet treats. But for something a little more substantial, go for the dinner buffet, which offers a host of western delicacies. Fill up on liver pâté, hand-carved aged hams and fresh, succulent seafood, while enjoying the nightly live jazz performance. The dessert buffet is included in the dinner deal, and diners can also round off the feast with selections off the cheese table. 1/F, The Grand Hyatt, 1 Harbour Rd, Wan Chai, 2584 7722. Dinner buffet per person: $538.
People were waxing lyrical about Yamm long before The Mira transformed into the hip and fully functional hotel it is today. Like most hotel buffets, Yamm does a repertoire of international dishes, but it's the Japanese items that really steal the limelight. The restaurant's decadent desserts run a close second to the jet-fresh sashimi and golden, deep-fried tempura. G/F, The Mira Hotel, 118 Nathan Rd, Tsim Sha Tsui, 2315 5111. Dinner buffet per person: $498-$550.