Hong Kong's best... Dai pai dongs
Experience authentic local cuisine at our top picks for these iconic outdoor restaurants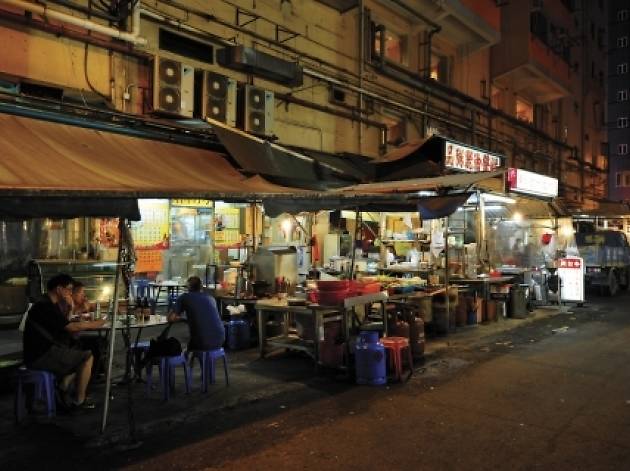 Housed inside Wo Che Estate's open air food bazaar, this perpetually packed eatery plates up various stir-fried, roasted, steamed and braised dishes. Everything is designed to be beer-friendly, including the cumin spareribs and mantis prawns in spicy salt. $200.
Read more
It's all about the noodles here. Order the homemade cuttlefish and fish balls over ribbons of flat rice or egg noodles. For those who want to go soupless, gorge on a bowl of thin egg noodles tossed in soy sauce and tack on a helping of Cheung Fat's signature pork knuckle. $80.
Read more
Leaf Dessert
The specialties at this tiny roadside shack are the red bean and green bean soups – all made according to the traditional recipe. The sticky, glutinous rice balls rolled in sugar and sesame are another delicious highlight. Despite its name, Leaf Dessert also offers a small selection of noodles. $50.
Sing Heung Yuen
Managed by the second generation owner Irene, this bustling streetside stall continues to draw in the crowds (as well as Hong Kong celebrities) with its famous tomato broth noodles. Served with a side of tender beef, sausage and eggs or a thick slice of spam, the bowl of noodles isn't anything particularly fancy but it's one of the cheapest and most comforting meals you can get in the area. Be sure to also try the crispy, toasted buns drizzled with condensed milk and the velvety smooth milk tea. $80.
So Kee
Twenty-four-hour service is a beautiful thing, which is why So Kee makes it into this list. The eatery prides itself on its pork chop – a fluffy slab that can be enjoyed over a bowl of instant noodles or as a sandwich filling. $50.