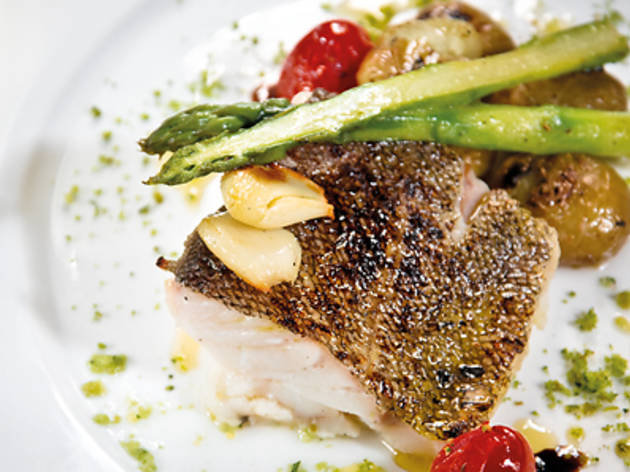 Time Out says
Of all the types of shellfish, prawns are probably the most underrated, despite being popular little buggers, served in hefty amounts with cocktail sauce, shelled and fried, or tossed ever-so-casually over a salad. And we've probably all caught that infamous monologue in Forrest Gump to get the picture that there are plenty of ways to cook prawns and their petite cousins, shrimps. However, when compared with the more glamorous lobsters and crabs, prawns still get pushed to the wayside as the scrawny sidekick.
Fans will be happy to hear that at Porto Fino Mediterranean Kitchen & Deli, prawns and shrimp rule the menu. A new Mediterranean restaurant perched at the top of Old Bailey Road, in the quieter part of Soho, Porto Fino offers up a splendid assortment of dishes that conjure up warm visions of Italy, Spain and Portugal. There's a real focus on catering to those with a penchant for savoury seaside dishes, as much of the ingredients comes from the sea. Think grilled scallops topped with carrot purée and salted cod with sautéed asparagus and cherry tomato confit.
But let's not forget the shellfish. A recommended starter is the chilled king prawns from Portugal ($140), which arrive at the table displayed in a rather unceremonious manner, simply paired with a few lemon wedges. But the freshness of the prawns oozes out of every bite. The seafood spaghetti dressed in herb oil ($165) also packs in a few pieces of shrimp alongside some scallops, but this dish could do with a little more seasoning. However, with both dishes, the simple dressings merely help demonstrate how well Mother Nature can cook.
Both the chilled prawns and the spaghetti are tasty but neither compares to the deliciousness of the beef and tiger prawn skewers ($225), impressively brought to the table hanging off a 100cm-long skewer rod, its juices dripping down to meet the drool-worthy braised rice and Mediterranean vegetables below. The prawns are wonderfully buoyant, well-seasoned and balanced exceptionally well with the succulent rice. (Tip: be sure to start on the skewers as soon as they arrive at the table for optimal taste.) Though we're already full from the generous portions, our minds continue to wander back to the skewers after we finish our Portuguese egg tarts desserts topped with vanilla ice cream and cinnamon sprinkles ($50).
It's obvious to say that you come to Porto Fino for the food, but various other reasons may also pull you in. It's a deli as well, so feel free to browse and pick up some Portuguese green wine or Spanish olive oil to take home for the family. It's a rare find in a place like Central and the relaxing, lounge-around atmosphere may give the restaurant some lingering power. Janice Jann
28 Old Bailey St, Soho, Central, 2668 0430; portofino-hongkong.com. Mon to Sun, 9am til late.
The bill
Chilled king prawns from the Portuguese coast $140
Beef and tiger prawn
skewers, braised rice,
Mediterranean salad $225
Seafood spaghetti,
rocket salad, herb oil $165
Portuguese egg tart, vanilla
ice cream, cinnamon sprinkle $50
Total for two $580.00

Details
Best selling Time Out Offers