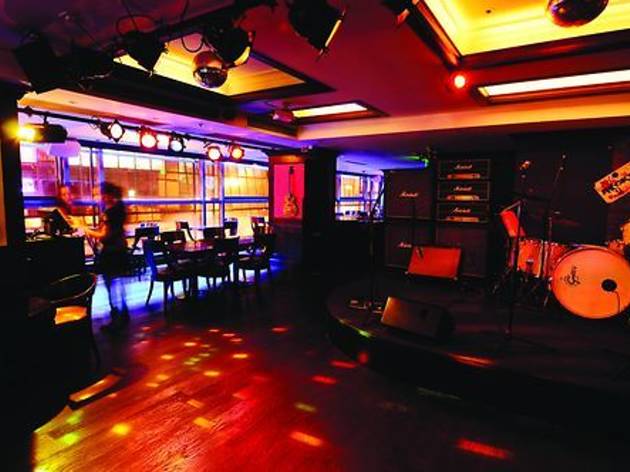 Time Out says
Before heading up to Rockschool, we received a flyer which featured the words 'kick ass', 'sexy', 'no rules', 'irralional' (what?), 'sex, alcohol and rock'n'roll'. It seemed like a promising formula. But with its name, we were also buoyed by the hope that a rocking new boozing spot might have entered the musically unadventurous Wan Chai. Could this new bar, sitting above Joe Bananas on one of Wan Chai's livelier drinking corners, deliver the goods?
Exit the elevator, and on first glance, the dim space that was previously Bulldog's appears unchanged, retaining the dark, wooden pub feel, large back wall bar, and sparse decoration of its predecessor. The minor changes reveal themselves slowly – the addition of a couple of token guitars, a TV channel change from live sports to music videos – but it's hardly a major transformation. Disappointingly, the bar seemed largely absent of many of its promised virtues: there was no sex, we didn't get to kick ass, and it certainly wasn't irralional.
But, it's early days and, to his credit, owner Gregory Tancer seems to have a vision for this new rock bar – live, loud, original music – a vision, in our humble opinion, that's to be applauded.
One of Rockschool's most enviable attributes is its luxuriously large stage. Far bigger than neighbouring rock venue The Wanch, and more comparable to the Cavern, it's the type of venue that could tap into the lack of original music hotspots around town. And although classic rock covers currently fill this second floor haunt, Tancer plans to turn Rockschool into a fully-fledged live venue, bringing in acts from overseas, luring big names in for more intimate gigs, as well as providing a decent gig location for local bands.
Rockschool's three chord formula of rock, booze and party is something that could either dominate or flop, depending on how well it can play them. For the sake of the music scene, let's hope it turns out to be a virtuoso.
Michael Guan

2/F The Phoenix, 21-25 Luard Rd, Wan Chai, 2510 7339.

Details
Best selling Time Out Offers