The 10 best uniquely Hong Kong dishes
From pineapple buns to char siu, these are the native Hong Kong dishes that we love most – and where to find the best versions
Whatever you're hungry for, you can get it in Hong Kong. Seeking Chinese? Everything from Cantonese and Chiuchow to Sichuan and Jiangzhe style cooking is readily available. Want something African? Sniff around Chungking Mansions long enough and you can stumble upon some great authentic eats. Western grub? Spend five minutes walking in Central and you should be sorted.

This collision of cuisines has made Hong Kong famous as a foodie paradise but, spoilt for choice, our native dishes sometimes get overlooked. Which is a shame because often they're fantastic and can't be found anywhere else – many is the time a Hongkonger has returned from holiday stuffed with sushi but craving some HK-style French toast and a cup of lai cha.

These then are Hong Kong's best native dishes and the best places to find them. If you want a taste of home, start here.
Top 10 best native Hong Kong dishes
Char siu
You can't turn a corner in Hong Kong without coming across char siu – usually hanging in the window of a siu mei joint. The barbecue roasted pork typically comes from shoulder cut, seasoned with a mixture of honey, five-spice powder, red fermented bean curd, dark soy sauce, hoi sin sauce, and sherry or rice wine. This process gives the outside a deep, dark red colour and smoky barbecue flavour while the inside remains moist and tender. If pork ain't you thing, other roasted treats in these restaurant windows are roast geese and ducks with super crispy roasted skin.

Our recommendation: Debate rages about which restaurant offers the best char siu in Hong Kong, but we reckon the pefectly balanced pork at Kam Wah edges it.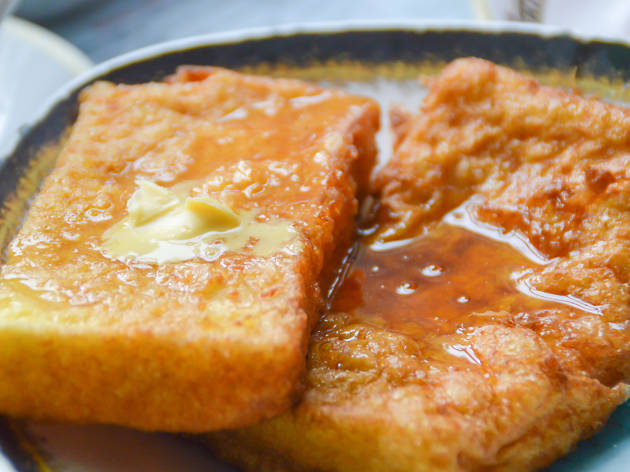 Hong Kong-style French toast
Our uniquely local version of French toast involves thick slices of super soft milk bread fried in an eggy batter and slathered in condensed milk and loads of butter. Not for the health conscious, this doughy slab is a feast in its own right.

Our recommendation: the photogenic Mido Café in Yau Ma Tei pulls in punters eager for likes on Instagram, but the French toast is the real reason to travel here.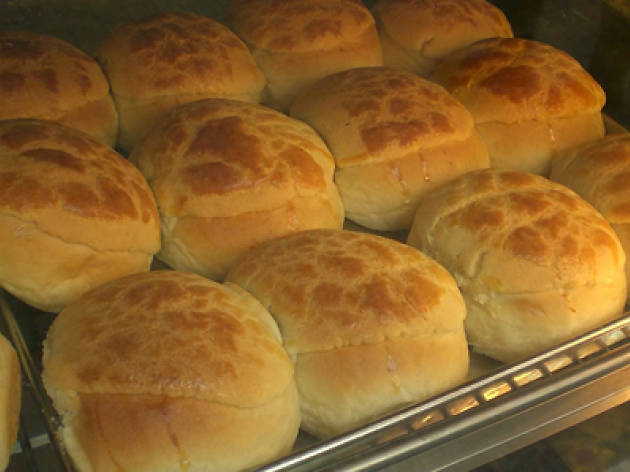 Pineapple buns
The uninitiated are often surprised that this treat doesn't traditionally contain or taste like pineapple. Rather, the name comes from the top looking (somewhat) like the ridged contours of a pineapple. This patterned summit is made from sugar, eggs, flour and lard. Though, to make things more confusing, you can now find pineapple flavoured and pineapple filled buns (among other varieties). Whatever the style, the perfect old fashioned pineapple bun should be golden brown, sweet and crispy on the top; soft, fluffy, and savoury on the bottom.

Our recommendation: Try the version commonly sold in cha chaan tengs like Kam Fung Cafe where a generous slab of butter is wedged inside the warm bun so that it melts into an indulgent buttery morsel.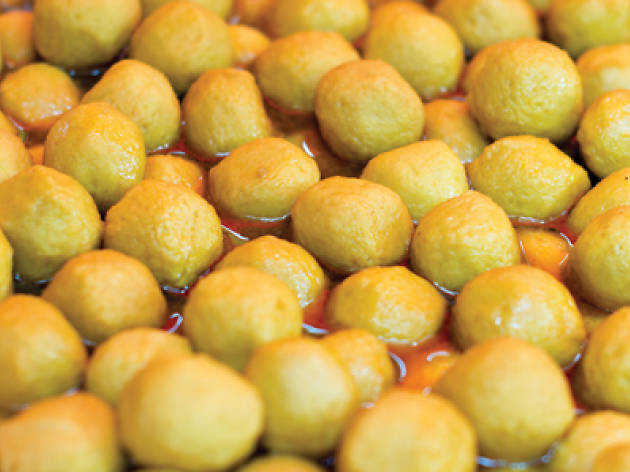 Curry fish balls
Okay, these are found in Southern China and Macao too but Hong Kong fish balls are different – and we think, better. They can be procured at just about every street stall, 7-Eleven and many cha chaan tengs. Minced fish is pounded and stretched with sugar and salt – plus egg whites or corn starch or flour – until a springy texture is achieved. The more pounding the smoother the fish ball and the more satisfying the outcome. Every street vendor has their own curry sauce recipe in which these beauties are boiled to heck, then skewered on a stick for your dining pleasure.

Our recommendation: Any street stall. They're all great.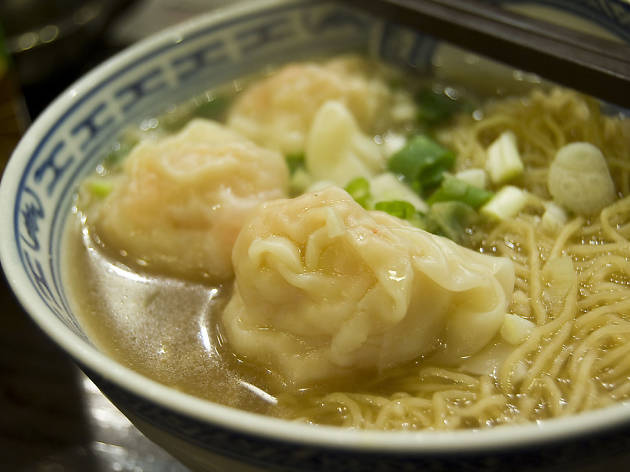 Wonton noodles
Wonton noodles are found in other Cantonese areas, sure, but to be 'Hong Kong style' they must conform to the laws of wonton noodles. Firstly, the wontons should be filled with prawns – there may or may not be some minced pork but there must be prawns. Second, the noodles ought to be thin and free of any egg flavour. This is achieved by cooking the noodles very gently and serving them on top of the soup so they don't continue to cook at the table. Rule number three: the broth needs to be light and delicate so that the dish has the right balance of flavours. And lastly, wonton noodles should be topped with garlic chives to add texture and a fresh aroma. End of.

Our recommendation: Mak's Noodles has been pleasing the public with its tasty wonton noodle soup for the past five generations.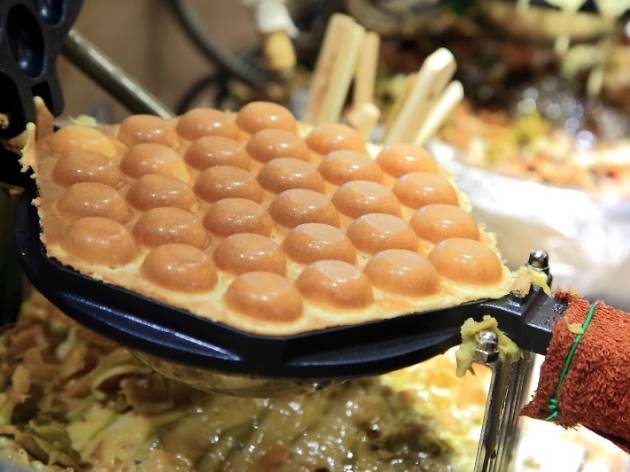 Egg waffles
The sweet, sweet smell of egg waffles wafting from a street-side vendor is a nostalgic aroma for most Hongkongers. Made by pouring egg batter onto a griddle pan, gai daan jai are often served with fresh fruit or lashings of chocolate or coconut. These tear 'n' share bite-sized waffles are soft and gooey on the inside and light and crispy on the outside. The ideal afternoon snack to satisfy your sweet tooth.

Our recommendation: Mammy Pancake make the perfect crisp on the outside, soft on the inside gai daan jai.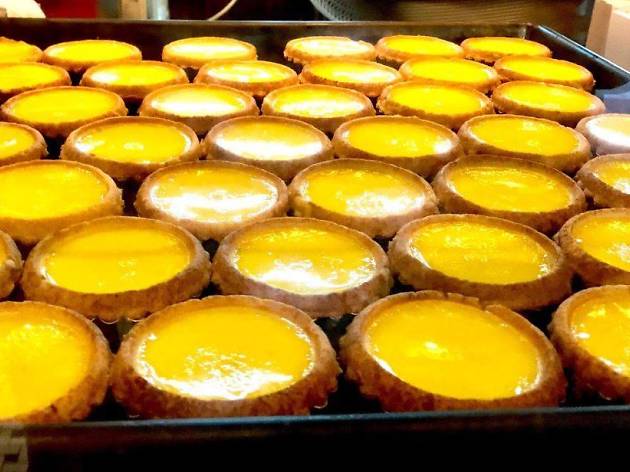 Egg tarts
An another example of the unique melding of cultures which sees English custard tarts adapted to be less creamy and more eggy, these dinky pastries are common in cha chaan tengs and Hong Kong bakeries. Now, we know what you're thinking from the state: egg tarts are Portuguese. But Hong Kong egg tarts are different. Local egg tarts differ from their Portuguese brethren by featuring a biscuit base rather than a pastry one. They also don't feature the grilled sugar brûlée topping that is standard practice in our neighbouring SAR.

Our recommendation: Famous for more than 60 years, Tai Cheong Bakery is rightly renowned for the top tier tarts.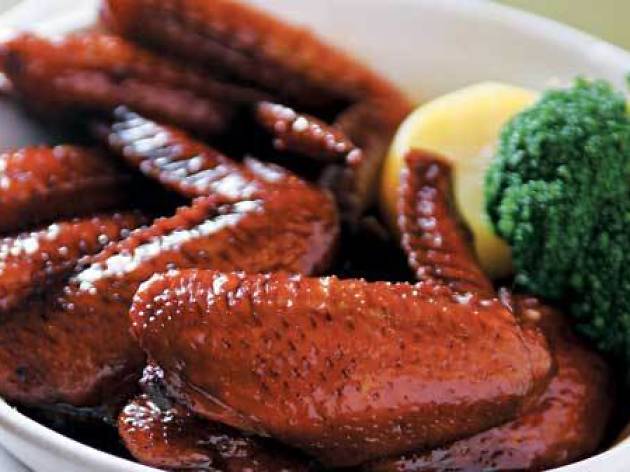 Swiss chicken wings
These sweet soy sauce flavoured chicken wings are another local culinary quirk. Urban legend has it that a certain foreigner tried to order a plate of 'sweetened soy sauce chicken wings' and the waiter, who may not have had perfect English, replied 'sweet wings?'. The customer misheard this as 'Swiss wings' and the name stuck. The wings are marinated in a coating made of soy sauce, sugar, Chinese wine and spices, served piled on a plate.

Our recommendation: Tai Ping Koon. Even if the wings are all you ever order when here, you'll still leave happy every time.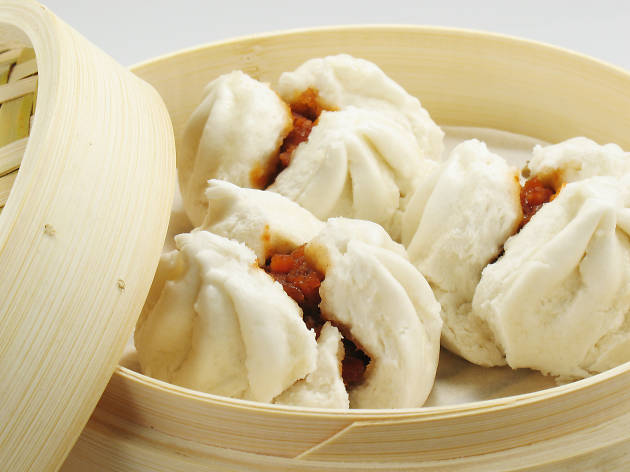 Dim sum
What could be more Hong Kong than drinking endless cups of tea and eating dim sum, picked from the cart, without leaving your seat? Favourite dishes are char siu bao – simultaneously sweet and salty barbecue pork inside a fluffy Chinese bun – and chicken's feet which are best served in a thick, black bean sauce. It takes some practice but ideal way to deal with the former is to bite the chicken feet at the joints, chew the flesh off and then spit the talon out.

Our recommendation: just about any of Hong Kong's dim sum restaurants.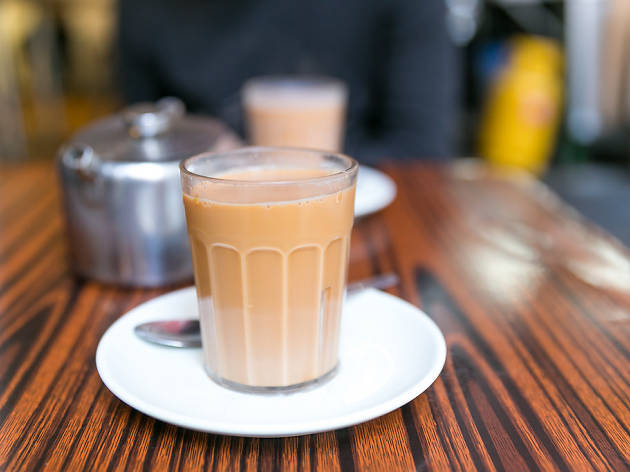 Hong Kong milk tea
It's not food but there's no way we were going to leave off one of Hong Kong's most unique refreshments. Emerging from our SAR's colonial era when West was busy meeting East, this was one of the numerous strange hybrids emerging from the city's culinary primordial soup. The traditional British sugary milk tea was taken by locals who enjoyed a stronger version of black tea. It's refined by straining it through tights five or six times. The lack of fresh milk in Hong Kong necessitated the use of the condensed kind, which lends the tea a richer mouthfeel. Every vendor or café owner claims to have their own secret blend and secret method of preparation – specific temperatures, brewing times and numbers of strainings – with customers left to add however much sugar suits their taste.

Our recommendation: If you're looking for the originator of pantyhose-strained milk tea in Hong Kong, look no further than Lan Fong Yuen.
Looking for a bargain bite?
Food is more than a passion in Hong Kong. It's a way of life. Our food scene is tops but many meals come with a hefty price tag. That's why we've picked 50 of the best cheap eats in Hong Kong under $50 so you can treat your stomach like royalty, without the royal price tag.
Read more