The best Hong Kong WiFi cafes
Cabin fever? Hong Kong's got an awesome selection of WiFi cafes for freelancers, job hunters and tech-heads alike.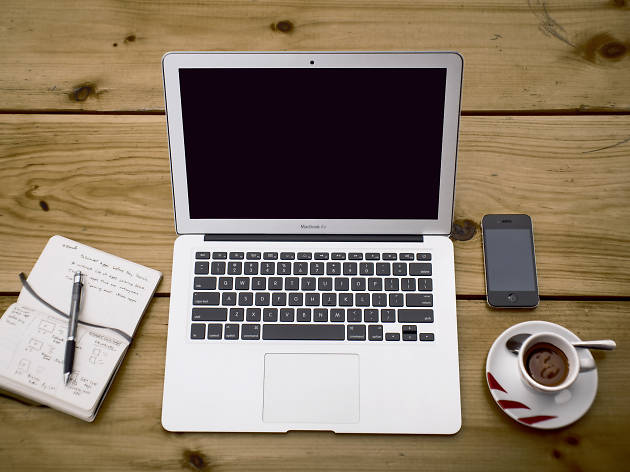 Freelancers and job-hunters alike often get cabin fever in their shoebox-sized homes: the only release from their cramped hell is to get out, and be around other souls with no office to call home. But finding that perfect spot to camp out all day with coffee refills, dee-lish Danishes and your laptop, is a real feat in this eat-and-get-outta here town. To help those seeking refuge, we've crisscrossed town looking for a signal. And though many restaurants and cafes charge for Wi-Fi usage, there are those rare outposts who believe the internet is for the people – and should therefore be free of charge. Here's our round-up of these connectivity heroes.
Living Room at W
Signal: 4 bars
Plugs: 0
Just like at home, it's hard to get any work done in the Living Room. The distractions here are legion: DJs, cocktails, board games, coffee table books, newspapers, and attractive people (okay, so not exactly like home). If none of those vices do it for you, then scoot down a few inches on their plush sofas and stare out at the city views from the two-storey windows. For those who want to keep it light as they lounge for hours, or however long your battery lasts, the tapas menu is yet another great diversion. 6/F W Hong Kong, 1 Austin Rd, West Kowloon, 3717 2222; www.w-hongkong.com.
Classified
Signal: 3 bars
Plugs: 1
At Classified, it's best to get your ass inside if you're planning to do some serious web surfing – the outside reception is lousy. In fact, the WiFi is generally a little slow no matter where you sit – we suspect that many of the residents upstairs at CentreStage are stealing a signal from this place. Accusations aside, Classified is perfectly set up for a bit of casual work, and dining: think pastas, sandwiches, cheese platters and great Javas. As befits their name, guests are also invited to linger for hours and read the paper. How good is that? Various locations inc G/F, 108 Hollywood Rd, Sheung Wan, 2525 3454; classifiedfood.com
Pho 26
Signal: 4 bars
Plugs: 0
Not too many noodle shops will allow you to linger for hours perfecting your Facebook profile, but Pho does. While you should plan to avoid the busy lunch rush, if you come during quiter hours, say mid-morning or late afternoon, you won't be greeted by icy stares when you open up that laptop. We love their tomato broth Kobe beef pho, a Canto take on the original, clear broth version. 2 Landale St, Wan Chai, 2628 3939.
Graze
Signal: 4 bars
Plugs: 1
Come for breakfast and stay until happy hour. Here, let us plan out a day's menu for you: for breakfast, organic oatmeal and banana with flaxseeds for your daily intake of fibre; an Earl Grey and honey muffin for a mid-morning snack; at lunchtime it's chicken Caesar salad; and end your work day with a happy hour mojito. G/F Chao's Bldg, 143-145 Bonham Strand, Sheung Wan, 2850 7766.
Brunch Club
Signal: 4 bars
Plugs: 6
As well as being a dining destination, Brunch Club is also known as a freelancing heaven. Every unemployed writer, photographer, filmmaker, and day trader has paid their dues at this casual shabby-chic cafe. They've got an all-day breakfast menu, as well as a varied line-up that includes croque-monsieurs, salads and steaks. We really like their pesto pasta with pine nuts – great light fare to keep you going when work is pounding the brain. Oh, and did we mention you can take your lap dog there as well? 70 Peel St, Soho, 2526 8861; www.brunch-club.org.
Café O
Signal: 4 bars
Plugs: 2
Ready for a little WiFi heaven? Okay then. Bring your computer and park here for as long as you want. They serve pizza by the square slice, salads by the bowl – and beer (how does anyone work without it?). Various outlets inc 2 Arbuthnot Rd, Central, 2868 0450.
The Pawn
Signal: 4 bars
Plugs: 3
With an entire floor called the 'Living Room', the folks here really want you to make yourself at home. Bring the laptop, and sink into one of their comfy couches – the signal is much better inside than out. Unlike some of the other places on our list, The Pawn serves great ales, not to mention bang up British grub. 60 Johnston Rd, Wan Chai, 2866 3444; www.thepawn.com.hk.
Cafe Zambra
Signal: 3 bars
Plugs: 3
This café is a great hideout for the temporarily unemployed, a place to go when you don't want to bump into anyone from your previous workplace. Not too many make the journey to this gourmet soup, sandwich, and salad spot (yet), which is why we love it. And also for the coffee, which comes from gourmet supplier Zambra. Shop 1, G/F, 239 Jaffe Rd, Wan Chai, 2598 1322.
Crema Coffee
Signal: Good
Plugs: 2
We adore the weird cappuccino art here, like when they swirl the crema (the cream you get from a well made espresso) and frothy milk into the shape of a happy bunny or cute cat. They also have college comfort foods, such as French bread pizza (with pineapples!) and chocolate muffins. Everyone comes here with their laptops, so be sure to arrive early to secure a seat. Shop LG17 LG/F (underneath Park n' Shop), Hilton Tower, 96 Granville Road, Tsim Sha Tsui East, 2369 0338.
Holly Brown
Signal: Okay
Plugs: 4
The two-storey Holly Brown in Central is dimly lit – and there aren't any plugs available. But, if you're looking for a quiet place to work, head upstairs where it's not too crowded. The WiFi is for customers only (the password is printed on the receipt) – and there's a variety of food and drinks (affordable coffee, expensive coffee, gelato, waffles and pasta). G/F, 22 Stanley Street, Central, 2869 9008; www.hollybrowncoffee.com.
Page One Café
Signal: Okay
Plugs: 0
They don't have free WiFi at Page One, but thanks to the magnanimous folks at Swire, all of Festival Walk is kitted out with free internet. That means you can log on anywhere, including Cova Café, Oliver's or Pacific Coffee. We however like Page One, because it acts like a reference library (important when you're researching a story), and when you're bored or just need a break, there are thousands of magazines to distract you. LG1-30 Festival Walk, 88 Tat Chee Ave, Kowloon Tong, 2778 2808; www.pageonegroup.com.
Peak Bar
Signal: Good
Plugs: 3
Good old Peak Bar, we sometimes forget that they serve more than a good pint. In the afternoons, this café is a popular hangout for out-of-work writers and coffee dates. Besides buying something to drink, also order one of their thin crust pizzas, made to order in their stone oven. Note: the WiFi is only available from noon-5pm, to discourage evening lingerers. 9-13 Shelley St, Soho, 2140 6877; www.cafedecogroup.com.
RabbitHole Coffee and Roaster
Signal: Good
Plugs: 2
Technically, RabbitHole isn't a café but a shop which sells coffee beans and machines. Located on the second floor, it's pleasant to find a quiet and open-spaced shop. Various coffee machines are placed against the walls with a long wooden table in the middle of the room. The shop is bright and there's balcony windows, through which the Central-Mid-levels escalator riders look in from. Because it's not really a café, space is limited and it can easily get crowded. There are two plugs available but they're far from the table. It's the perfect place to steal some time away from the real world in this rabbit hole. 2/F, 26 Cochrane St, Central, 2581 0861.
Top Deck
Signal: Okay
Plugs: 0
Okay we'll admit it – this is not where you first might think of to bring your laptop to do a day's work. But why not? On a bright day, you've got sparkling marina views, plenty of sunshine, and comfy lounge beds to lie on. While you need to get a security code to log on, they are happy to share upon request. And the food? Good burgers, Thai favourites, and curries. Top Floor, Jumbo, Shum Wan Pier Drive, Wong Chuk Hang, Aberdeen, 2552 3331.
The Real Bread Café
Signal: Good
Plugs: 3
This is Soho's answer to Santa Monica, which is to say a café full of loungers seeking a bit of sunshine. Rays of light stream between tightly packed buildings to bless Real Bread's patio with natural light. It might bake your laptop, but it will make your sun-deprived soul feel warmly taken care of. 14 Shelley Street, Soho, 2810 9326.