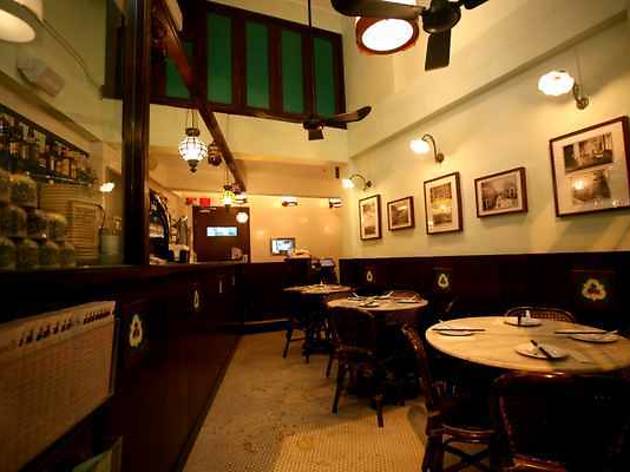 Time Out says
The owner of The Catch on Peel Street took a look at what is working in Soho right now – tapas, brunch, and brasseries, and revamped the former Singaporean seafood outlet (it was previously known as just plain 'Catch') accordingly.
First, tapas. There is no disputing that a tapas bar is this season's must have in any restaurant group's portfolio. At The Catch, they have an extensive tapas menu that includes favourites such as fried baby squid with lemon aioli ($62) and pan seared goats cheese with tomato relish and roast garlic ($62), but there are a few surprises on the menu such as seared scallops with green lentils and spinach ($76). The soft-as-pillows scallops were served on a bed of cream lentils and wilted spinach, and could easily be a meal on its own.
Second, brunch. It's incredibly ballsy to compete with your neighbours, but given the lines that spill out of a nearby brunch restaurant on Sunday lunchtime, it's not a bad idea to grab hungry diners looking to start their weekends. Their lox and bagels, blueberry pancakes, and oysters look very similar to dishes at their competition. What we like about The Catch's brunch menu is the addition of shrimp and chips, as well as their oyster po boy sandwich – a rarity in Hong Kong. The one item they've left on the menu from the previous incarnation is, thankfully, their Singaporean chilli crab. However, rather than presenting it in the shell, the meat is picked out of the crab for diners and plated as a dip with chips on the side ($148). The great morsels of crab meat mixed with spicy chilli mayo tasted marvellous, but they should lose the soggy chips. In addition, the grilled Angus tenderloin ($188) must be a giveaway at this price – the aged meat was so tender it could be sliced with a fork. The garlic mash that accompanied the steak had the perfect amounts of butter, cream and salt, while the ginger cabernet sauce lent both the meat and potatoes a mildly flavoured lacquer.
Third, brasseries. Despite a well-known Soho establishment's frequent self-comparisons to New York's famed Balthazar, it somehow falls short of the mark. However, despite being a tiny 30-seater, Catch does a great impression of the Big Apple brasserie, extremely well in fact, creating intimacy in a space that transports you out of Hong Kong. Furthermore, the décor feels like nothing else in the city. There is no one furnishing truly notable to speak of – not the birdcage lanterns, Turkish glasses, Queen Ann tables, nor reclaimed oak bar – but instead it is the combination of these elements that creates the successful formula of this relaxed post-colonial gem, delivered in a non-pretentious fashion.
The one gimmick though, is the menu, printed in newspaper style with banners such as 'The Catch Weekend Tribune', and 'The Catch Evening Post', and even featuring recent stories from local English-language media. However, getting back to the food, all their dishes, with the exception of a very shareable ocean platter ($250), are marked under $190, prices unheard of in Soho.
What they are counting on is that diners also like to drink (a reasonable assumption to make). They've stocked the bar with ex-bartenders from Soiree to mix summertime cocktails, and drinkers are welcome to occupy dining tables for as long as they like, invited to chill without icy stares from staff. The wine menu is a very good collection of boutique wines, about 95 per cent from the southern hemisphere, and all very affordable, despite the restaurant's mark up.
So still expecting a catch? Well, truth is, there isn't one. Alan Wong
Details
Best selling Time Out Offers