The ultimate Hong Kong mooncake guide
When the moon hits your eye like a salted egg yolk pie...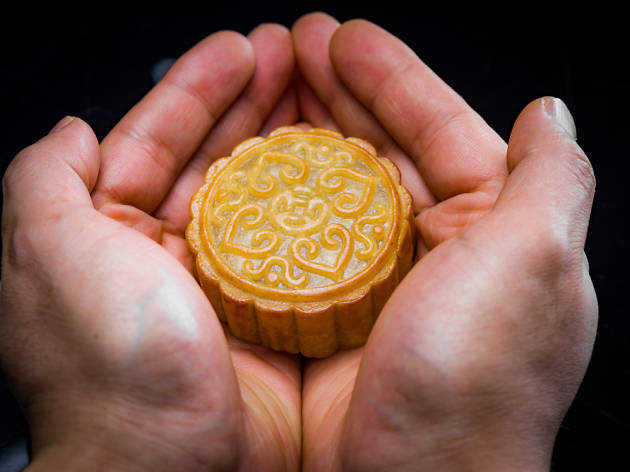 Hong Kong is home to many sweet treats, from traditional desserts to Instagrammable delights, but Mid-Autumn Festival is the time for mooncakes to shine. We round up the best mooncakes for Mid-Autumn Festival 2017.
The best mooncakes for Mid-Autumn festival
The Mira's executive pastry chef Jean-Marc Gaucher has created some of the most literal mooncakes, in that, these chocolate creations really do look like the moon. Using top notch chocolate infused with tea, each cake comes hand-brushed with cosmic colours. Flavours include green tea and white chocolate with white sesame, earl grey tea with milk chocolate and Japanese sudachi citrus fruit, and lapsang souchong black tea with dark chocolate and crunchy chocolate pearls. $268 for box of six or $28 each.
Argentinian steakhouse Gaucho has put a Mid-Autumn spin on its popular dulce de leche cheesecake by reinventing the dessert with mooncakes in mind. The mooncake includes seasonal ingredients such as lotus seed paste, egg and golden syrup mixed with the creamy caramel delight of the aforementioned dulce de leche cheesecake. $288.
Gold Leaf has created five mooncakes for Mid-Autumn, not forgetting the traditional mooncake with white lotus seed paste and salted egg yolk. Health conscious mooncake munchers will love the low sugar and mixed nuts varieties. More contemporary creations include a matcha mooncake with egg yolk and runny egg custard. The mooncakes come in leather boxes with supreme XO sauce. Hampers from $998.
One of our favourites, this mooncake is created using whisky and chocolate by the hotel's Tiffany's New York Bar. This year, the bar has collaborated with Taiwan's premier family-owned whisky distillery, Kavalan. Each box comes in three single malt whisky flavours including Kavalan Classic, Kavalan Solist Ex-Bourbon and Kavalan Solist Amontillado – named Best Single Cask Single Malt Whisky at at last year's World Whiskies Awards. $468.
The Shangri-La has a number of fab mooncakes this Mid-Autumn Festival. There's the deluxe vanilla bean custard variety, the seven-star mooncake box and the special Heep Hong mooncake. The seven-star mooncake is a large cake, filled with white lotus seed paste and six egg yolks, surrounded by seven mini mooncakes, each with different flavours. The Heep Hong charity mooncake – white lotus seed paste and double egg yolks – is an initiative to raise funds for one of Hong Kong's largest service providers of early intervention and education for children with special needs. All proceeds from sales will go to the charity. From $388.
For its first Mid-Autumn Festival, the new Kerry Hotel has created mooncakes using classic flavours like white lotus seed paste with double egg yolk and mini egg custard mooncakes – all made from 100 percent locally sourced ingredients. From $288.
Man Ho's executive chef Jayson Tang has whipped up some mini mooncakes with brown sugar, rose, red bean paste and egg yolk. There's also a more traditional mooncake of white lotus seed paste, ginger and double egg yolks those of more conservative tastes. The mooncakes come in an extremely fancy box, making for the perfect gift. From $288.
Mott 32 has partnered with Pierre Hermé to create four fantastic and inventive mooncakes. They are Vanilla – vanilla and almond cake covered with a vanilla chocolate coating; Ispahan – almond, raspberry and rose cake layered with a litchi fruit paste and covered with a pink chocolate coating; Qi Qiao – almond and orange blossom cake layered with a kumquat fruit paste and covered with a white chocolate coating and Qin Yi – almond and jasmine cake layered with a grapefruit fruit paste and covered with a blond chocolate coating. From $580.
Japanese green tea specialists Nakamura Tokichi have created a limited edition matcha mooncake. Made with 150 percent more handpicked tencha leaves than last year's matcha mooncake, if you like green tea, this one is a no brainer. For something even more special, there's the Maruto mooncake box set, featuring mooncakes that use 100 percent Kyoto matcha. From $238.
Show more
Looking for more traditional Hong Kong foods?
We look at five traditional dishes rapidly vanishing from Hong Kong menus and detail where you can still find them.