Five fun things to do at The AIA Great European Carnival
Hong Kong's biggest outdoor carnival is back! Have your Asia Miles at the ready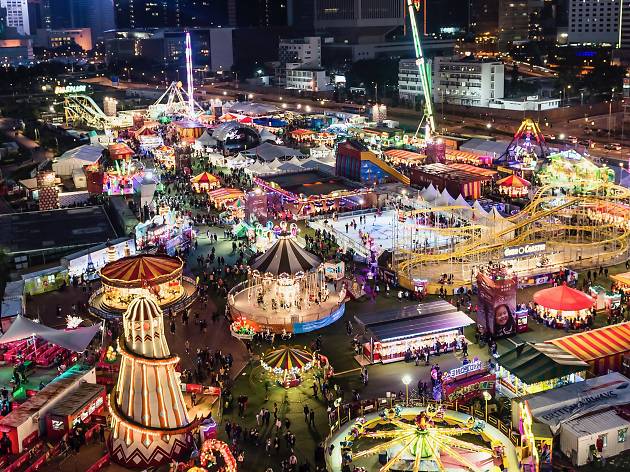 Time Out Hong Kong in partnership with Asia Miles
|
Taking a spin on a gravity-defying ride, doing your best to hit targets at the game stalls but struggling anyway, stuffing your face with popcorn – a trip to The AIA Great European Carnival has already become an annual tradition in Hong Kong.

Kicking off on December 21 this year, the carnival is back in town for two months, offering Hongkongers incredible thrill rides and numerous game booths. This is the place to be in winter! And good news, Asia Miles members – you can redeem your Asia Miles to get tickets and special fast-track passes to this year's Carnival.
Best things to do with your Asia Miles at The AIA Great European Carnival
The Great Circus of Europe
Hongkongers are in for a treat here! On top of the return of the Carnival, Central Harbourfront is also welcoming The Great Circus of Europe, featuring world-class circus acts and showstopping spectacles. More than 25 international performers from countries such as England, Kenya and Mexico are in town to dazzle audiences with their juggling skills, gravity-defying acts and the main attraction: motorbike performances in the wheel of death (pictured). And who can forget clowns – especially after It? Experience all the best entertainment under one roof – or circus tent.
Redeem your Circus Ticket on Asia Miles iRedeem to enjoy the spectacular performance with a General Admission ticket to the Carnival.
Get your adrenaline pumping
It's not a carnival without fairground rides, and there's plenty at this year's The AIA Great European Carnival. From scream-inducing, gravity-defying thrill rides to kid-friendly rollercoasters to the classic swing carousel, any one of these attractions is sure to bring plenty of yelps, whoops and squeals of joy. Skip the line for all the carnival rides by getting a fast track wristband. Redeem your Asia Miles now to enjoy exclusive privileges, so you can smugly move to the front of the queue every time.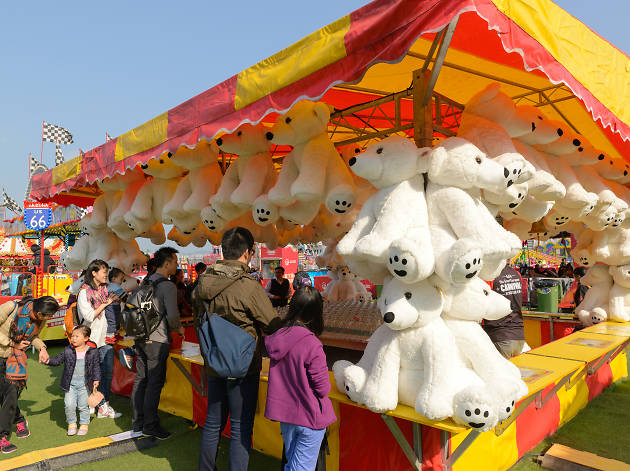 Take home a new cuddly buddy
Think you're a boss at shooting and throwing? This is your time to shine. There are more than 1 million toys to be won at The AIA Great European Carnival – including trolls, minions, Captain America, Super Mario, all your favourite Disney characters – just by trying your hand at the skill games and, let's be honest, trying your luck. If you're on a date night, these games are a perfect opportunity to show off your skills and win affection by gifting your partner with a giant teddy bear.
Redeem a Combo Deal for 4 to get more tokens for the games with your family.
Chris Lusher
Bumper cars are a staple in carnivals and AIA Carnival is no different. Hop on one of the cars and vent out all your road rage culminated throughout the year at the attraction Dodgems. Chase down your weaker friends and even strangers, and run them down with a well-timed crash.
Remember, you can grab a Fast Track Wristband to skip the line for the rides.
A perfect day or night out is never complete without a perfect selfie! This year, the AIA Carnival has scattered dozens of selfie installations throughout the fairground where you can pop in and capture all your memories of your day out. Don't need an installation? The entire carnival and the city skyline is made for selfie backdrops.
Don't forget to use the hashtags #AsiaMiles and #LifeRewarded to share all your best moments!
Redeem your Asia Miles for special tickets!
Keen to experience all these awesome activities and attractions yourself? You can with Asia Miles! You can redeem your Asia Miles and nab yourself tickets and special packages that aren't even available to the public at Hong Kong's biggest outdoor carnival and The Great Circus of Europe.
Package

Miles

Combo Deal for 4

(General Admission Tickets x 4, Fast Track Wristbands, Food & Beverage Vouchers and 200 tokens)

85,000 Asia Miles

Deal for 2

(General Admission Tickets x 2, Fast Track Wristbands and 20 tokens

18,000 Asia Miles

Fast Track Wristband

8,500 Asia Miles

General Admission Ticket (with 10 tokens)

3,000 Asia Miles

The Great Circus of Europe

(including General Admission Ticket)

From 5,000 Asia Miles
Not an Asia Miles member? Register now here.