Hong Kong's Top 10: Rocks
Take a trip out to some of the most iconic rock formations in the city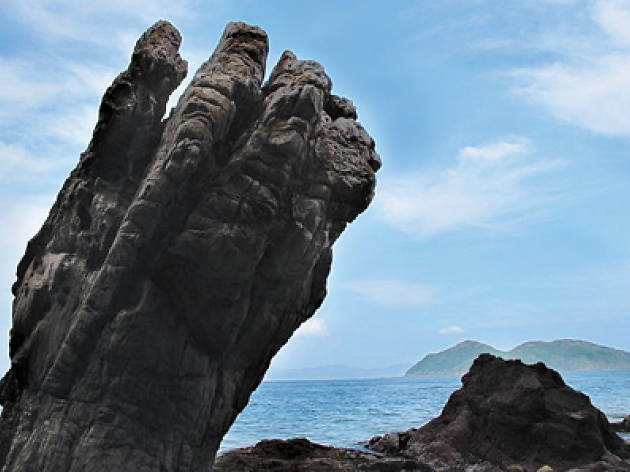 1 Devil's Fist Wong Chuk Kok Tsui (formerly Bluff Head), NT
Undeniably the most iconic of Hong Kong's rocks, Devil's Fist is a jubilant hand rising from the waves, conjuring up images of mythical sea giants. Weathering and erosion have sculpted out some hardy knuckles and a slender wrist, making it an easily-identifiable feat of the seas. Visit at low tide to ensure optimum wrist visibility.
2 Lover's Rock Bowen Road
One of the more popular in our line-up, Lover's Rock is frequented by women facing relationship problems. This phallic monolith protrudes from Hong Kong's hills and legend holds that pilgrimage to the rock brings both happy marriage and fertility. Expect big crowds during the Maidens' Festival in August.
3 Old Man Rock (General Rock) Tseung Kwan Shek, Tai O
Thought Tai O was just fishing, stilt houses and seafood? Think again. Its unmissable highlight has to be Old Man Rock, the stone embodiment of a war general. The horizontal general even has a convincing war wound where his sandstone leg has eroded. While this general might look vulnerable and kind, be warned, he's got a heart of stone.
4 Lion Rock Between Kowloon Tong and Tai Wai, NT
As one might expect, Lion Rock bears an uncanny resemblance to a crouching lion. Standing majestically atop a 495m peak, the notorious rock challenges its visitors with a steep and arduous climb. The celebrated lion inspired the roaringly successful TV series, Below the Lion Rock and was the subject of its popular eponymous theme song. More recently, in October, Lion Rock became the face of the pro-democracy campaign, and, with the help of a 28m banner proclaimed, 'I want real universal suffrage'.

5 Cannon Rock Ninepin Islands (Kwo Chau Islands), Sai Kung district
The Ninepin Islands are famous for their extraordinary hexagonal rock columns. The curious patterns of this rhyolite – a type of igneous rock – are the result of a volcanic eruption near Sai Kung about 140 million years ago. While the islands cannot be reached by public transport, they can be accessed via private boat – but prepare for a rocky ride.
6 Amah Rock Lion Rock Country Park, Sha Tin
The most delicate of our rocks, Amah Rock resembles a bereaved woman with a child on her back. Her story is one of love and fidelity. The woman kept watch every day for her husband's return from sea, unaware that he had drowned. The Goddess of the Sea turned the woman into a rock so that her spirit was free to join with that of her husband. Find the woman gazing out over Sha Tin, in search of her absent husband.
7 Tung Ping Chau Mirs Bay
This crescent-shaped island, known for its strange rock formations, features some of the earliest examples of sedimentary rock in Hong Kong. Contain yourselves rock-lovers, you'll be spoilt with an array of siltstone, mudstone, dolomitic siltstone and chert. Allow plenty of time to reach the island though, as it's right in the far northeast, close to Guangdong.
8 Buddha Hand Rock (Palm Cliff) Po Toi
Hong Kong's southernmost island, Po Toi, is every rock enthusiasts' dream playground. Our favourite on the island is the huge Buddha Hand Rock signalling out to sea. Take note of exemplary detailing on this stone mudra, right down to individual fingernails. While on the island also keep an eye (or two) out for the Supine Monk, the Coffin Rock and the Tortoise Climbing up the Mountain.
9 High Island Sai Kung
A rare treat to the eye, there are over 100sq km of hexagonal rock columns to gawp at on High Island. These impressive formations are part of Sai Kung's volcanic rock region and have become a hot spot for tourists and locals. You're guaranteed not to come away stony-faced.
10 Big Wave Bay rock carving Big Wave Bay, South Island
A rundown of Hong Kong's top rocks wouldn't be complete without the rock carving at Big Wave Bay. The intricate carving is composed predominantly of geometric patterns, with scattered images of animals and humans. It is believed that its ancient creators, who lived near Big Wave Bay, relied on the sea for their livelihood. They completed the carvings to appease the unpredictable forces of the sea. April Foster