Eight highlights from the newly unveiled MGM Cotai Art Collection
A look at one of the most impressive art collections in Macao
Hong Kong's annual art month may be coming to an end but there's no reason for our celebration of creative culture to be limited to March – or just to this city. A short ferry ride away, Macao boasts a burgeoning arts scene with establishments that display paintings, sculptures and multimedia installations all year round. Among these is MGM Cotai – a recently opened luxury resort that houses one of the largest permanent art collections in Macao. Displayed throughout the hotel, the collection features everything from antique carpets to specially commissioned works by Asia's leading contemporary artists. Among the 300-plus pieces, here are eight highlights that you should see the next time you visit our sister SAR.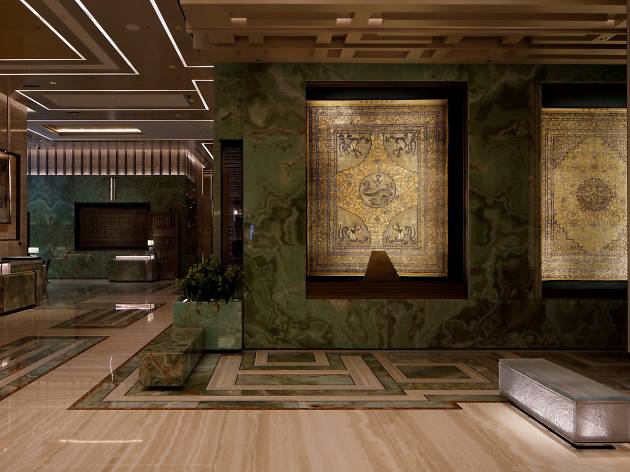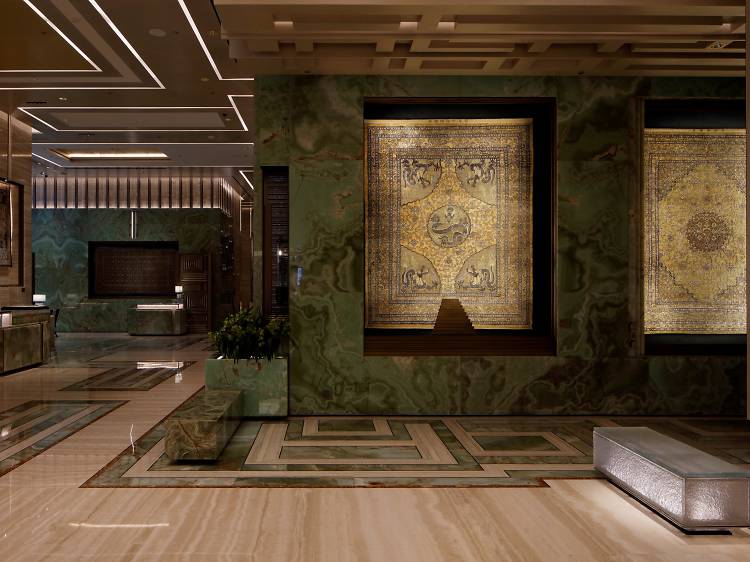 The MGM Collection of Imperial Carpets
For its permanent art collection, MGM Cotai acquired 28 imperial carpets that date back to the Qing Dynasty in the 18th and 19th centuries. Exhibited in Asia for the very first time, these rare relics once decorated the halls of the Forbidden City, and are a testament to the exquisite craftsmenship that existed in Imperial China. The knotted carpets feature intricate designs and are made from valuable materials such as silk and precious metals. A great example is the Dragon of Heaven – a carpet from the Qianlong period that's adorned with dragons, flowers and clouds spun from silk and gilded copper threads.
Where to see this: Emerald Lobby, G/F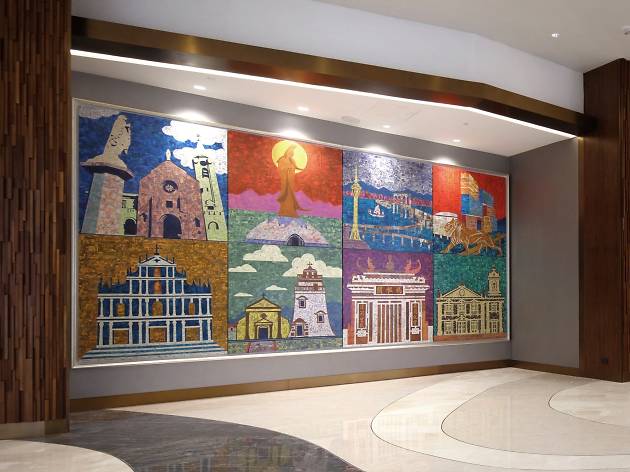 Eight Views of Macau – Xue Song
Acclaimed Chinese artist Xue Song lost a lot of his work and personal possessions when his studio was destroyed by a fire in the early 1990s. Turning this tragedy into a source of inspiration, Xue incorporates burned paper remnants into a lot of his art as a way to symbolise rebirth and the cycle of life. This technique was used in the creation of Eight Views of Macau, commissioned by MGM Cotai. The large-scale collage documents Xue's visit to Macao and features iconic landmarks such as the Ruins of St Paul's and A-Ma Temple.
Where to see this: Near Five Foot Road, G/F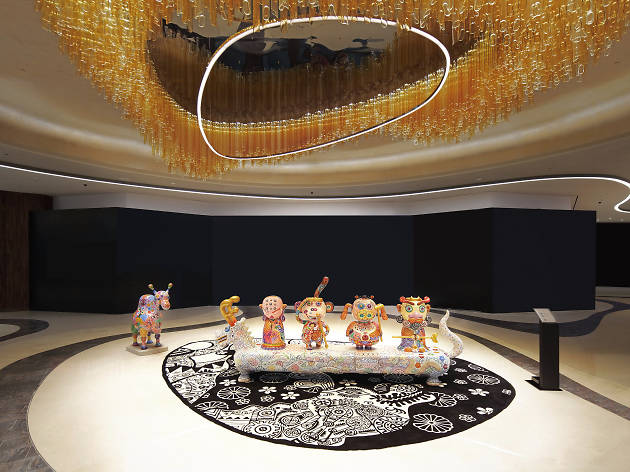 Journey to the Great West – Hung Yi
This site-specific piece by Taiwanese artist Hung Yi pays tribute to the classic Chinese novel, Journey to the West, which details the quest of Buddhist monk Xuan Zang and his disciples. In this fun installation, Hung gives the beloved characters of the ancient tale a fresh new makeover through the use of bright, pop-art colours and cartoonish shapes. Also featuring traditional motifs, the sculpture frames China's rich cultural heritage in a new and innovative way.
Where to see this: The Lion Lobby, G/F
Image: Ieong Man Pan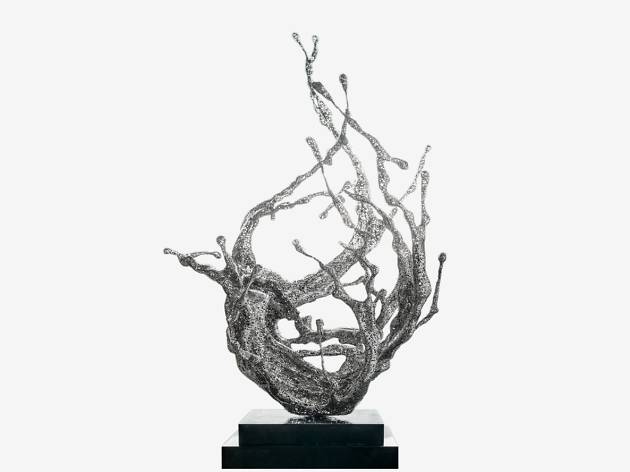 Water in Dripping – Zheng Lu
This gorgeous series by artist Zheng Lu challenges preconceived notions of lightness and movement. Using steel as his main material, Zheng manages to recreate the fluidity of flowing water in two sculptures titled Floating and Rippling. These structures can be displayed with their 'waves' reaching upwards or they can be suspended from up high to create a seemingly gravity-defying effect.
Where to see this: Hotel Lobby, G/F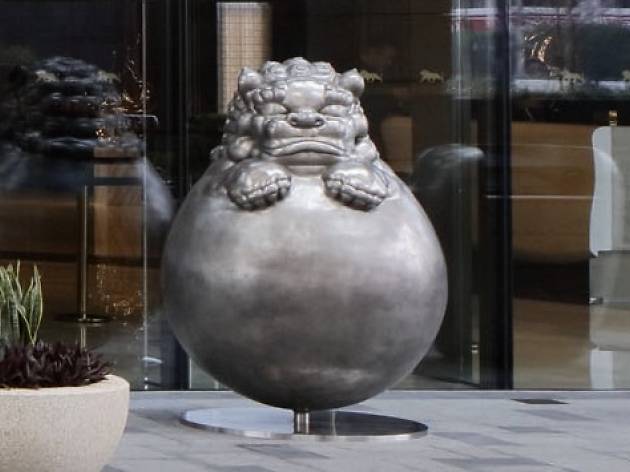 Lion of Future – Gao Xiaowu
Internationally renowned sculptor Gao Xiaowu created this work especially for MGM Cotai. Made from bronze, the work features a lion – a popular traditional Chinese motif as well as the mascot of MGM – on top of a sphere that symbolises the future's infinite possibilities. Located in the hotel's lobby, the sculpture appears almost like a bearer of peace that welcomes guests to the luxury property.
Where to see this: Hotel Lobby, G/F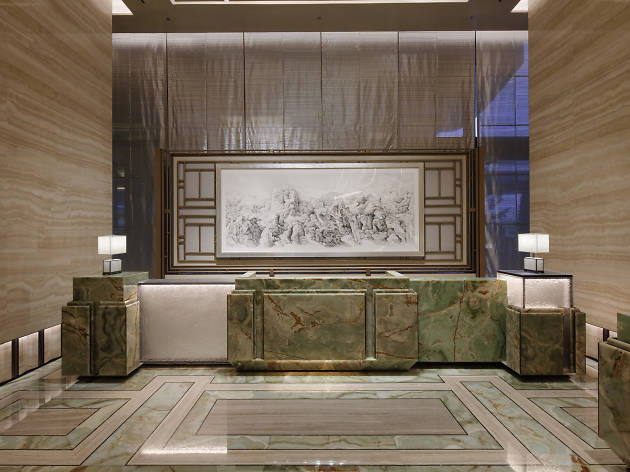 Contraction and Extension of the Twilight – Liu Dan
Considered one of the most talented artists of his generation, Liu Dan's work is often inspired by traditional Chinese art and philosophy. Like many of his other pieces, Contraction and Extension of the Twilight features scholar's rocks, painted here with small, delicate brushstrokes in various hues of black and grey. This complex brushwork results in a piece that appears almost sculptural in its depth, with details that are worth appreciating up close.
Where to see this: Emerald Lobby, G/F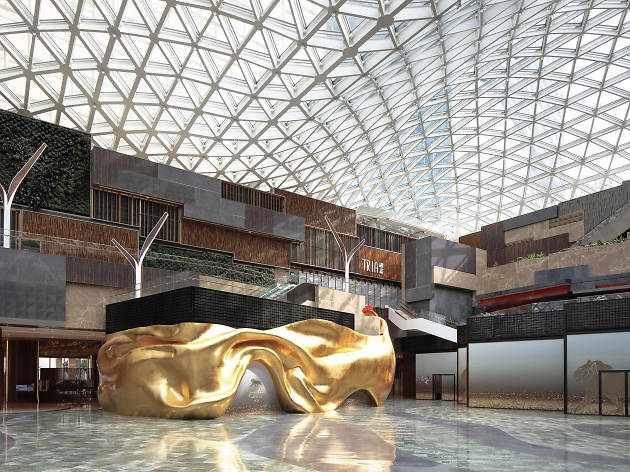 Esteemed Beijing-based artist Wang Kaifang created this installation to depict the importance of Macao, as well as the growing force of contemporary Chinese art in modern society. Made from 24 tonnes of stainless steel and 80,000 sheets of 24k gold leaf, this impressive structure captures the movement of silk floating in the air. To create this effect, Wang combined traditional Chinese craftsmenship with modern techniques such as wind power and 3D printing.
Where to see this: The Spectacle, G/F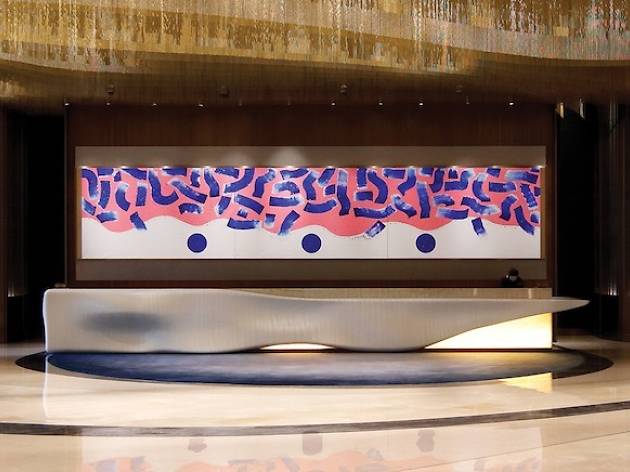 Dancing Light 2016 – Hsiao Chin
Hsiao Chin is regarded as one of the early pioneers of 20th century Chinese abstract art. Like many other pieces in his oeuvre, Dancing Light 2016 combines Chinese philosophy with Western aesthetics and features Hsiao's signature combination of straight and curved lines and various bold shapes. Measuring 9m x 1.6m in size, this acrylic-on-canvas painting is Hsiao's largest one to date, and was created to celebrate the opening of MGM Cotai.
Where to see this: Hotel Lobby, G/F
Book your stay now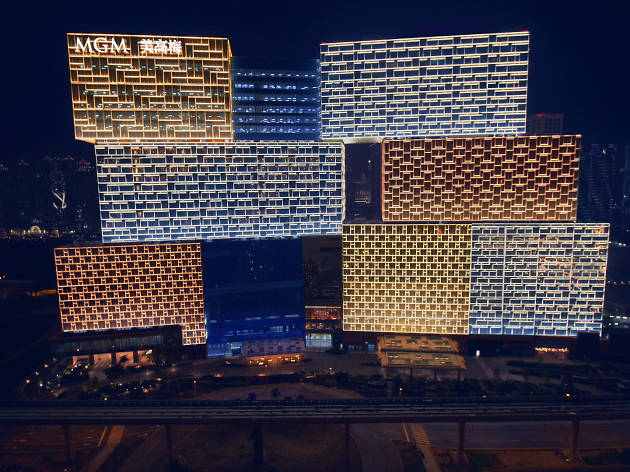 Aside from luxury suites and amenities, this latest property by MGM also boasts one of the largest permanent art collections in Macao.