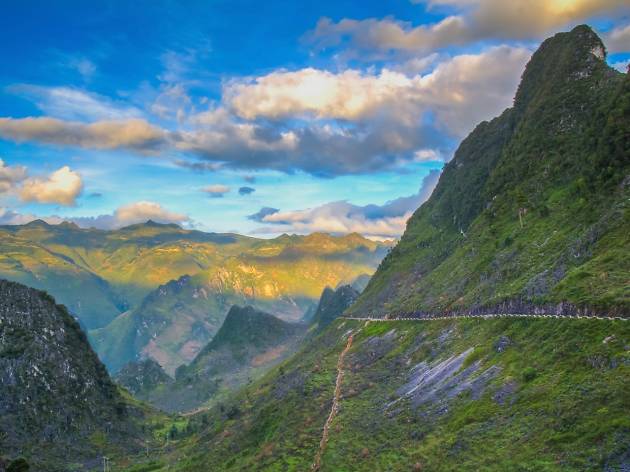 Motorbike through northern Vietnam
How to enjoy a three-day circuit through Vietnam's stunning Ha Giang province
Sharing a border with China's Yunnan province, Ha Giang province is a region characterised by dramatic riverside terrain, austere karst vistas and rice terrace-adorned mountainsides. North Vietnam's primary tourist hub, Ha Giang province offers a relatively untouched landscape with sub-tropical virgin forests, far-flung communities and authentic H'mong villages. The province has remained a gem hidden in plain sight. So, if tired package tours to Halong Bay aren't your bag, head further north and explore Ha Giang province on two wheels. By Michael Rinaldi
Motorbike through Ha Giang province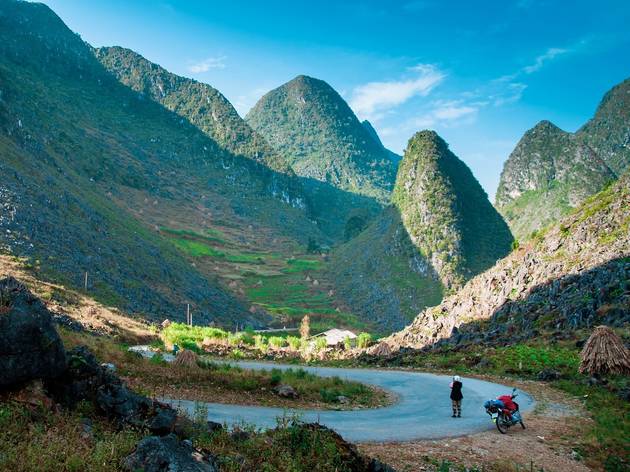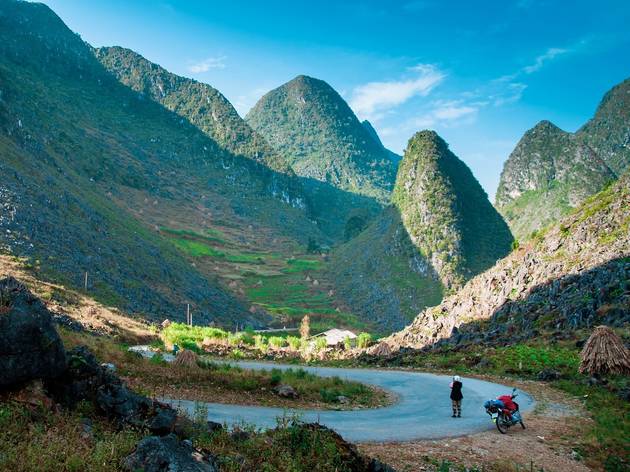 Begin your trip in Hanoi, Vietnam's chaotic capital and gateway to the north. The frenetic streets of the old quarter offer a raucous snapshot of daily life in the city. From the infinite deluge of honking motorcycles to the pungent aromas of street-side eats, Hanoi is as visceral as it gets. After ticking off the major sites and unmissable dishes – Hanoi-style banh mi and fresh pork bun cha – hop on a 10-hour night bus to Ha Giang town. Arrange your ticket with Rose Travel and Tours (15 Ngo Huyen, Hoan Kiem) and it'll cost you around $70, including bus station transfer.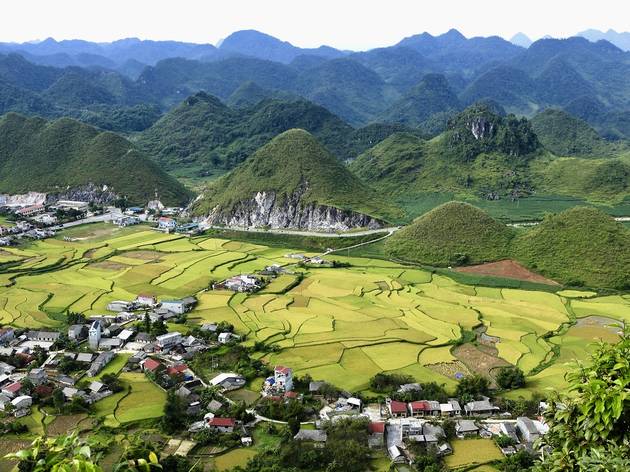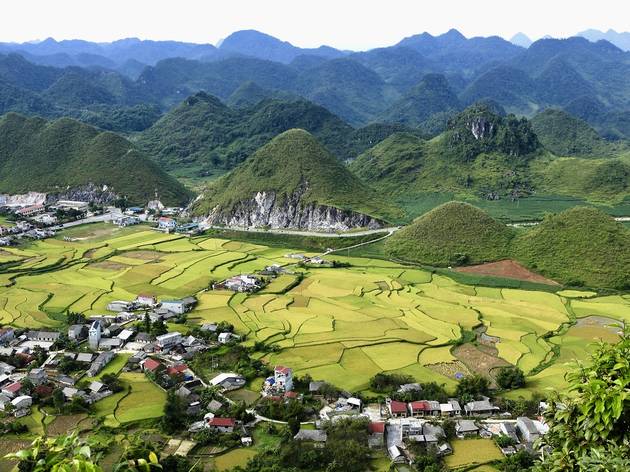 Ha Giang town to Yen Minh (90km)
Check in to QT Hostel (15A1 Nguyen Trai Street) for a few hours shut-eye and you'll be bright eyed and bushy tailed for the beginning of the stunning three-day loop of Vietnam's extreme north. Pick your wheels of choice from QT's selection for as little as $70 per day – the basic Honda Wave is wallet- and road-friendly for most travellers – and you'll be off on your way, armed with a map, helmet and your most basic of comforts strapped aboard.

Passing bucolic landscapes, serrated karst ridges, gushing rivers and fragrant fir woodlands, the serpentine road to Yen Minh is a stunning introduction to the beauty of the province. Take a breather at the Quan Ba district information centre (Quan Ba pictured above) for a quick coffee and a stunning panoramic view of the so-called Heaven's Gate valley that unfolds beneath before forging on through forested hairpin bends to Yen Minh. Rest your weary posterior at travellers' favourite Tom Homestay (Ngo 19 Thon Na Ma) for friendly service, well-appointed private rooms and an excellent chicken liver pâté banh mi.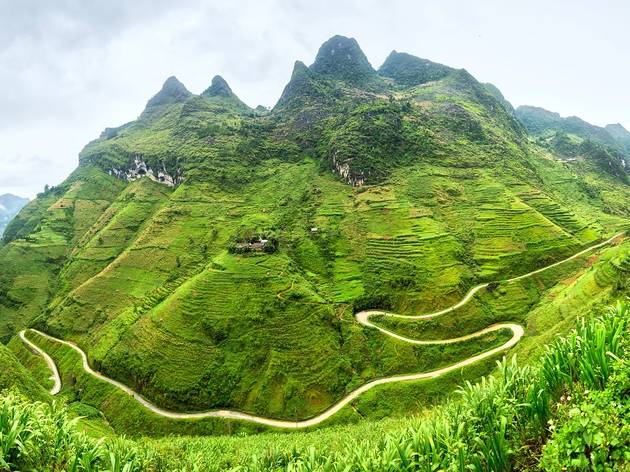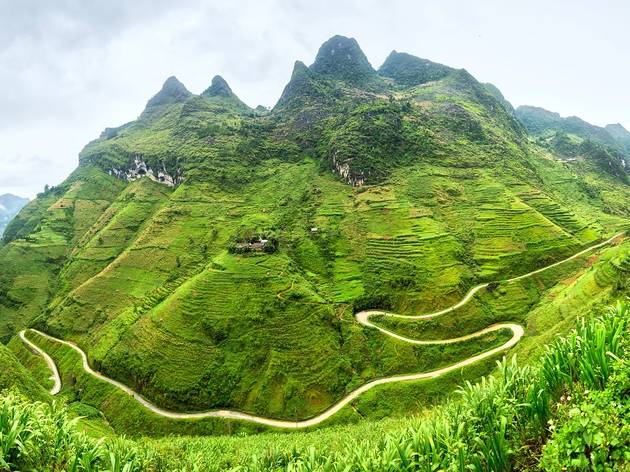 Yen Minh to Lung Cu to Meo Vac (105km)
Wake up early for a second day on wheels. If the hairpin bends on your approach to Yen Minh had you quaking in your boots, take a deep breath and remember that as long as you take it slow and steady, lorries barreling around blind bends really aren't as scary as they seem. Twist and turn your way north with a quick stopover at the beautiful Vuong Family Mansion – a colonial-era palace built by the French to appease the powerful H'mong king – and the hectic local market in its vicinity.

From here, you have two choices; make the 25km trip to Lung Cu, Vietnam's most northerly settlement on the border with Yunnan, or head directly to charming Dong Van. It's a tough choice, but ultimately a leisurely late lunch at Dong Van's Quang Dun Restaurant (19 Pho Co) followed by an alfresco coconut-spiked bac xiu coffee in the town square is the clear winner. Treat yourself to a little luxury and lay your head Hoang Ngoc Hotel (47 Ba Thang Hai Street) with private rooms starting from $135. Should you succumb to the allure of Vietnam's 'north pole', you'll be rewarded with bragging rights and excellent Instagram-friendly selfies with China looming in the background.

The crowning glory of the Ha Giang loop constitutes the 22km stretch of road from Dong Van to sleepy hill town Meo Vac. Ma Pi Leng pass (pictured), considered to be northern Vietnam's most spectacular vista, offers a winding cliff-hugging road with magnificent vertigo-inducing views of the emerald green valley below. Pause mid-way at the strategically located rest stop with a tranquil mountainside garden that offers stunning panoramic views of the pass. Meander on to Meo Vac and recharge your batteries at Mr Hung Guesthouse (43 Hanh Phuc) with a traditional home-cooked meal and amateur cocktails from Mr Hung's impressive spirit collection.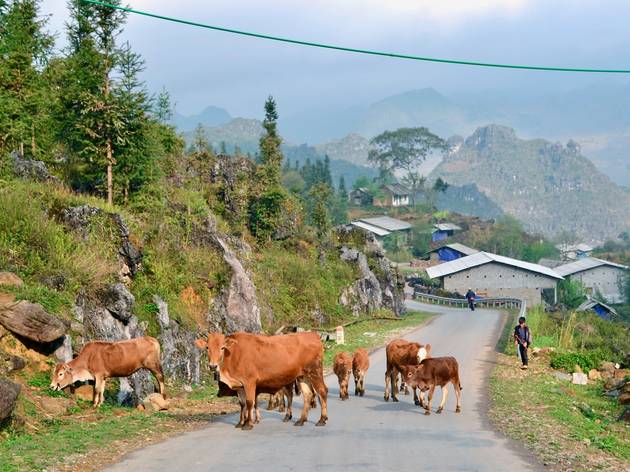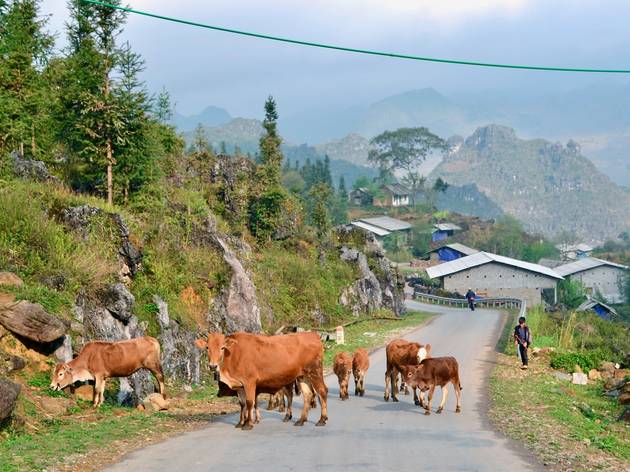 Meo Vac to Ha Giang town (150km)
The final leg of the journey from Meo Vac (pictured) loops back to Yen Minh, pushing through an ethereal lunar landscape of crumbling peaks, hill-tribe studded slopes and a resplendent patchwork of rice terraces, glittering streams and scattered outcrops of rock. Arrive back in Yen Minh for a quick lunch at popular local spot Nha Hang Bien Rung (69 Tran Hung Dao) before zipping back to Ha Giang town with enough time to enjoy the low-lying landscape that looks equally as beautiful in reverse. Back in Ha Giang, drop off your wheels at QT Hostel and arrange a daytime minibus service that'll whiz you back to Hanoi by 10.30pm, just in time for a night cap at sultry bohemian bar Tadioto (24 Tong Dan).
Know before you go
The far north of Ha Giang province is one of the last places in Vietnam that requires a travel permit for foreign nationals. Setting you back around $95, arrange the permit with your hotel in Ha Giang town or en route at a local police station. While licensing is subject to change and police checks are uncommon, it's always better to be safe than sorry.
Getting there
Hong Kong Airlines offers direct flights from Hong Kong to Hanoi from $1,448 return. The flight takes two hours. As mentioned earlier, it takes an extra 10 hours to reach Ha Giang, with private cars, minibuses or night buses the only direct routes to the city.
Looking for more regional getaways?