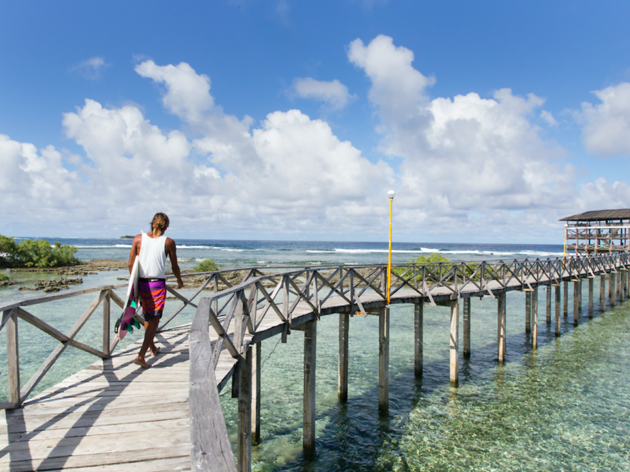 Paradise Found: A travel guide to Siargao, Philippines
With world-class surf, a coconut for every occasion and a progressive stance towards eco-tourism, Siargao won't be off-the-radar for long
Unlike much of the more travelled islands in the Philippines – looking at you, Boracay, Bohol and Palawan – Siargao has remained relatively off the beaten path. It is, however, steadily catching the eyes of mainstream media and wanderlusters alike, and deservedly so.
While not exactly a food and drink destination, it offers unbelievable surf, white sand, turquoise water, a coconut for every occasion and, most importantly, the kind of island hospitality that makes you feel like you've known this place your whole life.
This teardrop-shaped island has been hailed as 'the surfing paradise' of the Philippines. It has also been prematurely (and debatably) dubbed 'the up-and-coming Bali'. Whatever people want or continue to compare this unexplored paradise to, if it isn't already on your travel bucket list, you should add it now.
RECOMMENDED: After recharging on the beach, check one of South East Asia's most exciting city destinations, Phnom Penh.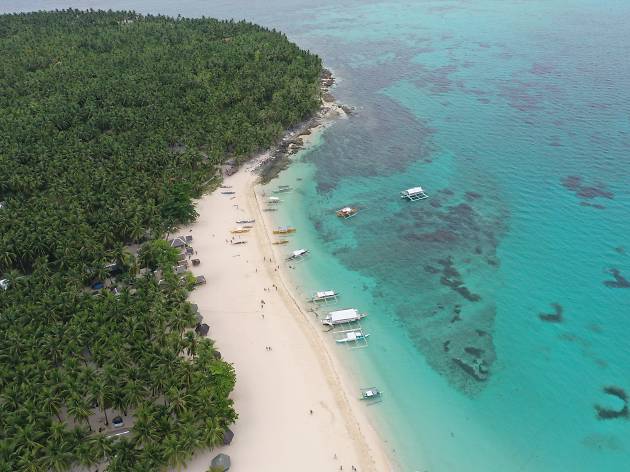 Jessie Koehler
Siargao is located in the province of Surigao del Norte, 800km southeast of Manila. The main town and hub is known as General Luna, and the only road you need to know is Tourism Road – the island's artery and every tourist's North Star. Everything is mostly within walking distance, but you can easily hop in one of the tuk tuks (tricycles), or you can rent a scooter for $40-$60 a day, which is probably the best way to see the island in the day.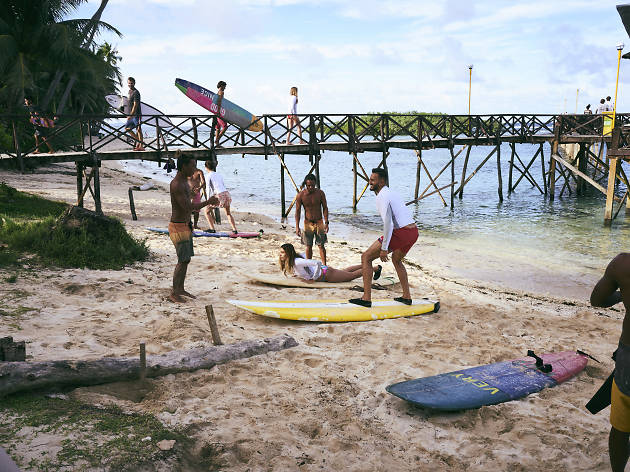 Nay Palad Hideaway
Dry season is typically March to October and rainy season is from late November to February. However, the surf is great year-round. The annual international surfing competition, Siargao Surfing Cup, takes place around September, drawing in breakers and spectators from across the world. Reimagine yourself as Bodhi in Point Break or Anne Marie in Blue Crush at Cloud 9 reef, some of the best surf (if not the best) in the Philippines.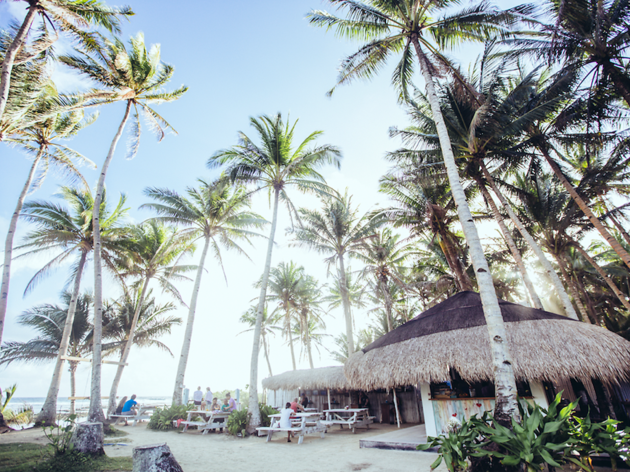 Shaka Cafe Siargao
Start the day with a made-to-order smoothie bowl and coffee combo ($45) at Shaka Cafe. Meaning 'hang loose', Shaka exudes exactly that vibe. The outdoor seating offers a front row seat to early risers getting after the waves. Apres-surf, wind down beach-side with a cocktail or kombucha at White Banana Beach Club. Once the sun sets, candles are lit and a live DJ provides the soundtrack to an al fresco evening. As with many businesses on the island, Shaka Cafe and White Banana Beach Club are both eco-friendly establishments where plastic use is reduced to a minimum: you won't find plastic bags, bottles or disposable straws at either.
The sustainability-driven Kermit runs one of the longest-running surf schools and camps on Siargao, sharing 'the stoke' since 2010. If surfing isn't your thing, get on a stand-up paddle board instead. If balancing on a board is neither cognitively nor physically possible, a guided boat tour to the neighbouring islands of Naked, Daku and Guyam will keep you busy for a full day. These guided tours take care of lunch as well, grilling fish fresh from the market and serving it with steamed rice and vegetables, along with a homemade vinaigrette. This activity can range anywhere from $150 to $400 per person, depending on the boat.
If you're up for more, the Sohoton Caves are an amazing place to swim, snorkel, kayak and explore and can be reached via a two-hour boat ride from General Luna, while the breathtaking Magpupungko Rock Pools are a 45-minute drive. Both are only accessible during low tide so do your research beforehand.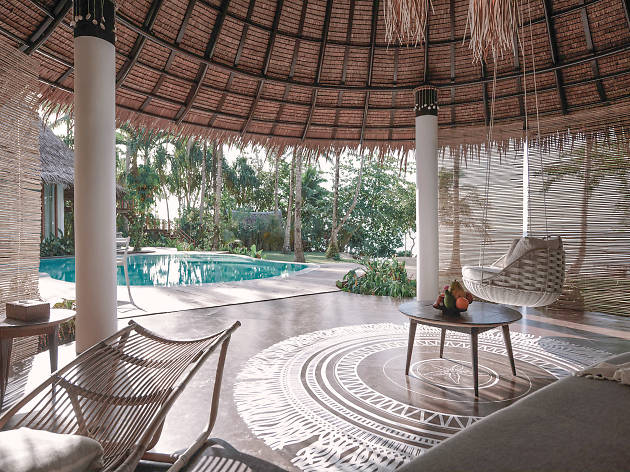 ARTON SEFA
Experience barefoot luxury
A paradise within a paradise, Nay Palad Hideaway is an all-inclusive oasis in Siargao – a literal one-of-a-kind resort experience as your stay is tailored specifically for you. You never need a wallet as your $5,000-$9,500 per person, per night, fee is an all-access pass. Every drink, meal, activity, service, and experience is covered.
Nestled between two marine ecosystems, one end of the property sits behind a white-sand beach overlooking the Pacific Ocean, while the other end reveals kilometers of ancient mangrove forests.
This hidden sanctuary is slightly off the grid as it is a 15-minute drive outside of General Luna's centre. Even so, Nay Palad ensures you get the full Siargao experience: from water sports to chauffeured tours to boat excursions, diving and stand-up paddleboarding in the ancient mangroves, every adventure or comfort your heart desires is available. Leave your worries behind and step into a barefoot state of mind.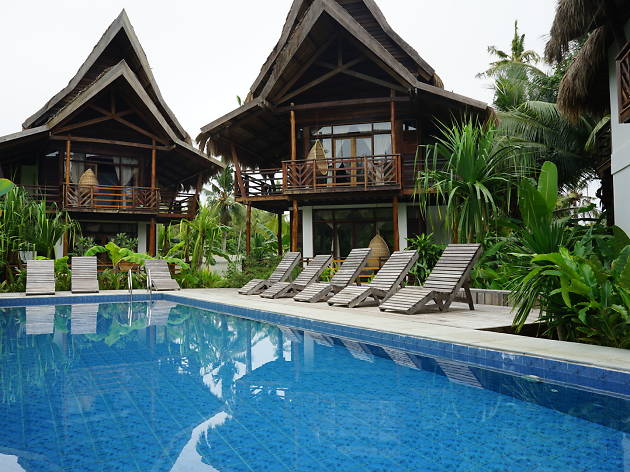 Jessie Koehler
Bulan Villas is a newly opened, eco-friendly property with an adjoining pizza restaurant serving up breakfast and dinner. This small, family-owned business is operated by young couple Abi and Gabri Quadelli, and is conveniently located in the center of General Luna town, between Cloud 9 and amongst many restaurants and bars.
Accommodations range from $300 to $1000 per night. Bulan has six air conditioned villas, each with a private bathroom and balcony. They offer a more economical option of individual private bedrooms with a main bathroom and shower facility for a truly communal island experience.
A note on eco-tourism
Once you have confirmed your booking, an automated message lands in your inbox. At the very end, it encourages guests to bring a reusable bottle and avoid buying plastic water bottles, advising 'that the use and sale of single use plastic is illegal in General Luna'.
Propelling this is a greater entity known as the Siargao Environmental Awareness Movement (SEA Movement). While the increase in tourism has offered new life to Siargao, they are all too aware of what commercialism can do to the natural resources of the island. SEA Movement is devoted to environmental preservation and encourage Siargao business owners to provide water stations and reusable water bottles to reduce and eventually eliminate the use of single-use plastic bottles. They also organise regular beach and town clean ups that locals, children and visitors all participate in.
Looking for a break that's closer to home?