The Uncanny Cannes
Our special envoy and Cannes festival rookie tells us about his two weeks inside the prestigious movie festival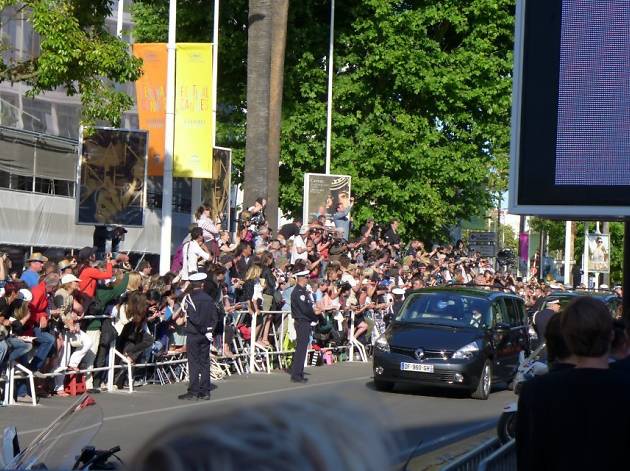 A veteran journalist I met at the festival, who has been coming to Cannes since 1966 and personally saw François Truffaut ask Hitchcock for an autograph, lamented to me that the festival has become evermore hierarchical. My experience confirms this: as a novice first-timer at Cannes, I was given the lowly yellow badge, the bottom of the pecking order that is the press. This meant that I had to wait behind the heavenly white badge, legendary pink badge and honourable blue badge queues to enter a screening, which sometimes meant there was no room for me. That being said, my yellow badge got me into most of the screenings and I enjoyed the guilty pleasure of flaunting my badge to security as the Cinéphile badge holders, the true proletariat of Cannes, gave me the evil eye from their queue.
A few days into the festival, I began discovering some loopholes in the order of things. When I did not feel like waiting in the yellow badge queue one time, I faked self-importance to enter a screening from the white badge section. Sure enough, an unsuspecting and misinformed guard let me through. As you would expect to happen in a film festival, acting goes a long way.
I usually woke up at 7:30, munched a pain au chocolat on the leisurely 20-minute walk along the Riviera leading to the festival, where I queued every morning for the 8.30 press screening of an Official Selection film at the Grand Theatre Lumiere. I saw an average of five films a day and came back to my room always after midnight, exhausted from sitting on my ass all day long.
This year, the envy of town was the young and magnificent filmmakers Xavier Dolan, who won the Jury Prize, and Alice Rohrwacher, who won the Grand Prix. Youth itself was a big theme this year: Dolan's 'Mommy' was about a teenager with ADHD, and the matriarch of the family in Rohrwacher's 'Le Meraviglie' was the teenager Gelsomina. Incidentally, these two films were in my top 5 along with 'Leviathan,' 'Mr Turner,' and, of course, 'Winter Sleep'.
Mike Leigh's compositions in 'Mr Turner' were so masterful in their use of light that they could compete with some of the British landscape painter's work. Timothy Spall's impressive performance as JMW Turner, full of grunty locution and vernacular, earned him a deserved Best Actor prize. 'Leviathan,' which won Best Screenplay, is a modern day re-telling of the Biblical Job story and a subtle critique of state corruption and the manipulative church. Although the Russian Ministry of Culture funded the film, the minister unsurprisingly disapproved of it after a private screening.The Jury Prize was actually shared between Dolan and Jean-Luc Goddard (who of course didn't set foot on the festival grounds). His movie, 'Adieu au Langage,' is a brilliantly funny digital art installation, wrapped up in 70 (kind of long) minutes. The characters have existential discussion on poop and Godard makes innovative use of 3D, but there's little else to the film than that. Dolan's movie was also unconventional in that it was shot in the 1:1 aspect ratio. A temporary shift to a larger aspect ratio at mid-movie was met with great applause during the press screening. Though some have accused the move as a gimmick, I disagree as its execution is strongly tied to the story's context of hope and desperation. With this shared prize, the Jury assuredly wanted to reward boldness and innovation in creating new forms of cinematic language. And prodigy Dolan has already joined Cannes' "big league" at only 25.
Nuri Bige Ceylan's consecration
'Winter Sleep' probably has the best cast in Turkish history and its script is an excellent character study of Aydın (Haluk Bilginer), an old actor who lives on his estate in Cappadocia. The film follows his relationship with his young wife (Melisa Sözen) and sister (Demet Akbağ) in a series of conversations. The film is visually magnificent, thanks to the phototography of Gökhan Tiryaki, who also worked in Ceylan's previous film 'Once Upon a Time in Anatolia.' My only criticism is that perhaps the conversation scenes are too room-bound and overlong. We get multiple 30-minute dialogues on heavy, literary topics for most of the 3 hour 16 minute run time of the film. At the press conference, Jane Campion, the head of jury, admitted to being initially intimidated by the length of the film. Having said that, the film is a masterpiece in its portrayal of complex characters and its critique of the Turkish intellectual Aydın, who lives like a feudal lord in his high castle amid the harsh Anatolian terrain and its rough people.
Whenever I came out of the Palais de Festivals after seeing a serious film like these, I was greeted by throngs of people who had been waiting for a red carpet arrival for three hours just to catch a glimpse of the most mythical of all beings: the celebrity. The more proactive of those asked around for invitations to screenings and held cardboards signs that read something like, "If you give me an invitation for a screening, I'll amuse you in exchange." My press pass allowed me to mingle with celebrities. This is because a press screening usually meant the world premiere of a film and so would be attended by directors, actors and producers. Viggo Mortensen, Selma Hayek, Gerard Depardieu, Zoe Saldana and Alfonso Cuarón were some of many A-listers who sat just a few rows from me. I even met Alfonso Cuarón, who mistook me for a Latino (probably because of the stubble I sported to look older) and greeted me with a "Hola, como estas?" before heading to a party I was not invited to.
Cannes has a bacchanalian nightlife scene but I didn't have the time to go to parties anyway, or so I told myself. Seeing films from 8.30 am to 12 pm and writing reviews would not be possible with a hangover and an aching liver. I did, however, have one proper night out. I found my way to the Turkish pavilion at the international village, which is where every participant country promotes its film industry. The flag at half-mast honouring the workers who died in Soma was a biting reminder of the life outside the golden bubble of Cannes. Lounging in the pavilion beach, I overheard that there was a reception being held in honour of the 100th anniversary of Turkish Cinema. Donning a suit, I went to the reception where I met two actors from 'Winter Sleep', Serhat Kılıç and Ayberk Pekcan, and Gökhan Tiryaki.
Nuri Bilge Ceylan came late to the party but I had met the legendary director earlier that day when I saw him talking to an ignorant security guard who was reluctant to let the director in a screening. Ceylan was so modest that he was ready to head back but I told the security guard, "This man is going to win the Palme d'Or," to which Ceylan smiled. Upon realising who Ceylan was, the guard let him in and I'm proud to say I was right, Ceylan won the Palme d'Or.
Ceylan's humility was confirmed to me when I interviewed Ayberk Pekcan who plays Hidayet masterfully in 'Winter Sleep.' When I asked him about Ceylan's temperament as a director and what he tells the actor to do, Pekcan corrected me by saying that Ceylan never told him what to "do," but rather made suggestions and explored the character together with him. For his role, Pekcan prepared by observing the mannerisms and accent of the people of Cappadocia, something he executes perfectly in the film. He also explained that they compiled 200 hours of film before editing, a result of Ceylan's penchant for multiple takes (in this regard, the three hour or so final cut is admirably short).
About the excellent script, which critics called Chekovian, Pekcan told me the saying, "iyi oynamazsan döverler," meaning that if you don't do justice to such a script with your acting, you deserve a beating. Acting as well as directing seems to have done justice to a great script and brought Ceylan a much deserved Palme d'Or on the 100th anniversary of Turkish cinema.