Cundalı Ayvalık Balıkçısı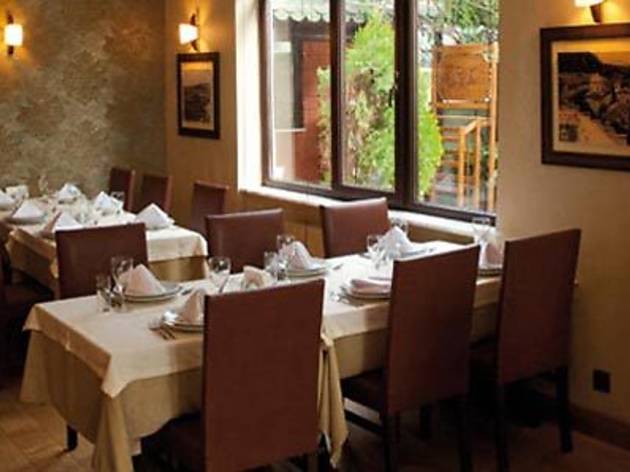 Cundalı Ayvalık Balıkçısı is the new hangout at Küçükyalı beach for those cannot do without Cunda's flavours. A service crew comes to the table with a meze platter instead of a menu, and they're informed about the other options, from their ingredients to their prices.
The fish comes to Cundalı daily from Ayvalık. The sea bass, red mullet, tabby mullet and other daily fish are served fresh, without being deep frozen. The main ingredient of fried fish and cornbread, the cornmeal is from Giresun, while the fresh natural herbs are picked by Cundalı's local pickers and brought without having been processed. Among Cundalı's fresh-picked herbs are blessed thistle, also known as 'akkız,' chicory, chives and jutes. Between November and April, sea urchin eggs are served, which are hard to extract but have natural aphrodisiac effects.
Other flavours you have to try at Cundalı besides the herbs include artichoke seafood dolma with mastic and fish köfte. Their specialty is merzana. Octopus, shrimp and angler fish are cooked inside Bostan eggplant together with a special mix. You should order this meal for four as an entrée to share after the meze dishes. It costs 30 TL a portion.
Local breakfast is served from 09.00-14.00 on Sundays. Mısırlı does not like the idea of an open buffet breakfast. Cundalı offers a place where you can have an enjoyable Sunday breakfast without getting out of your seat. From herbed börek to herbed gözleme, the cheese, olives and olive oil from Ayvalık to homemade jams, menemen to eggs with sucuk, every breakfast dish you can think of is available. This breakfast, including unlimited tea and beverages, costs 30 TL. When you can't go to the Cunda island itself, Cundalı in Küçükyalı will suffice all year round. We should also remind you to make reservations.
From the Menu
Herbs with olive oil 6 TL
Labada salad 6 TL
Greek börek with eggplant 2.50 TL
Fish köfte (individually) 2.50 TL
Merzana 30 TL
35 cc Yeni Rakı 35 TL
Venue name:
Cundalı Ayvalık Balıkçısı
Contact:
Address:
Turgut Özal Bulvarı 15, Küçükyalı
İstanbul


Opening hours:
Sun 12.00-01.00.