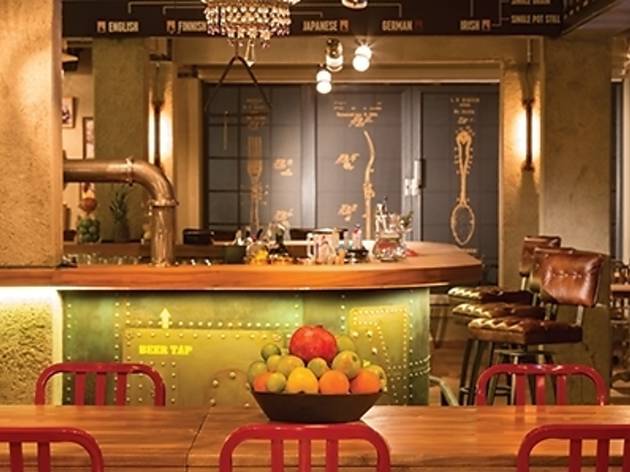 DRAFT is a brand new alehouse on the Asian side. Originally not a fan of beer himself, owner Turan Turanlı decided to open up a bar upon discovering his love of ale. Located on the second floor of Café Cadde, DRAFT is a uniquely designed space that pays homage to Turanlı's former profession as an aerospace engineer. Inspired by the idea of a draft (as in a rough sketch), Turanlı incorporated old ship windows and frames as well as purposely deformed paintings into the space. The real draw here is the bar inspired by the look of WWII airplanes; hanging above it, you'll notice a one-of-a-kind painting featuring the family tree of beers.
With so much to take in, you might not find time to order food, but there are still a few items on the menu you'd be remiss not to try. The fish kokoreç roll (15 TL) made with whiting is neither too spicy nor too runny, so you get the full texture of the fish. The crispy shrimp (22 TL) with a hot and sweet sauce is another winning dish that reminds us how long it's been since we've had fresh shrimp. The star of the menu, however, is the sosis with gravyer cheese. Far from the plastic taste you get with most sausages, DRAFT's variety served with gooey cheese would hold its own on the menu of any fine-dining restaurant. DRAFT also hosts DJ performances, which is good to keep in mind the next time you're on Bağdat Caddesi with a large group, looking for a cozy place to hang out and grab a few bites. Erçağ Akın
DRAFT
Bağdat Caddesi 349, Kadıköy.
(0216) 467 29 31 / facebook.com/draftpubistanbul
Daily 16.00-02.00.
Venue name:
DRAFT
Contact:
Address:
Bağdat Caddesi 349, Kadıköy
İstanbul


Opening hours:
Daily 16.00-02.00