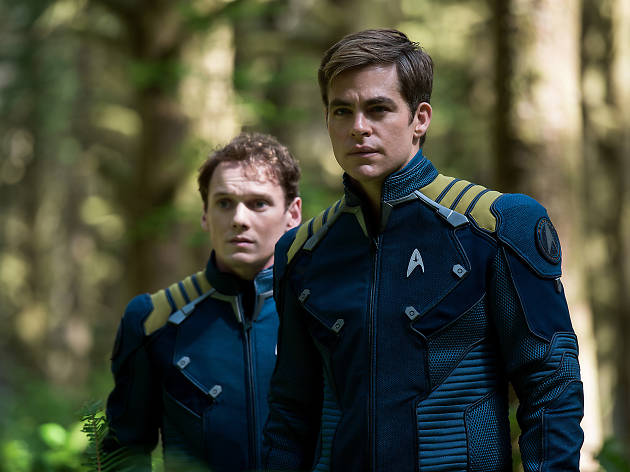 Time Out diyor ki
Yeni nesil Star Trek serisinin üçüncü filmi, ilk iki filmi aratmayacak dozda aksiyon ve mizah vaat ediyor.
Star Trek'in sinema yolculuğuna hayat veren J. J. Abrams, yeni Star Wars'u yönetmek için seriden ayrılmıştı. 'The Fast and the Furious' serisinde dört filme imza atan Justin Lin'in yönettiği üçüncü Star Trek ise gişede ilk iki film kadar başarılı olacağının sinyallerini veriyor.
Beş yıllık bir göreve çıkan Atılgan ekibi, yolculuk esnasında uzaylıların saldırısına uğrar ve bir gezegene inmek zorunda kalır. Terk edilmiş gibi görünen gezegende yardım bekleyen ekip, yeni bir düşmanın saldırısına maruz kalacaktır. Chris Pine'ın Kaptan Kirk, Zachary Quinto'nun ise Spock olarak geri döndüğü film, mizahı ve aksiyonu dengeli bir şekilde kullanan senaryosuyla dikkat çekiyor. İngiliz komedyen Simon Pegg'in de senaristler arasında yer aldığı film, özellikle serinin hayranlarını heyecanlandıracak ayrıntılarla dolu. Dizide ya da serinin eski filmlerinde olduğu gibi ciddi sorgulamalardan ve büyük dramatik çatışmalardan uzak duran 'Star Trek Beyond', gösterişli ve hafif bir yaz eğlenceliği.
Ayrıntılar
Sürüm detayları
Yayın tarihi:
26 Ağustos 2016
Süre:
122 dk
Oyuncular ve ekip
Yönetmen:
Justin Lin
Senaryo:
Doug Jung, Simon Pegg
Oyuncular:
Simon Pegg
Zoë Saldana
Chris Pine
Idris Elba
Sofia Boutella