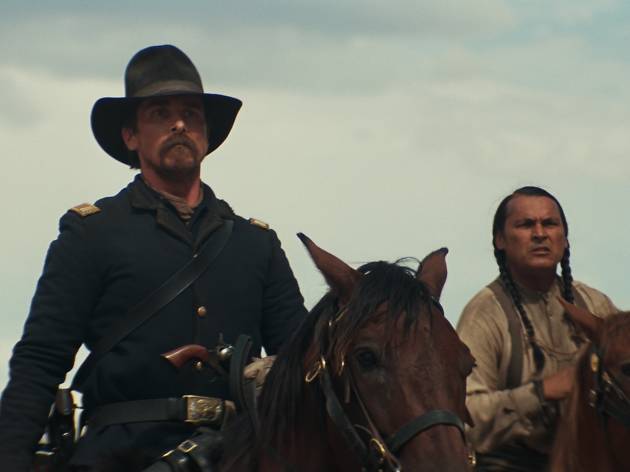 Time Out diyor ki
1980'li yıllarda geçen bir yolculuk hikayesi.
'Crazy Heart / Çılgın Kalp' (2009), 'Out of the Furnace / Kardeşim İçin' (2013) ve 'Black Mass / Kara Düzen' (2015) gibi filmlerin Amerikalı yönetmeni Scott Cooper'ın imzasını taşıyan 'Hostiles', 1892 yılında geçen bir vahşi batı hikayesi. Başrollerinde Oscar'lı oyuncu Christian Bale ve 'Gone Girl / Kayıp Kız'daki (2014) rolü ile dikkat çeken Rosamund Pike'ın yer aldığı film, dünya prömiyerini Telluride Film Festivali'nde gerçekleştirmişti.
Eleştirmenlerden olumlu yorumlar alan filmde Christian Bale'in canlandırdığı subayın, Montana'ya dönen bir Kızılderili şefine ve ailesine eşlik etmesi gerekmektedir. Ancak bu yolculuk, kanun kaçakları ve saldırganlar nedeniyle hayli zorlu geçecektir. Yolda karşılaştıkları, tüm ailesi katledilmiş genç bir kadın da kahramanlarımızın arasına katılır. Filmde bir yandan karakterlerin yolculuğunu izlerken, bir yandan da Amerikan sinemasında artık fazlaca işlenmiş konulardan biri olan, yabancılara düşmanca duygular besleyen beyaz adamın iç dönüşümüne de tanıklık ediyoruz.
Ayrıntılar
Sürüm detayları
Yayın tarihi:
13 Nisan 2018
Süre:
134 dk
Oyuncular ve ekip
Yönetmen:
Scott Cooper
Senaryo:
Scott Cooper
Oyuncular:
Christian Bale
Rosamund Pike
Wes Studi