Introducing: Lurkgurl
Singer-songwriter Lurkgurl likes skateboarding, Frankie Cosmos, and being alone – among other things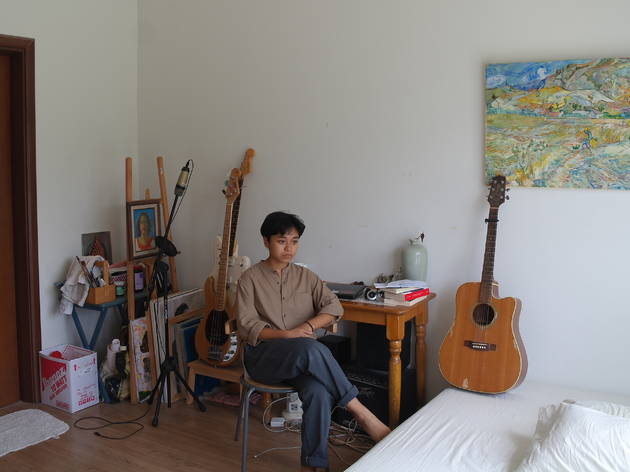 lurkgurl? Sounds like a superhero.
lurkgurl is Khadijah Juswil and she just turned 20 earlier this year. Apart from making music in her bedroom, she's pursuing her diploma in Fine Art. On some evenings you might also see her carving the bowl at the Putrajaya skatepark. So yes, you could say she's a superhero of sorts.

Why does she call herself a bedroom artist?
Khadijah says that calling herself a bedroom artist isn't just literal, she mentions that it's probably a good metaphor for her mind too. Her bedroom and her mind are where all her intellectual pursuits happen, where she would wax lyrical about philosophy and literature, where she would do most of her art, and where she writes her music too.

What sort of music does she make?
Many have likened her music to Karen O's 'Crush Songs' – similar to Karen O, Khadijah's music is dreamy and intimate; in most of her songs, it's just her whispery voice accompanied with an acoustic guitar. However, that's where the comparison ends. Khadijah's music tends to be more artistic, even bordering on avant-garde. This is particularly noticeable from her guitarwork and her unorthodox approach to song structure; by exploring her discography, you'd find songs that are only a minute and a half short and some others that are six minutes long.



Photo: Nazir Wan

What does she sing about?
As mentioned, her songwriting is particularly interesting. 'Mostly they're my inner monologues. A lot of imagery. A lot about loneliness.' While the delivery of her lyrics may have a yearning and longing tone, she's perfectly fine with loneliness. 'I really enjoy being alone,' she says.

Apart from that, Khadijah identifies as non-binary. This is an issue she's dealt with in many of her songs. In her song, 'soildirtboygirl', Khadijah sings about her gender identity, lamenting that she 'hails from another planet'.

Gender identity? Does it have anything to do with feminism?
It's not as straightforward as that. While Khadijah appreciates the growth of feminism, she can't help but feel indifferent with the cause. With mainstream feminism being too focused on representation coming from the idealised feminine woman, she feels that as a result of this, other gender identities are alienated.

What are her influences?
Growing up in Putrajaya is probably a big reason she is who she is right now. 'It's a strange place to grow up in,' she laments. Not fitting in at school and Putrajaya's dearth of anything exciting allowed her to explore creatively and intellectually. She says she would just spend time creating and listening to music, making art, reading and skateboarding to fill in her time. Musically however, she was partly inspired by Frankie Cosmos. She thought that if Frankie Cosmos could make great music out of her bedroom, she could too. Apart from that, she listens to a lot of The Smiths and Leonard Cohen, which would probably explain her dark and introspective lyrics.

I'm digging her music. Can I expect more?
She's currently working on her newest EP. According to Khadijah, this EP will be more stripped down, with more acoustic guitars. Also, she's playing around a lot with nusantara sounds to add to her music.

For more info, check out Lurkgurl's Soundcloud and Bandcamp.