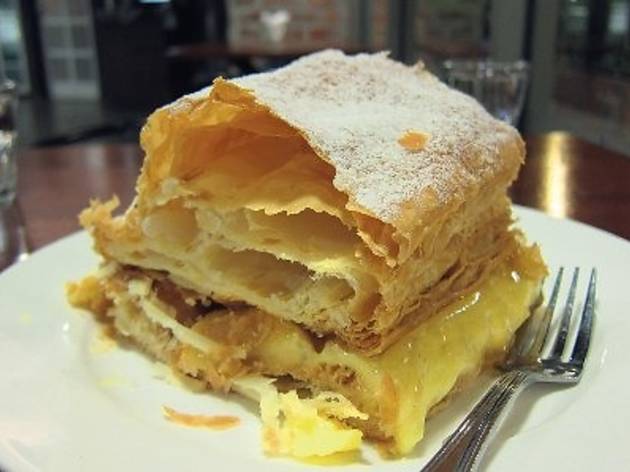 April 2013
There's a time and place for a brioche. The place is pH Pastry House and the time is whenever you friggin' please. The bakery rolls out dainty pastries into the night so who says you can't have a French puff at 10pm? There's no heavenly sweet scent of butter bread or yeasty seduction to entice you here – just rows of fluffy loaves and cakes sitting politely behind their cases. Open them. We dare you. And you'll wish you hadn't eaten yesterday's dinner just to reserve those calories for their pillowy breads ideal for jam, coffee or tea.
The pH Pastry House in Imbi used to have a strong following but after they relocated to Lakefield, Sungai Besi in January due to the MRT construction, the crowd immediately reduced to half. A little tweak to their menu and their new premise – decked like a Melbourne café with brick walls – is drawing in new customers again. And just like great sex (so says their cheeky profile description on Facebook), their great food leaves people wanting more.
The mains at pH Pastry House skews towards western with a few Asian fusion selections – standard breakfast sets, ambitious meat dishes and everything within their pastry forte (pizzas and sandwiches). I happily spent dinner in private, plucking lettuces from my sautéed mushroom and eggplant salad while sipping a smooth chocolate banana shake. And in keeping with the spirit of adventure, I ordered a calzone.
What came minutes later was a swelled puff ten times larger than the usual size. Nicely blistered with mozzarella forcing out at the seams, it was beyond reproach. I dissected it to reveal smoky pepperoni and fistfuls of roasted capsicum swathed in garlic tomato coulis. It was both pretty and greedy because calzone is the only pizza form that allows you to get away with so, so much cheese.
A plain steak loses the element of surprise so I settled for a beef Wellington. I admire pH's bravado to serve a dish so steeped in tradition and precision but to gussy the beef up with so much sauce is to ruin it. The 200gm tenderloin beef didn't quite cohere with the spinach that pressed limply between the meat and the quick-to-turn-soggy pastry. It lacked character, refinement and flavour, which were found in their stellar apple strudel instead. The lightness of its crisp pastry emboldened with sweet apple slices was luscious. Perfection comes in five flavours: cherry, mango, pineapple, apple and blueberries. It's a brilliant dessert that makes you wonder why it's not everywhere.
It's a surprise to find such charismatic food with excellent service from this part of town, and the café is sensitive enough to avoid falling into clichés (no more soft shell crab salad please). The sense of exclusivity in their previous venue had vanished but Sungai Besi just lucked out with this promising bakery. Kong Wai Yeng
Venue name:
pH Pastry House
Contact:
Address:
1 Jalan Tasik Utama 3, Lakefield
Kuala Lumpur


Opening hours:
Open daily, 8am-11pm