The best summer music festivals in Lisbon
There is nothing that says "Summer has arrived" quite like the upcoming season of summer music festivals in Lisbon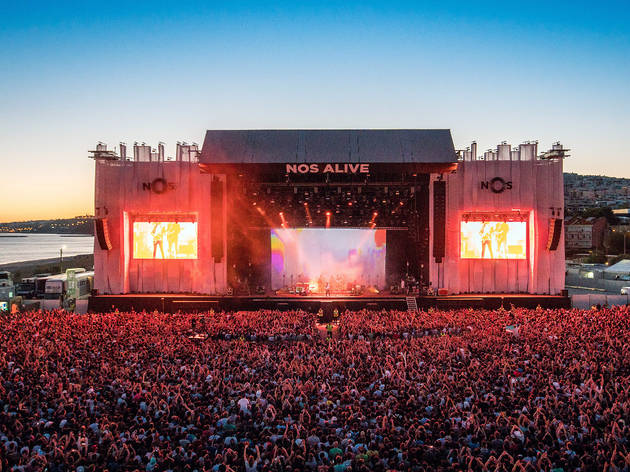 Lose yourself to dance. And to music. Here are the best summer music festivals. From the mainstream Rock in Rio to the more alternative (and recent) Nova Batida, there are artists and concerts for every taste - even for those who like to camp.
On stage you'll have renowned international musical artists as well as Portuguese, some of which are already quite popular outside our country.
Lisbonners have always known how to enjoy a great concert – and it usually involves a beer (or many) and a stunning sunset. But the word spread out over the last few years and other countries now also know the attributes of this musical Lisbon of ours, with a killer river view.
Need more reasons to go? Here are ten reasons to go to a music festival in Lisbon.
The best summer music festivals in Lisbon
Since the first edition, in 2014, that Sol da Caparica has bet on a line-up made (mainly) of music in Portuguese. This year is no exception. There are four days of fun, from Thursday to Sunday, for the entire family. Among the names confirmed for this year are some of the greatest of Portugal and PALOP music like Anselmo Ralph, the fado singer Carminho, the always popular GNR or the singer and composer Miguel Araújo. Expensive Soul, Linda Martini, Sara Tavares or Virgul, are also confirmed. The last day is dedicated to the kids, with Canções da Maria, Rita Guerra, singing Disney themes, and the new project of Manuel Paulo and João Monge, Pátio das Cantigas. And there is also an inflatable park, facial paintings, a paper puppets' atelier and other fun stuff for kids.
Set up in the middle of Parque Eduardo VII, in the centre of the city, this festival attracts electronic music artists. This "sound garden", as they like to call it, has had DJs like Sven Väth or Carl Craig on its stage. This year's line-up includes Maceo Plex, Antal, Daniel Bell and Jayda G. More to be announced before then.
Mount Kimbie, DJ Marky, Maribou State, Jon Hopkins, Gilles Peterson, Little Dragon and Seun Kuti & Egypt 80 are some of the artists coming to Nova Batida festival, at Village Underground and LX Factory. This Alcântara festival is new to the city, and happens at a time when everyone is back from summer holidays. The goal is "to show off to the world what a vibrant and creative city Lisbon is".
There's a lot more fun things to do in Lisbon
With its world-class restaurants, excelling in seafood, its reputation for style and long pedigree in art and culture, Portugal's first city remains high on every discerning weekend-breaker's hit-list.