Ansel Adams: Photography from the Mountains to the Sea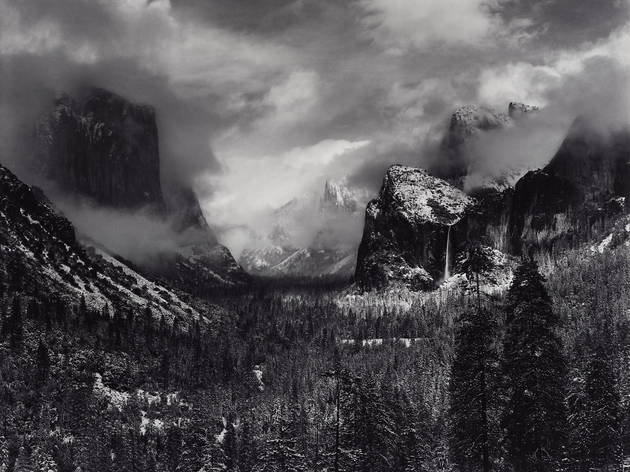 It is an act of splendid cheekiness for a maritime museum to celebrate a photographer who barely crossed his own land, let alone the seas. Think of Ansel Adams and you think of imposing American mountainscapes and glowing, moon-backed clouds. Monumental is the word most often applied to his imagery, so what has the shifting sea to do with monuments? But Adams was born in San Francisco, in 1902, and you don't grow up on the Californian coast without a feel for the ocean, even if you are happier setting up your camera 165 miles inland in the craggy expanses of Yosemite National Park.
It's not that he didn't travel – this exhibition includes glowing monochromes from Alaska and Massachusetts – and would probably have done so more, had Depression-era finances permitted. ('The world is falling to pieces,' said Henri Cartier-Bresson contemptuously, 'and Adams and [Edward] Weston are photographing rocks and trees.')
Although in fact, nature wasn't the star of his photographs: this fierce conservationist was even fiercer about his right to alter the natural world in the darkroom. Adams claimed his photographs were shaped to fit a pre-conceived mental image, which was (and still is) even more controversial than his willingness to turn his back on dust bowls and welfare lines in favour of subjects that pre-dated both.
There's no dust in these exceptional images, nor any colour, but there is lots of water. Waves break into sculptural droplets, clouds overlook vast oceans, waterfalls still into marvellous permanence. The great manipulator rejoices in a medium nearly as versatile as his own, translating icicles, snow and spume into startling chiaroscuro or large-format sepia. Blasphemy? Perhaps. But if heaven exists, Adams – who died in 1984, rich and admired at long last – is surely up there, arguing with his Maker about whose creations are better made.
Venue name:
National Maritime Museum
Contact:
Address:
Romney Rd
Greenwich
London
SE10 9NF

Opening hours:
Daily 10am–5pm. Closed Dec 24–26
Transport:
Rail: Cutty Sark DLR/Greenwich rail
Price:
£7, £6 concs