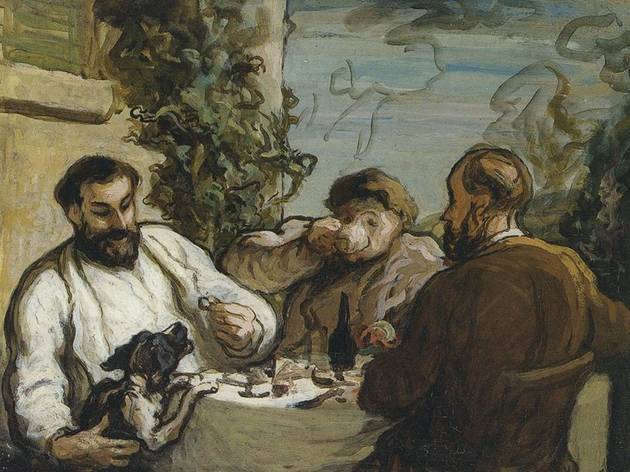 1/9
'Lunch in the Country', c1867-1868
© National Museum of Wales, Cardiff
2/9
' Man on a Rope', c1858
Museum of Fine Arts, Boston. Tompkins Collection - Arthur Gordon Tompkins Fund
3/9
Gargantua, La Caricature, 16 December 1831
Private collection. Photo Peter McClennan
4/9
The Print Collector, c1857-63
The Art Institute, Chicago
5/9
Clown Playing a Drum, c1865-7
The British Museum, London. Photo © The Trustees of the British Museum
6/9
Don Quixote and Sancho Panza, c1855
The National Gallery, London. Sir Hugh Lane Bequest, 1917
7/9
Ecce Homo, c1849-52
© Museum Folkwang, Essen
8/9
A zealous student practicing at home (Une élève zélée travaillant à domicile) 'Les Baigneuses', Le Charivari, 9 August 1847
Private collection. Photo Peter McClennan
9/9
A new aerial suspension (Nouvelle suspension aérienne) 'Actualités', Le Charivari, 7 February 1867
Private collection. Photo Peter McClennan
Was Honoré Daumier (1808-1879) the greatest caricaturist that ever lived? That's the question you start asking yourself about halfway through this enthralling exhibition. The political lampoonery of the French artist's merciless cartoons established his reputation in the 1830s (and earned him six months in prison for his depictions of a pear-shaped Louis Philippe).
Yet until the mid-1840s his work wasn't groundbreaking in any artistic sense. When his style starts to loosen up, his humour and subject matter also begin to broaden out, moving away from predominantly political satire towards topical sketches of Parisian life. The results are delicious social vignettes in which everything from rabble-rousing demagoguery to middle-class manners are affectionately sent up.
Daumier's most persistent – and fascinating – subject was the very art world in which he made his living, with all its attendant vanities and follies. He parodied the latest sculptural fad for casting directly from the body, for instance, along with the gawping spectators at a salon exhibition – executed with such astonishing fluency that the characters seem to move and gesticulate before your eyes. There are also weirder, more fantastic drawings, such as his huge, apocalyptic depiction of writhing rioters.
This sense of strangeness extends to many of his paintings. Eschewing the typical, nineteenth-century route of grand historical themes, he represented neighbourhoods of working poor, or personal imaginings of scenes from 'Don Quixote', usually in a dark, liquid, roiling style, but towards the end of his life full of flurried brushwork and spectral contrasts of light and shadow. These canvases seem strikingly modern. But, when it comes to lasting, mindboggling impact, nothing can possibly beat his drawings.
Gabriel Coxhead
Venue name:
Royal Academy of Arts
Contact:
Address:
Burlington House, Piccadilly
London
W1J 0BD

Opening hours:
Mon-Thu, Sat, Sun 10am-6pm; Fri 10am-10pm
Transport:
Tube: Piccadilly Circus
Price:
£10; £6-£9 concs