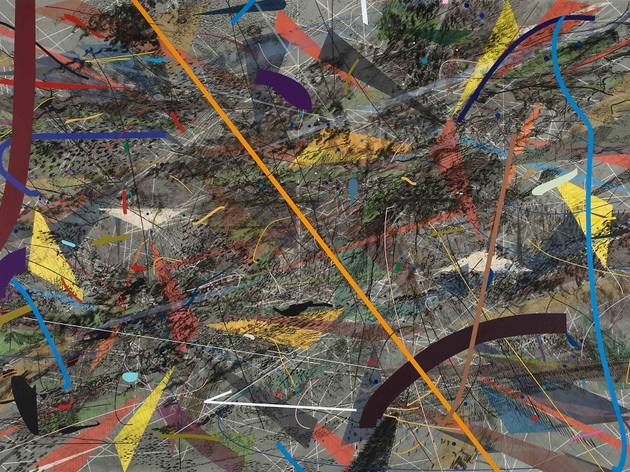 'Political art' has become a word pairing that, through repeated questionable application, piques cynicism sooner than curiosity. In some contexts the very existence of art is radical, while in a liberal society such as our own it is often the choice of subject matter that counts. It is the artist's selection of a subject, rather than the impact or operations of an artwork, that is too often compared like for like and, in 'New Order', broadly speaking, we are met by poetic or allegorical imagery that encapsulates each gallery artist's position on an issue.
David Hammons's 'Which Mike do you want to be like…?' – three vintage microphones representing Michael Jackson, Mike Tyson and Michael Jordan – asks us to deliberate on African-American role models and archetypes; Anselm Kiefer's self-portraits, in which he enacts a Nazi salute, re-perform national guilt, and Miroslaw Balka's concrete tunnel with dangling threads the colour of uniforms ascribed to categories of undesirable cultural groups during World War II articulates the deadening horror of prejudice.
But, in the case of Balka and Hammons in particular, we need the press release to tell us these things. The atmospherics alone cannot impart the specified information. And, indeed, the audience were fervently consulting their sheets of A4, presumably trying to apply the opening Jacques Rancière quote to Mark Bradford's textual fragments in impasto paint or Julie Mehretu's frantic canvases, or mining the quiescent depths of Doris Salcedo's strangely coupled furniture for details of Colombian atrocities. Herein lies the hazard of labelling a show political: the multiple voices talk over one another, flattening the spikiness of art on a mission into aestheticsed riddling.