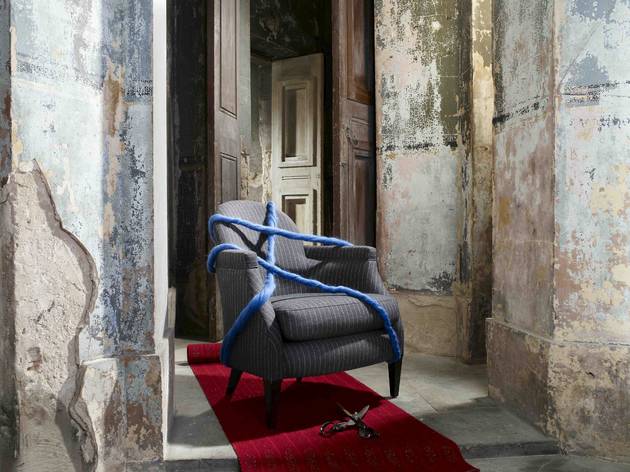 Wool – what is it good for? Absolutely everything, according to Prince Charles's Campaign for Wool. The organisation, which aims to promote the fibre as a sustainable material for fashion and interiors, has taken over a wing of Somerset House to set up temporary home – quite literally.
Wool House is a make-believe home, with a room each assigned to a variety of designers and makers – their mission is to demonstrate the diversity and beauty of wool by pimping their portion of the building using yarn. The hallway showcases Shauna Richardson's unique 'crochetdermy': check out the surprisingly realistic sculpture of a bear clacked together by the designer's crochet needles. An amazing technicolour dream carpet – a crazy, pixelated 110-foot runner stretching the length of the house – comes courtesy of Barcelona-born, London-based designer Cristian Zuzunaga.
Meanwhile, Donna Wilson, whose cute characters and graphic prints will be familiar to anyone who has visited a Stoke Newington gift shop or department store crockery department, has taken charge of the nursery, designing scatter cushions, blankets and bedding in bright, cosy yarn. 
As well as inspiring interiors set-ups from Kit Kemp – designer of the supremely tasteful Charlotte Street, Soho and Covent Garden Hotels – and antiques dealer Josephine Ryan, who will focus on vintage styling, there will be interactive installations to provide context to the works. While the exhibition is designed to highlight some of the lesser-known uses of wool, fashion also gets a look in with live tailoring demos and displays of fine woven fabrics. 
To liven up what could be rather dry subject matter, the organisers have scheduled a series of workshops and talks – Saturday March 16 and Sunday March 17 will see Rowan Yarns hosting free knitting and crochet classes, while Wool House's own Rumpelstiltskin Jason Collingwood will be weaving on a splendid old-fashioned table loom throughout the exhibition. 
All-in-all, a tempting stopping-off point for interiors buffs, although we're baffled that there will be nothing for sale. Having created an appetite for stylish woolcraft, Wool House misses a trick by not flogging some of it. Katie Dailey