Art
Art reviews and listings for London's best museum exhibitions and art galleries
Must-see art exhibitions in London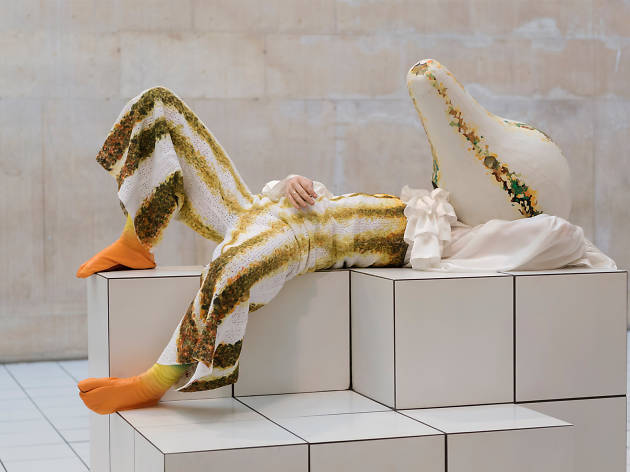 Anthea Hamilton
Imagine you're a squash – as in, a butternut squash. Now imagine what kind of art you would most like, based on your squashy-brained characteristics. For her 2018 Tate Britain Commission for the Duveen Galleries, Anthea Hamilton has created a squash-human hybrid, performed each day by an individual dressed in one of seven outfits inspired by various strains of curcubita (that's for you, 'Gardeners' World' fans). She then picked a collection of nine sculptures from the Tate's existing collection, plus one from The Hepworth Wakefield, that might be of liking to the squash. The pumpkin-friendly artworks are bulbous, ballooning mounds of sculpture – the kind you want to sneakily squeeze. Because, the artist reasons, squashes can't see well so choose their art based on touch. Bonkers, right? But ridiculous as the idea sounds, Hamilton's takeover is a brilliant and irreverent response to basically everything the Tate, as the grand old dame of establishment art, represents and displays. The dark floor of the pretty, neoclassical gallery is covered with over 7,000 white squares, with the sculptures inside various tiled blocks. It looks like a high-end swimming pool, which is the last place you'd expect to find some hard-skinned vegetables (technically fruit, but shh!) doing whatever the hell they want. There are no rules: they can even take a nap. Which is the attitude that makes the whole thing so much fun. The mishmash of sculptures shoves the modernist curves of Henry Moore
Another Kind of Life: Photography on the Margins
From its earliest days, photography has probed the hidden: from porn to politics, it's been there and brought back the evidence. Beyond that, though, is a shadowy place where photographers become so tangled up in what they're chronicling that roles become blurred. These are not just the margins of society, they're the margins of creativity. That's what 'Another Kind of Life' is about.
Surface Work
The history of art is full of old dead white blokes. We've had centuries of western men dominating the stuff we put in our eyes. Modern and contemporary abstract art is no different – it's all Kandinsky and Pollock and Rothko, as if a woman never picked up a paintbrush and did some squiggles on a canvas. But – guess what, bozos – they did.
Joseph Beuys: Utopia at the Stag Monuments
Here's the Joseph Beuys myth: the hugely influential German artist was a pilot in World War II. He crashed his Stuka over the Crimea and was found by a tribe of nomadic Tartars who wrapped him in fat and felt to keep him warm. They saved his life. Out of that fable came a whole career based on felt, fat, electricity and medicine – the building blocks of survival, used to help deal with his country's tormented recent past.
Rodin and the Art of Ancient Greece
One look at Medusa would turn flesh to stone. Auguste Rodin was sort of the opposite, dedicating his life and radical art instead to somehow turning stone into living, breathing, rippling flesh. His revolutionary sculptures feel quiveringly close to bursting alive and writhing with movement.
See more recommended art exhibitions in London