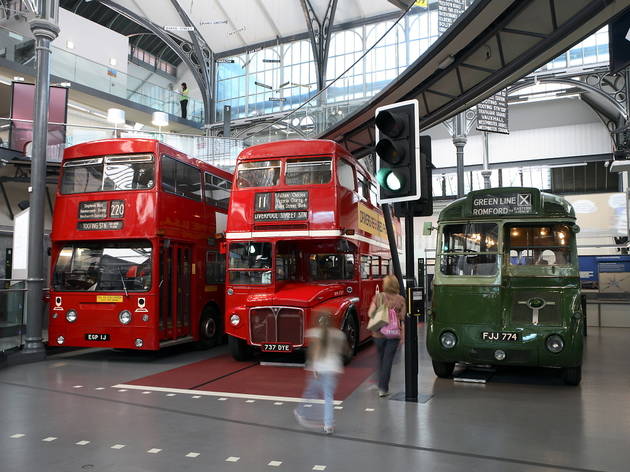 Describing the museum experience as a journey is something of a cliché but it's fitting at the London Transport Museum where, from the off, you're immersed in the sights and sounds of travel by road, river and rail over the centuries. After the entertaining entrance, where audiovisual recordings of transport systems in New York, Tokyo, Paris, Shanghai and New Delhi, as well as London, are shown on screens, you are whisked by lift to the second floor – and back to 1800. The capital's first licensed public transport was the sedan chair, an example of which is on show, but the gorgeous horse-drawn omnibus, from 1805, its painted, flower-bordered designs announcing still-familiar routes, is a bigger draw. As quaint as these early exhibits appear, the words of an omnibus passenger in 1833 are familiar to contemporary commuters: 'Here we are, six and twenty sweating citizens, jammed, crammed and squeezed into each other like so many peas in a pod.'
The Thames – London's first public route – is featured early on, with a model of a boat that would have taken passengers from Greenwich to Margate and Ramsgate in around 1815. But progress leads you ever onwards, to the building of our first passenger railway – from London Bridge to Greenwich in 1833. The first floor of the London Transport Museum holds perhaps the most exciting displays, including the first underground engine (steam-powered) and a wooden Metropolitan Railway coach (converted to electricity in 1901); one of several exhibits you can board. It is a more pleasant experience than entering one of the first underground electric train's carriages which, thanks to the high-backed bench seats and lack of windows, became known as 'padded cells'.
It's tempting to think of London Transport Museum as a specialist museum but, encompassing design and engineering, economics, politics and social history, the story of London's developing transport system is the story of London itself. Each aspect is tackled brilliantly. Even the technological stuff, such as the development of the escalator, is entertaining to non-specialists (apparently in 1911 a man with a wooden leg was employed to ride the escalator and reassure passengers of its safety).
Frank Pick, the man responsible for rolling out the London Underground brand and giving each line its own character and ensuring the emblematic bar and circle logo became an intrinsic part of London's visual identity, to the extent it now signifies 'tube station' without the need for words, is the focus of the design display. London Transport's posters – by the likes of Abram Games, Graham Sutherland and Ivon Hitchens – are on show throughout museum. Many are design icons – though none is greater than Harry Beck's original tube map. For children there's an under-fives' play area decorated with Steven Appleby illustrations and the chance to sit in the driver's cab of a red bus and guide a Northern Line simulator through tunnels and up to platforms, which is fun for adults, too.