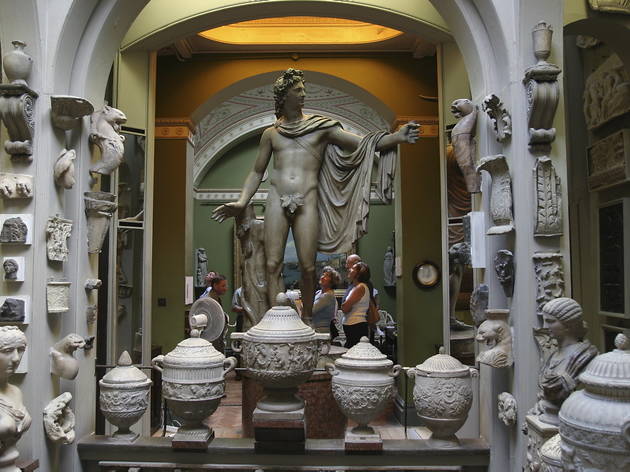 This is one place where the term 'spring cleaning' has probably never once been uttered: Sir John Soane's Museum in Holborn. The museum is actually the townhouse of one of Georgian London's most famous architects, Sir John Soane, the man behind the Bank of England and Dulwich Picture Gallery – and someone who was evidently not a fan of the 'less is more' school of interior design.
Soane was an obsessive collector of art, furniture and architectural ornamentation, a hobby which he pursued partly for enjoyment and partly for research. In the early nineteenth century he turned his house into a museum to which 'amateurs and students' should have access. The result is truly amazing.
Much of the museum's appeal derives from its domestic setting. Rooms are modestly sized but Soane's ingenious designs channel and direct natural daylight and expand available space, including semi-secret doors that swing out like cabinets to display his many paintings (works by Canaletto, Turner and two series by Hogarth). It's only when you step beyond into the rear of the house that the sheer oddness of the building confronts you. Every space in this warren of rooms is filled with some artistic object, in most cases classical, be that a bust, column or statue. For a real 'wow' factor, search out The Monumental Court, a multistory affair stuffed with an array of sculpted stone detailing that was removed from ancient and medieval buildings.
At the lowest level of the court is a sarcophagus made of alabaster that's so thin it's almost translucent. It was discovered in a tomb in Egypt's Valley of the Kings before being removed by nineteenth-century treasure hunters. Soane bought it after the British Museum declined the opportunity; he was so elated, he partied for three days.
There are also numerous examples of Soane's eccentricity, not least the imaginary 'cell' – a set of rooms in the basement – set aside for 'Padre Giovanni', a fictional monk invented by Soane. The yard even contains the 'Monk's grave' topped by a headstone engraved with the words 'Alas! Poor Fanny!' – the grave actually contains the corpse of Mrs Soane's apdog, Fanny.
What you see at Soane's townhouse is just as he intended it to be. He wangled a private act of Parliament to set up the museum and stipulate that its contents should be left alone 'as nearly as possible'. His wish is now even closer to perfect fulfilment thanks to a £6 million project to move the museum shop and facilities into neighbouring buildings, which should be completed by mid-2012.
Be warned, though: the curator only allows a certain number of visitors into the house at any one time, so you may have to queue briefly out on the pavement before being admitted. It's worth the wait.
Venue name:
Sir John Soane's Museum
Contact:
Address:
13 Lincoln's Inn Fields
London
WC2A 3BP

Opening hours:
10am-5pm Wed-Sun
Transport:
Tube: Holborn