Brixton pubs
Discover the best places to go drinking in Brixton from gastropubs to cocktail bars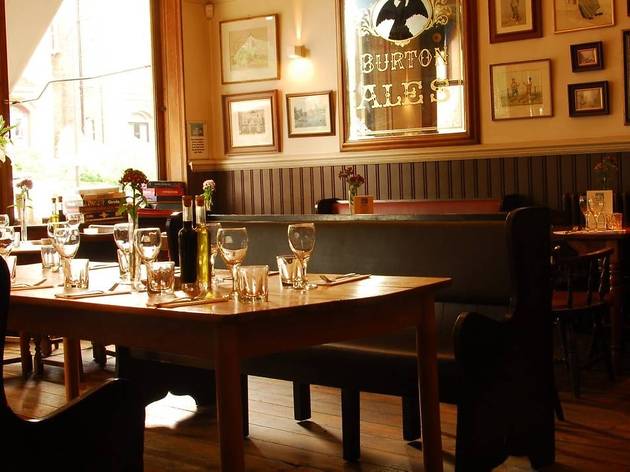 Brixton has established a reputation as a great place to enjoy a drink. From the affordable cocktails and buzzy vibe at Lounge to the guest ales and cosy atmosphere at the Prince Regent, take a look at Brixton's best boozers.
Think we've missed out one of Brixton's finest watering holes? Let us know in the comments box below.
The White Horse attracts an adult, professional but as-yet-unnested clientele happy to enjoy the generous opening hours. It's all slightly clubby yet laid-back.
Read more
Large airy pubs with an outdoor terrace (even one adjacent to a busy bus route) and plenty of room for pushchairs are always going to be popular in this area.
Read more
See our full Brixton area guide
Sponsored listing
Seymour's Parlour
Seymour's Parlour, in the new Zetter Townhouse hotel, looks like the home of a well-travelled, eccentric booze collector. With its deep red walls, wooden furniture and fabric furnishings, it's like a living room filled with a treasure trove of knick-knacks. On a Sunday evening as the sun began to set, candlelight brought old-fashioned charm. It feels more intimate than the original Zetter in Clerkenwell. Unchanged is the quality of the house cocktails, a new selection (£9.50) devised by bar supremo Tony Conigliaro. Champagne concoctions include Le Sphinx, served in a wine glass with orange neroli honey and ambrette bitter: dangerously easy to drink. Last Laugh, cognac, apple brandy, apple caramel and apple wood bitters, had only a subtle hint of apple and surprising citrus notes.  When I asked to go off-menu, a bartender perched at our table and discussed my penchant for anything sweet. He came back with a 'Delicious Sour' (£10.50), like a slightly melted sparkling peach slushy with a creamy foam top. Unforgettable. Among the snacks, 'grown up chocolate fudge' (£4) is pure indulgence.  Like Zetter, Seymour's Parlour is not expensive given the setting and the quality of the drinks. Stop at a couple of cocktails if you can – it's hard to do. I recommend saving a visit for when you can try a fair few drinks. It's the perfect spot for an intimate cocktail experience, with engaging surroundings and bartenders willing to accommodate even the pickiest.
Venue says: "Our award-winning afternoon tea is a must try!"
You might also like