Brixton pubs
Discover the best pubs for a spot of drinking in Brixton, from old fashioned boozers to craft beer champions and gastropubs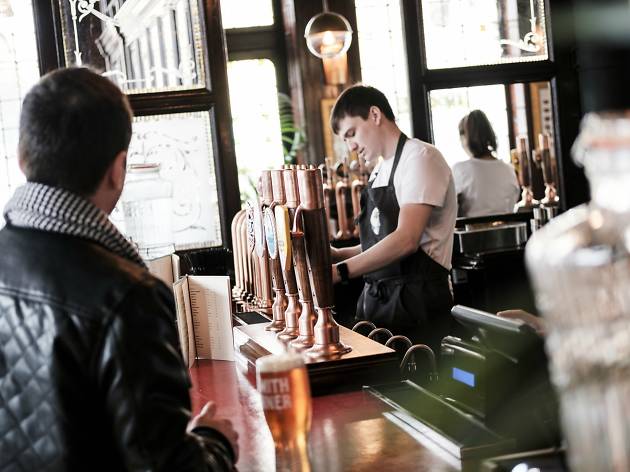 Brixton is well known as a great place for late-night revelry. But its pubs double as cosy daytime venues, too. Discover great places to enjoy a drink in our list of Brixton's best boozers – from old fashioned watering holes that have stood the test of time to modern gastropubs where the craft beer line-up is just as appealing.
RECOMMENDED: Find more fun in the neighbourhood in our Brixton area guide
The best pubs in Brixton
The Commercial is a pleasurable pub in which to spend some time. It's one of the more modern Mitchells & Butlers pubs, mixing old-fashioned pub culture with new school pub cooking – a Veganuary menu is testament to that – and a comparatively enlightened approach to beer.
Read more
This second branch of the Craft Beer Company is on a busy street market next to Brixton rail station, facing the Brixton Recreation Centre. It's a small bar, not very pub-like, with high stools to perch at small tables. If you prefer a bit more privacy, there's space on the first floor where you can work your way through an array of lesser-known ales on tap, on keg, and by the bottle.
Read more
Let the Cranchor's bright sign lure you in. This smart pub with its long bar has one of the mightiest beer selections on show. Visiting at off-peak times will allow you to spend time googling the niche breweries which feature among the many brews on tap and in bottle (or asking the helpful staff).
Book now
Read more
Four-pint pitchers of Red Stripe, ska turned up nice and loud, tip-top Guinness, jerk chicken and rice, unfeasibly friendly bar staff, two pull-down screens for sports – this is a real home from home for many Brixtonians, with more of an Afro-Caribbean community feel than many other watering holes found in the neighbourhood. Don't miss the pub's live jazz nights.
Read more
Large airy pubs with an outdoor terrace (even one adjacent to a busy bus route) and plenty of room for pushchairs are always going to be popular in this area.
Read more
On a charmingly old-fashioned square backing the main drag of Brixton you'll find this Young's pub. It's primed for slightly more peaceful pre-gig pints, even if it doesn't quite live up to its old-timey setting. It does, however, have all the components of a reliable boozer – a heated patio out front for smokers, a horseshoe bar for perching and plush armchairs to settle into for longer sessions – although its adorably rugged pub carpet has been ditched, presumably in favour of getting with the times.
Buy tickets
Read more
Herne Hill's The Half Moon pub – a cavernous pile and bona fide south London institution – has been given a sprucing by ubiquitous mega-brewery Fuller's (though the live music aspect that made its name is conspicuously absent). It looks fab, and the selection of local craft beers is pretty strong, too.
Check prices
Read more
The White Horse attracts an adult, professional but as-yet-unnested clientele happy to enjoy the generous opening hours. It's all slightly clubby yet laid-back.
Read more
Find more good old-fashioned boozers
One of the best ways to learn about London's rich history is by sinking a pint in the pub. No joke. These historic London pubs have been around for yonks and offer up the tell-tale signs of the celebrity, scandal and maybe even murder that took place in the capital many moons ago. Some of these ancient inns have been licensed since the 1600s and many date back even further (and you can bet a lot of them claim to be London's oldest pub). So grab a spot at the bar and ask for the skinny from the staff on these pubs with a long old backstory.
Read more