London's best real ale pubs
Bitters, milds, stouts and porters – cask-conditioned beer is a great London tradition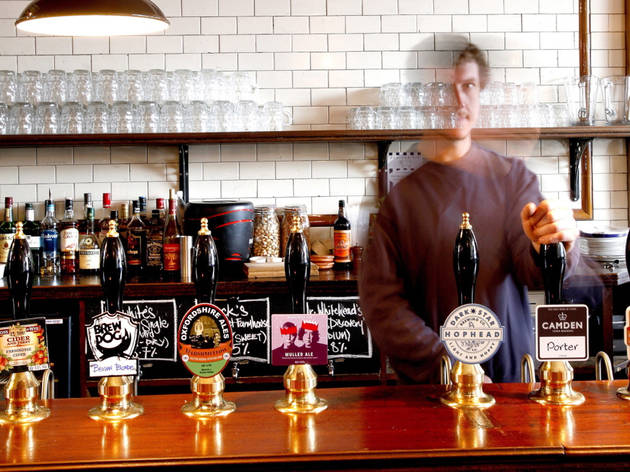 Bar trends come and go, but old-fashioned cask-conditioned beer is on the up. There are many great pubs in London that prize cellarcraft, offer a homely atmosphere and serve a great pint – here's our pick of London's best CAMRA-courting boozers.

Do you know of a great real ale pub we've missed? Let us know in the comments form below.
73 Cheshire Street, London, E2 6EG

A lovely boozer off Brick Lane which has benefitted from a sympathetic refurbishment. Tap talent includes four Dorothy Goodbody ales from Hereford's Wye Valley Brewery and a pair of Adnams bitters on draught.
Read more
55 Britton Street, London, EC1M 5UQ

A clever pastiche of an eighteenth-century ale house which serves Suffolk's St Peter's brews – including mild, best and bitter – to discerning local architects, designers and other well-informed folk.
Read more
51 Leverton Street, London, NW5 2NX

Tucked away in a maze of backstreet terraces, this justifiably popular pub sits conveniently out of earshot of the Kentish Town bustle. It remains a freehouse, and owners keep things interesting with a progressive attitude towards beer choice. Of the five real ales, there's always Bass, but other options might include the likes of Monmouthshire's Kingstone, Somerset's Cottage or, closer to home, Redemption from Tottenham.
Read more
44 Tabard Street, London, SE1 4JU

The only London pub owned by the estimable Lewes brewer Harveys, this traditional Victorian corner tavern draws beer fanatics, and with good reason: the ales here, from year-round fixtures such as Sussex Mild to seasonals including Old Ale, are always in perfect condition.
Read more
139 Highgate Road, London, NW5 1LE

This quite wonderful independent taproom keeps the decor austere and the fonts flowing with interesting beer. It's usually every two or three days that the bar welcomes a new obscure ale from a small British brewery, but a busy Saturday might see casks from small independent breweries such as Marble, Thornbridge and Dark Star run out in 'a couple of hours', according to the barman.
Read more
26 Wenlock Road, London, N1 7TA

A proper local in every sense of the word and one of the dying breed of London pubs not to serve food, the Wenlock Arms is dedicated to its loyal customers and the dispensing of tip-top ales from its cramped bar. The pub itself is humbly unfancified, but its unpretentious atmosphere and brilliant beer make it one of the most recommended pubs in London.
Read more
1-3 Parsons Green, London, SW6 4UL

A remarkable selection of ales and lagers, with 80 bottled beauties on offer and at least a dozen on draught. You might see traditional bitters by the likes of Harveys, or mild from Moorhouse in Burnley, but modern styles such as hoppy IPAs from Oakhams feature too. One of the most comprehensively stocked and well-run beer pubs in London.
Read more
76 Mitcham Road, London, SW17 9NG

Many fine Victorian features have been retained in the refit of this grand Tooting pub, and although it's now about food as much as beer, drinkers won't leave disappointed. There are six real ales on tap, and a couple of Adnam's are semi-permanent, you might also see brews from Purity, Brewdog and Truman's.
Read more
West Lodge, 190 Euston Rd, London, NW1 2EF

A railway pub you don't need to be travelling on a train to stop in at, and the only thing that brightens up the environs of London's most unlovely station. Real ales change regularly and are sourced from some of Britain's most interesting breweries, including Thornbridge, Magic Rock and Bristol.
Read more
101 Fortess Road, London, NW5 1AG

Kentish Town's something of a real ale hotspot, and this friendly and warm gastropub plays no small part in that. Of the five changing ales on pump, you might see beers from Twickenham, Caledonian, Sambrooks, Marlow and Nethergate. Regular festivals keep the offering lively.
Read more
83 Lansdowne Way, London, SW8 2PB

Hog's Back, Sambrook's and Twickenham are breweries whose output pours regularly from the five pumps in this Stockwell real-ale pub; the dedicated crowd recognises the commitment to quality.
Read more
13 North Hill, London, N6 4AB

As well as the pub's own beers (brewed in a set-up that spans the kitchen and the cellar), there are five hand-pulled real ales on offer in this historic Highgate pub. Food is undoubtedly a big part of the offer, but manager Dan Fox (previously of the esteemed White Horse in Parson's Green) ensures ales are very much to the fore. An interesting range of beers from small British microbreweries usually grace the taps.
Read more
30 St Peter's Street, London, N1 8JT

This backstreet Islington gastropub stands out due to its die-hard and long-running commitment to organic. The ale offer is equally worthy, so there will be a changing roster that includes St Peter's and Pitfield. It's also a very friendly place, with drinkers made as welcome as diners.
Book now
Read more
47 Chandos Place, London, WC2N 4HS

Where once fine and varied sausages were the main selling points of this well-hidden Irish pub near Charing Cross post office, now it's sought-after ales. The board outside details the current selection, while around a bar counter eminently suited to being propped up, obscure beer mats tell of ales from yesteryear. Camra awards attest to staff's dedication to cellarcraft; traditional pint-suppers and forward-thinking beer lovers alike will be delighted by the eight regularly changing ales on offer.
Read more
Check out our guide to London's best craft beer pubs