The 50 best cocktail bars in London
We've ranked the mixmasters making the finest cocktails in town. Scroll on discover London's best cocktail bars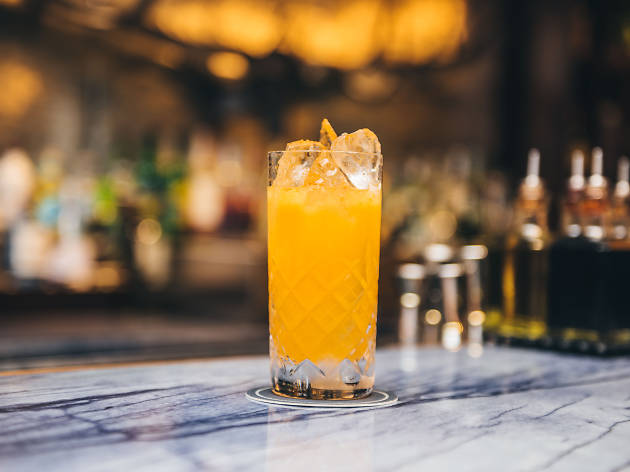 So many cocktails, so little time. So just stick to the best cocktail bars in London by using our ranked list below. You'll find everything from dark and dirty speakeasy joints and secret bars to bold and brash party spots meant for a night out on the tiles. What they all have in common is mixed drinks that will blow your mind – and hopefully not your budget.
London's very best cocktail bars: ranked
50
Venue says: "A hidden speakeasy in Exmouth market, with 1930s jazz, burlesque shows, and cocktails starting from £8. What are you waiting for?"
What's the vibe? A razzle-dazzle cabaret bar in an Exmouth Market basement.
When to visit Friday and Saturday night burlesque and acrobatic shows are a great accompaniment to cocktails.
What's on the menu? Long-lost drink recipes are brought bang up to date. Try the Bread and Salt and prepare to have your mind as twisted as those acrobats' bodies.
Buy tickets
Read more
49
What's the vibe? Post-colonial drinking palace below Dishoom with just a touch of the speakeasy about it.
When to visit Off-peak times when you can sneak in for a gin.
What's on the menu? Gin-based drinks with a warm and spicy twist.
Read more
47
Venue says: "Hide away from the busy city and relax in our secret garden, with your favourite refreshing cocktail to cool down in this glorious weather."
What's the vibe? Unstuffy hotel bar with an English-gents-club-meets-library look, the cabinets filled with booze rather than books.
When to visit Early evening when a jazz duo twangs away by the door – pull up a stool at the bar for drinks with a view.
What's on the menu? Sip on a Virginia Woolf. The bar names its cocktails after literary greats from the Bloomsbury Set.
Book now
Read more
46
Venue says: "Winner of the 'world's best high volume bar' at the 2016 Spirited Awards. Open seven days a week 6pm-1am. Cocktail classes also available."
What's the vibe? A quirky but classy hideout serving some of the best cocktails in east London.
When to visit: If you want to avoid the masses when out on a big one in the 'Ditch.
What's on the menu? Flavours from all around the world.
Book now
Read more
45
What's the vibe? A hidden speakeasy with as much substance as style.
When to visit One of those special occasions when splurging on cocktails is just what you want to do.
What's on the menu? Stunningly balanced cocktails, many with vintage spirits.
Read more
44
What's the vibe? Rocking apothecary with white-tiled walls and pharmaceutical gear. You're sure to get hooked.
When to visit On a Friday or Saturday night when it's strictly playtime. See if you can find their secret bar within a bar, Blinder.
What's on the menu? Doctor's orders: get yourself a Brockwell Park Bramble, which comes with a syringe of Chambord. Feeling better?
Book now
Read more
43
What's the vibe? World class cocktails below a steak restaurant in Fulham.
When to visit Skip dessert at Hanger SW6 and hit up Below the Cut for afters instead.
What's on the menu? Bacon-infused bourbon in the Hanger Old Fashioned. Have the Lemon Cheesecake for afters (in cocktail form, of course).
Buy tickets
Read more
42
What's the vibe? Upscale bar within Corrigan's restaurant filled with wild safari prints.
When to visit When you find yourself thirsty in Mayfair and don't fancy the typical hotel lobby.
What's on the menu? Knockout originals with ingredients sourced from Richard Corrigan's Irish farm.
Read more
Show more
Find more amazing places to drink in London
Forget starchy and old-fashioned. London's best wine bars are bringing the humble grape to cool crowds of discerning drinkers. Find cosy, bistro-style settings, sophisticated bars that are great for date night, or hip Hackney hangouts where wine is the drink du jour. Discover everything from natural wines to grapes from far-flung vineyards, plus service from knowledgeable, approachable staff. One thing is for certain, you'll find more than a bargain bin Sauv Blanc at these great little grape-peddlers.
Read more